What to Expect at the Orlando Science Center Homeschool Program
No matter the age or interest of a child, they all seem to get excited about cool science. Have you tried dropping mentos into a 2-liter soda bottle lately? Or microwaving Ivory soap for a minute and a half?
Utilize their curiosity to impact learning and a life-long enjoyment for science. You don't have to buy fancy equipment or expensive ingredients to up your homeschool science game. Simply enroll in one of Orlando Science Center's Homeschool Days. We're sharing firsthand experiences and tips!
What is the Orlando Science Center Homeschool Program
On the first Monday of each month September through May, homeschool students in grades Kindergarten – Eighth can spend a day learning exhilarating science at Orlando Science Center. Programs include classroom instruction, hands-on learning, exhibit demonstrations by staff and free play in the Science Center.
The homeschool program runs from 10:00 am – 2:00 pm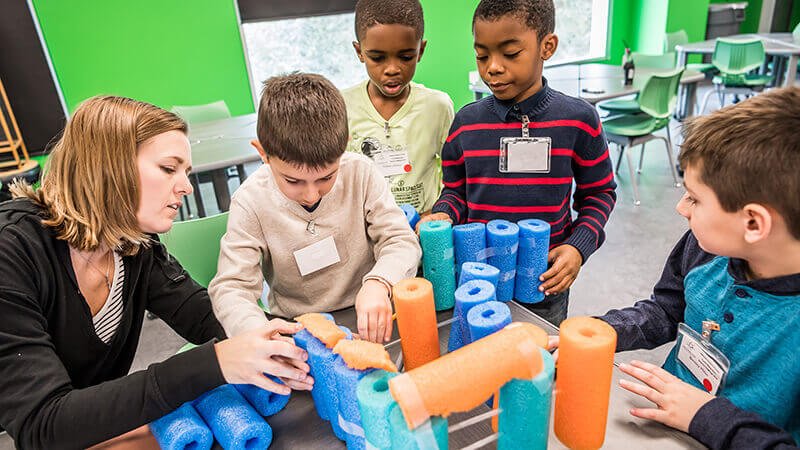 Once class starts, the instructor introduces the day's topic and dives right into teaching. This is no boring hour-long lecture. Instead, it is an interactive discussion allowing students to ask questions and share comments along the way.
After initial introduction of topic is completed, students begin putting all of that information to use in a hands-on manner. They get to experiment! Sometimes this is done solo but typically students are paired up or put into groups. It's great collaboration and teamwork practice to go along with those socialization skills!
Once the experiments are complete, students share what they found and learned from their lab time. Public speaking practice! This portion of the program takes about an hour to an hour and a half.
Each student has a sheet to take home and keep. These are excellent for the required homeschool portfolio.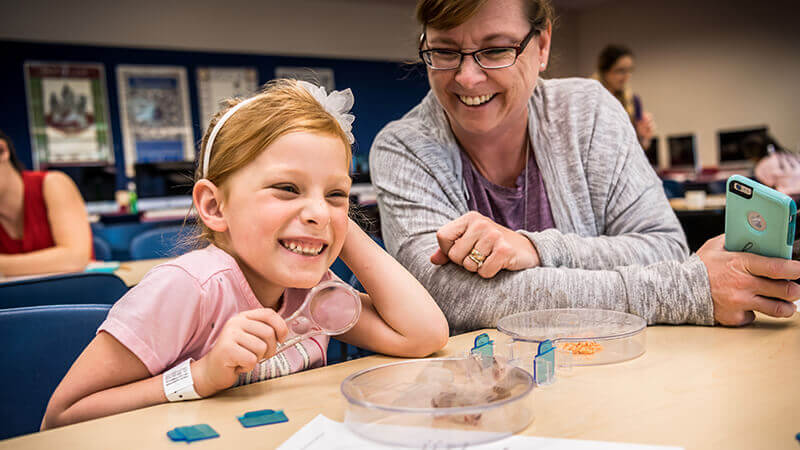 Students line up at the door to be escorted to an exhibit in the Science Center where the instructor will go in-depth into an exhibit. It has been different every time we've gone. We've witnessed "There's No Place Like Space" on the six-foot projection sphere, animal life in Nature Works, energy in Kinetic Zone and all things dino in Dino Digs, to name a few.
This takes 45 minutes to an hour with dismissal at noon. Once released, students and their parents are given two hours to roam all of OSC.
From here, you have endless options! Visit the homeschool meeting space on the first floor for additional learning topics with the many mini stations set up for the homeschool group. Take in the educational films on the giant domed screen. Head to your favorite exhibit or a new one.
We usually head to the first floor café for a bite to eat. I become a hangry beast around mealtimes and I assure you, no one wants to witness that! 4Roots Café is open daily from 11:00 – 3:00. There's also The Coffee Spot for light fare and drinks on the second floor. You are welcome to pack a lunch and eat it in the cafeteria as well (at least I've witnessed other families do this).
Orlando Science Center Homeschool Program Details
When you arrive in the parking garage, let the attendant know you are heading to the homeschool classes in the Science Center. Class starts at 10:00am so arrive a little early and check in at the Lobby entrance. You and your child receive a bracelet to identify you with the homeschool program.
Class ends at 2:00 and, therefore, your time in the Science Center is up. You do have the option to add admittance for the whole day for a few dollars more when checking in. We have never needed the extra time though. After check in, you are guided to your classroom where an independent activity is offered to students until class begins.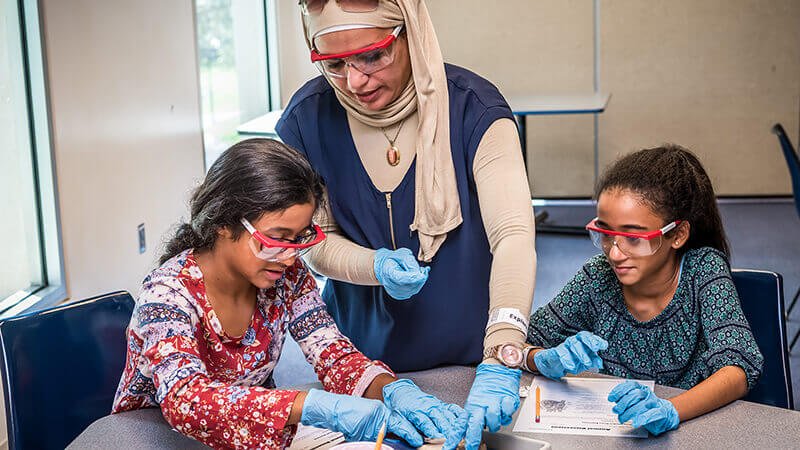 Grades K-5 are $35 for a student and caregiver pair ($32 if you're a member) with the option to add on extra students and/or caregivers for $15 each. Grades 6-8 are $41 for a student and caregiver pair ($37 for members) or $20 for student only ($17 for members).
Past topics include:
Renewable Energy
Grades K-2: Mini Builders
Grades 3-5: Solar Fair Ride Challenge
Grades 6-8: Wind Turbines
Chemistry
Grades K-2: Curious Chemist
Grades 3-5: Rockin' Reactions
Grades 6-8: OSCSI (forensics and chemistry mystery)
Of course, don't forget to stop in the gift shop on your way out. We have found numerous items to enrich our homeschool throughout the year.
Orlando Science Center
777 E. Princeton St.
Orlando, FL 32803
P: 407-514-2000
Email: [email protected]