5 Rockin' Activities for Kids at Hard Rock Hotel Daytona Beach: A Parent's Review
Looking for a family vacation that rocks? Just 1 hour from Orlando is the awesome Hard Rock Hotel Daytona Beach. This oceanfront hotel in Daytona Beach is great for grown-ups and families too. After staying here two nights with my husband and our elementary-age son this hotel feels like a rock star dream come true.
We're sharing our experience with you including 5 activities for kids at Hard Rock Hotel Daytona Beach that we LOVE!
5 kids activities at Hard Rock Hotel Daytona Beach
Play a Fender guitar in your room
Roxity Kids Club
Guitar shaped pool
Music stars' Memorabilia
Direct access to the beach
I love when a hotel finds ways to set itself apart. The Hard Rock Hotel brand does a great job is really getting into the groove. Music is everywhere and the staff loves treating their guests, including families, like rock stars.
Keep reading for all the details about this exciting and fun hotel.
By the way, if you're weighing your beach vacation options, you can also check out Things to Do in Cocoa Beach with Kids.
Play a Fender guitar in your room
This is the coolest perk of them all! Included in the price of your hotel room is the ability to check out an actual Fender guitar.
When I walked up to the front desk to ask about checking out a guitar the staff member presented me with an actual menu. This menu showcased all 20 Fender guitars including descriptions and photos.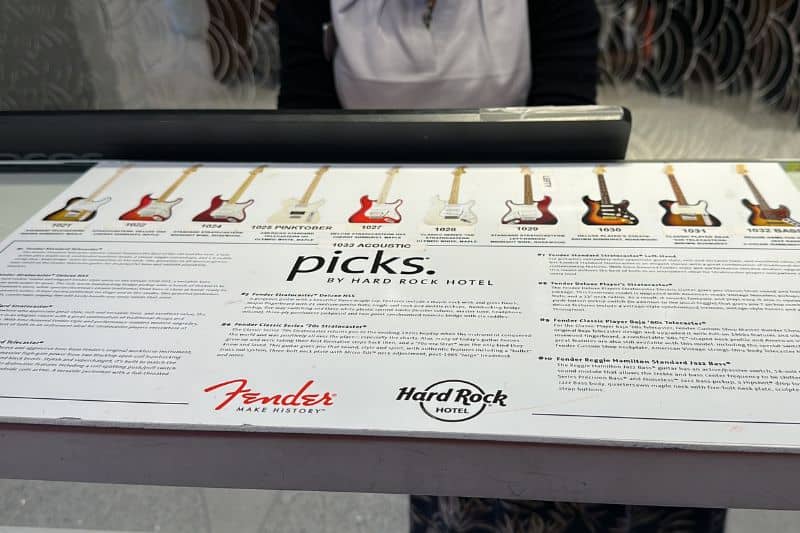 Soon I had a guitar strapped around my shoulders, a floor amp and cords, and a guitar holder all in my hands. You can imagine the looks I received on the elevator.
Checking out the guitar does require signing a liability waiver. And you can hold onto the guitar until your departure date. In our case, I returned the Fender to the front desk the same night just to avoid any potential mishaps with our boy.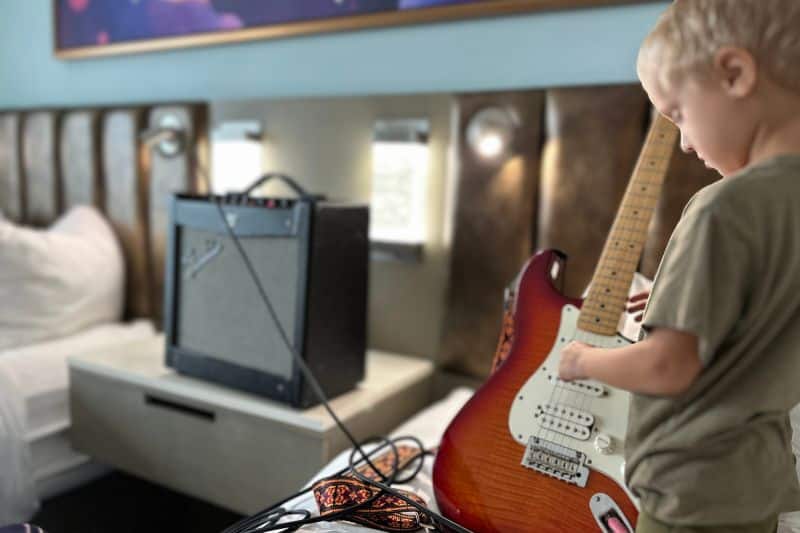 Roxity Kids Club
I'll admit, I got a little excited when I initially read the words "Roxity Kids Club" on the Hard Rock Hotel Daytona Beach website. I thought that meant my husband and I could have a few hours to ourselves.
However, the Roxity Kids Club is unsupervised. And it turns out it is a super fun activity with kids to spend a little time.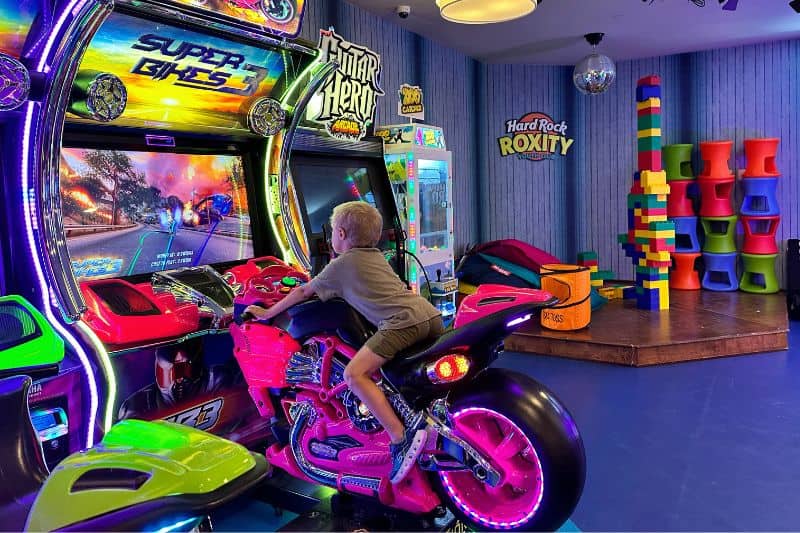 Our son enjoyed the motorcycle racing game the most. And once we had spent all the credits on our arcade card we made use of the free activities like the giant blocks, Jenga, and disc toss.
There are lots of kid friendly things to do in Daytona Beach, and the hotel's location makes it easy to explore them all.
Guitar shaped pool
We spent hours here! There are two pools at the Hard Rock Hotel Daytona Beach. And the small guitar shaped pool is unofficially the kids' pool. It is smaller and shallower than the main pool and the neck of the guitar is a simple splash pad.
The entire pool deck overlooks the beach, with glass paneling. It's the best of both worlds!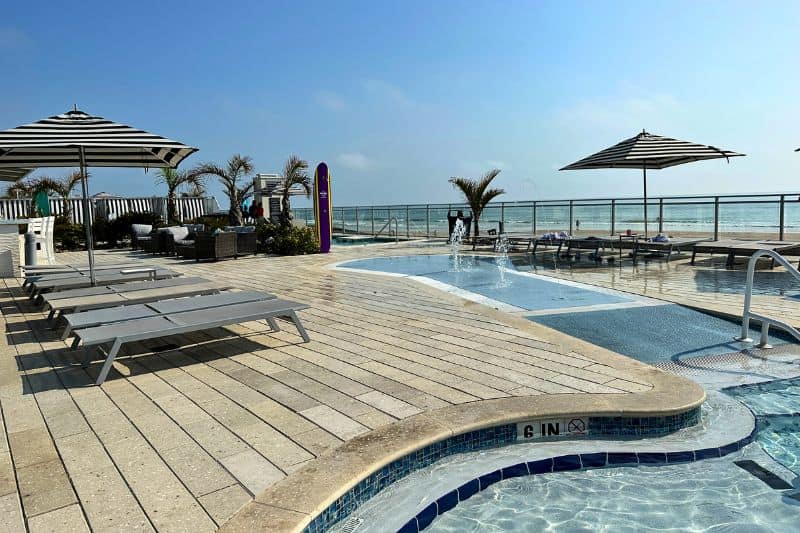 Start your day here. Seating fills up by 12:00 pm noon on weekends and other busy periods. And holding chairs without occupying them for an extended period of time is not allowed.
Also, on the weekends there is using a live DJ from noon until the early evening, and they are all about bringing the party. So it does get a little loud.
Music stars' Memorabilia
Even if your kids aren't that into music, the memorabilia that is literally everywhere at the hotel is fun to see. And there are plenty of pop star memorabilia too, not just rock star stuff.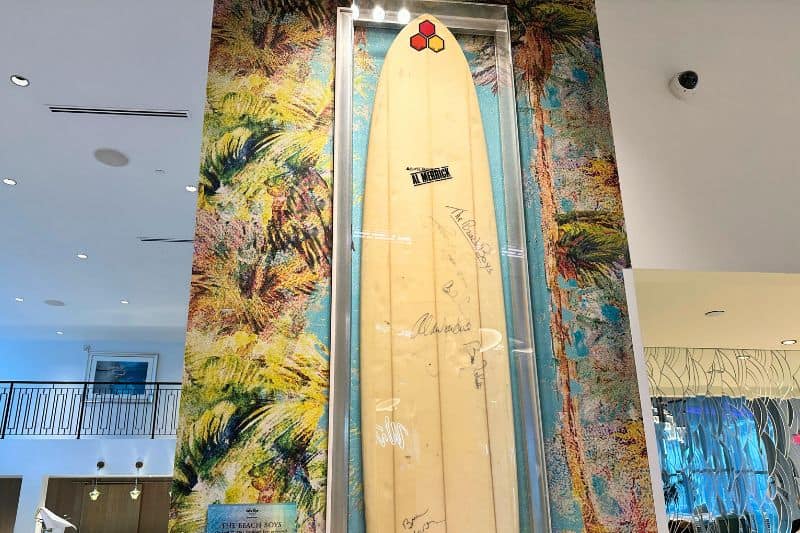 The largest concentration of memorabilia is in the lobby. Each of the elevator banks has some too. And the meeting rooms have a large collection as well.
If you find yourself here on a rainy day or you need a break from the heat, go exploring throughout the hotel to see what memorabilia you can find.
Direct access to the beach
One major perk of the strip of sand in front of Hard Rock Hotel Daytona Beach is that it is meant to be a traffic-free zone. Just keep an eye out because although it is meant to be a slice of the beach without any vehicles on it, the occasional driver comes through the area anyhow.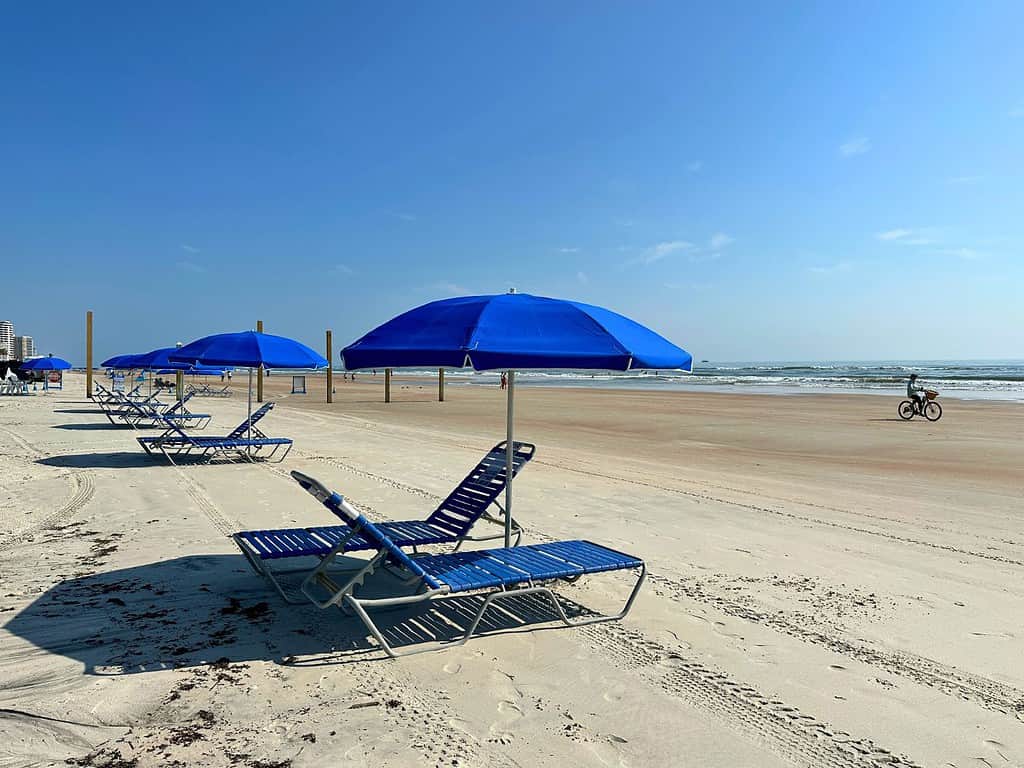 You may want to budget a few extra dollars to splurge on the lounge chairs and umbrellas that are available from Seabreeze Beach Rentals for $15 per hour, or $40 for three hours.
Bonus idea – Rock Spa
A stay at Hard Rock Hotel Daytona Beach would not be complete without a visit to the Rock Spa. Sure, many hotels have a spa, but the Rock Spa brand inside many Hotel Rock Hotels is unique.
Many of the treatments incorporate the use of music and rhythm. In fact, 4 signature services take place in a treatment room that has a massage table with bass speakers within it, and a treble speaker overhead.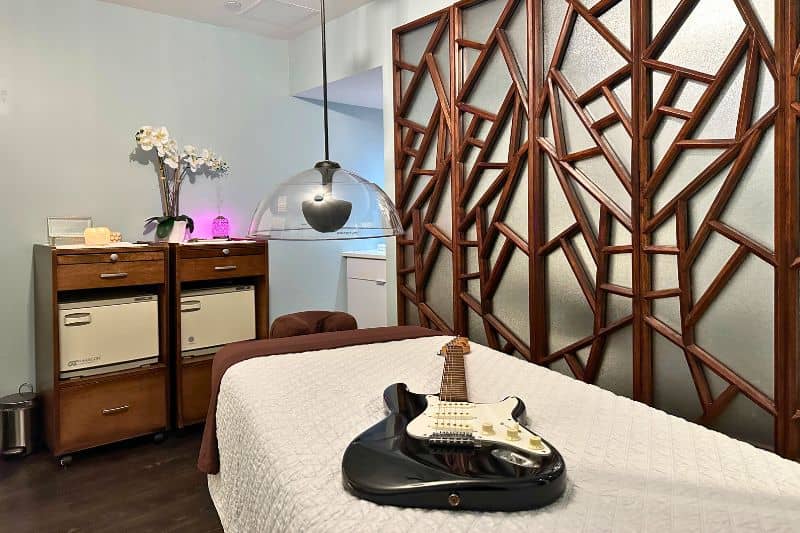 There are also mini-indulgences so you can enjoy some spa time, even when you need to stick to a budget.
Teens can enjoy the spa with their parent present. Guests under 16 years of age are not permitted in the locker room. This spa is music to the ears of any parent.
918 N Atlantic Ave, Daytona Beach, FL 32118
Phone: (386) 947-7300
There are two parking options: self and valet. Self parking is across the street from the hotel, though there is a crosswalk. The street is extremely busy and sometimes rowdy, so we selected valet.
The arrival area can get backed up and is smaller than expected. I felt a little rushed and panicky and ended up leaving a few items in the car once it was valeted. So as you arrive take a mental note of what you need with you.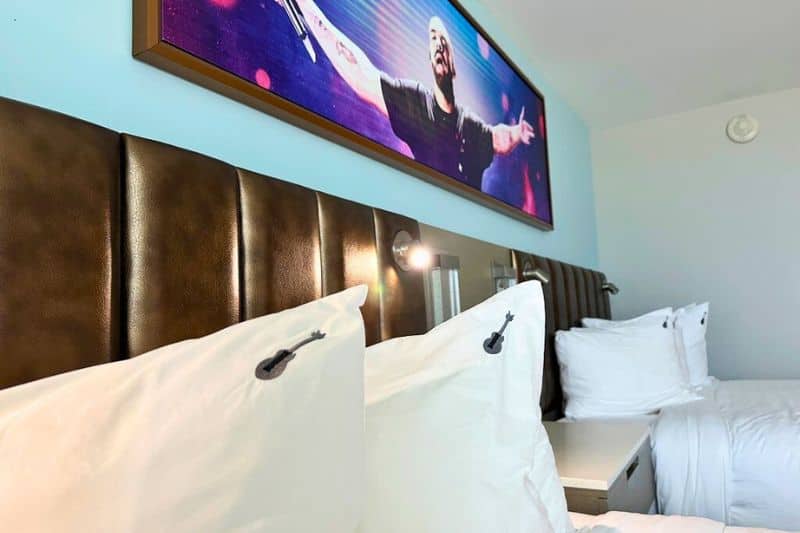 Once inside the hotel get ready for music, fun, and memories!
Please note, the accommodations were provided to the writer at no cost. Other portions of the stay were paid for by the writer.