How to Enjoy a Solar Eclipse with Your Family
Witnessing a solar eclipse with your kids is a special moment to remember. Don't miss out on this unique event happening this Saturday, October 14, and again in April 2024. We're sharing tips for viewing a solar eclipse together including viewing events in Orlando.
When Is the Next Solar Eclipse?
The next two eclipses are right around the corner:
October 14, 2023 is the Annular Solar Eclipse
Where can it be seen: North, Central and South America. For Orlando the solar eclipse will be visible on Saturday, October 14 around 11:52 am, with its peak around 1:26pm. Just keep in mind, Orlando is not in the path of 100% totality. We can expect 50 – 60%.
April 8, 2024 is the Total Solar Eclipse
Where can it be seen: North America
How to Find Out About Upcoming Solar Eclipses
The best way to find out when there will be a solar eclipse is to check out the Future Eclipses page from NASA. This website shares details on the upcoming eclipses for the next two years, while other sites go so far as listing out the next ten years' worth of eclipses!
In my opinion, NASA is the best for browsing details about the next few (the site currently lists eclipses happening through 2025) because of its trustworthiness and its cool related features on the page, like how to take photos of the solar eclipse and articles about the impact of a solar eclipse on wildlife and atmospheric changes.
Learning Opportunities for Your Children
Seeing a solar eclipse is a pretty unique experience! A few years ago the shelves and even Amazon stock were empty after a run on solar eclipse glasses here in Florida. Everyone wanted to be a part of it, to experience something not commonly seen in certain corners of the globe.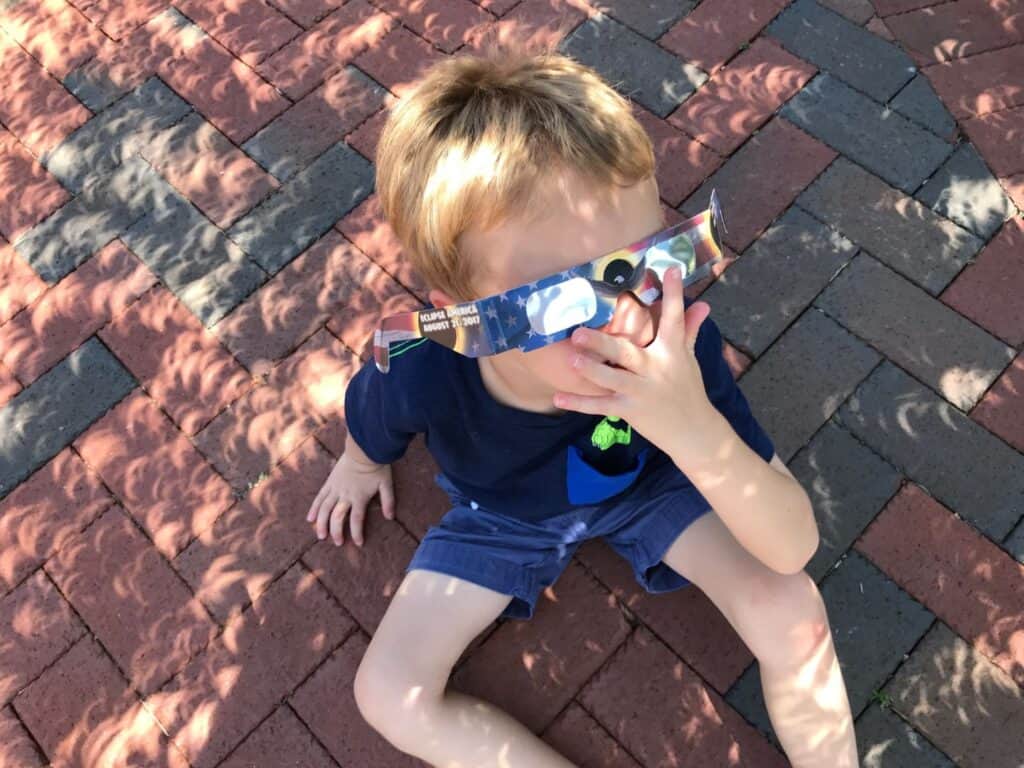 Parenting pro-tip: check out the shadows on the ground during a solar eclipse for a unique curvy shape.
Get your kids excited about this once-every-now-and-then opportunity by studying in advance. Learn about the sun on a really neat website, also made by NASA, called the Space Place, a special area of their website made for children to explore and learn more about the solar system. The site offers games, activities, craft ideas, trivia, and more to encourage your littles to understand the sun's power.
By the way, a visit to Kennedy Space Center is a must-do with your kids – it's such a fun experience.
Types of Solar Eclipses
In its simplest description, a solar eclipse is when the moon goes between the sun and Earth, blocking the sun from shining.
NASA has generated some great information on this topic, as well. Visit their website to learn about the types of solar eclipses, which include four types:
Total eclipse: This is when the moon fully blocks the sun, creating sudden darkness like dusk.
Annular eclipse: This is when the moon is farthest from the earth, making it small enough to not quite block the sun. The sun will appear as a gold ring around a black moon, often called a 'ring of fire'.
Partial eclipse: This type of eclipse creates a crescent-shaped block of the sun, due to a misalignment of the sun, moon, and earth.
Hybrid eclipse: This happens as annular and total eclipses pass along the earth's curved surface, creating a hybrid of the above.
Traveling to see a solar eclipse
If you are considering traveling to see a solar eclipse, it's going to be a memorable trip. My husband did this several years ago with friends and they were not alone! Thousands of cars traveled north on I-95, heading to the best spot for "full totality" in the "path of totality". Totality is when the sun is fully obstructed by the eclipse, so the path of totality is the band of the earth that can see the full eclipse.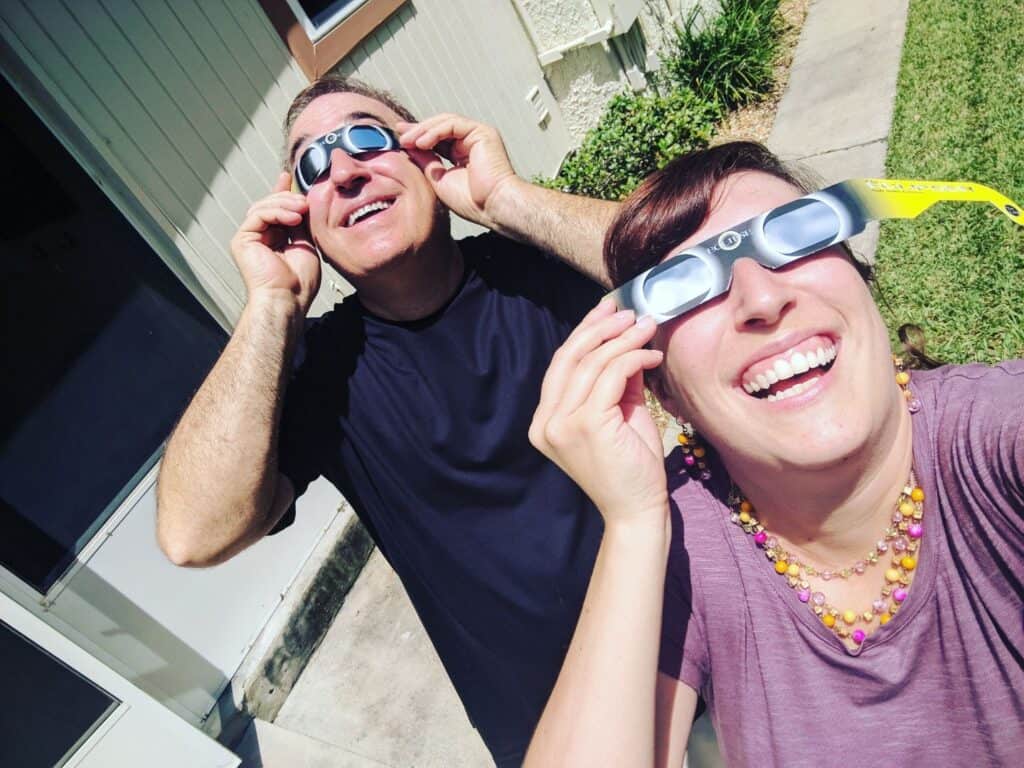 In many cases, in Florida, we will only see a percentage of the eclipse, so traveling is a great idea for the full experience.
If you do travel, consider booking your hotel as far in advance as possible, as the hotels will likely be full of gawkers looking to do exactly the same as you!
Plan for timing of the eclipse. My husband said he ended up having to pull off the road at a McDonald's to catch the big moment, because they weren't going to make it in time. Get there early and as it gets closer, use NASA's website to learn about the approximate timing of the eclipse in that area.
For the upcoming eclipse on October 14, 2023 visit this site to learn more about the path of totality, the percentage of visibility in your area, and what time of day to expect the eclipse: https://science.nasa.gov/eclipses/future-eclipses/eclipse-2023/where-when/
Be sure to arrive at the viewing destination with ample time to relax, find a nice field or park to enjoy the eclipse, and remember safety first!
Eyewear and Safety
When it comes to staring at the sun, we've all been told growing up not to do it, for obvious reasons. "Your eyes will burn out!" seems like a pretty good reason to me, but in any case for eclipses we have to be extra careful, because you'll likely be staring at the sun for prolonged periods.
In this case, sunglasses won't cut it. You need special eyewear called solar eclipse glasses. They look like paper 3D movie glasses and can be purchased online individually or in bulk.
Be sure to wear them at all times during the eclipse, when you are looking toward the sky.
If you are a crafty household, you can make your own eclipse viewing box. A few years back everyone was making them from cereal boxes, but this is a great tutorial for something a bit sturdier.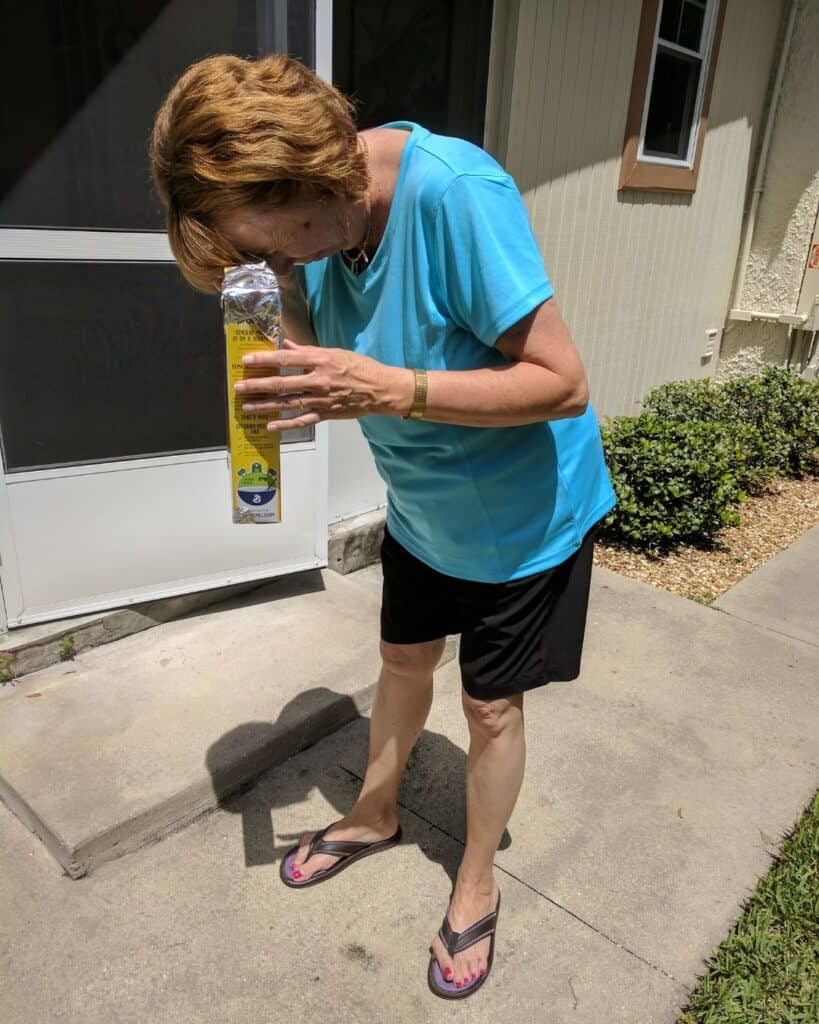 Lastly, it's always good practice to wear UV protection clothing and sunblock, and a good hat to keep the sun off your face.
Solar Eclipse Viewing in Orlando
For the next solar eclipse, consider bringing the kids out for a unique time. If viewing from Orlando for the upcoming eclipse, consult the Great American Eclipse website for details. Floridians can expect to see between 50-60% totality, which isn't bad!
Grab those 3D glasses and enjoy around noon, or check out some local viewing party options:
The Orlando Science Center is a great place to visit with kids and they will have a special viewing event! Tickets must be purchased in advance and include protective eyewear.
For an indoor alternative, try checking out Seminole State College's free online stream from their planetarium from 12-2pm on Saturday, October 14. They will be streaming from their YouTube account and doing a livestream on Facebook live.