Summer Reading Programs for Kids in Orlando (2023)
School is officially out for the summer! While kids are rejoicing, most parents are stressed about finding activities to keep their little ones entertained and their brains engaged for the next 2 months. But have no fear there are free summer reading programs at the local Central Florida library systems – Orange County, Seminole County, Osceola County, and Lake County. 
The first 2 have the most activities and offer a wide range of options both during the day and in the evening. If you're unable to make the in-person events, make sure to sign up for your free library card at your local branch so your family can check out different books this summer. Like me, I'm sure you're getting tired of reading the same books over and over at your house, and the summer is the perfect time to switch it up! 
You can also explore more Things to Do with Kids in Orlando This Summer.
Orlando Summer Reading Programs
June 3-July 29, 2023
Locations:
Alafaya
Chickasaw
Eatonville
Fairview Shores
Hiawassee
North Orange Branch
Orlando Public Library & Melrose Center
South Creek
South Trail
Southeast
Southwest
Washington Park
West Oaks and Genealogy Center
Windermere Branch
Winter Garden
This year's summer reading program theme for the Orange County Library System is All Together Now: Kindness, Friendship and Unity.
OCLS is offering free online and in-person programs, classes and events at all 15 branch locations. Starting on July 15, children who complete 300 minutes of reading can visit their local branch for a goodie bag, while supplies last.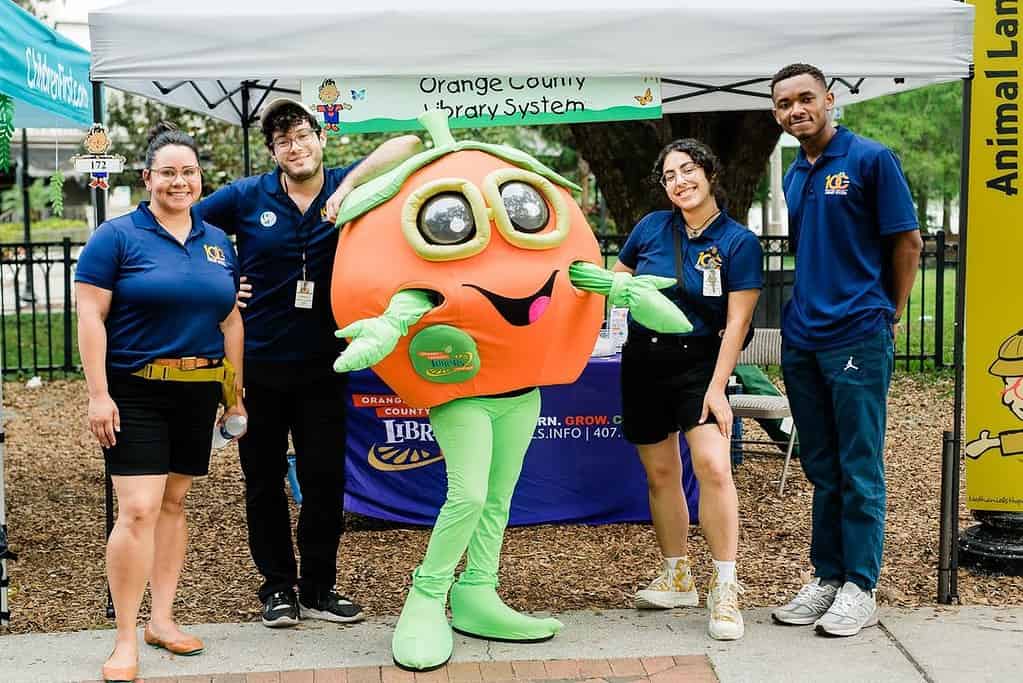 Make sure to download the Beanstack app to log your child's reading minutes online or grab one of the paper reading trackers (available in English, Haitian Creole, Portuguese and Spanish) at your local branch. In-person programs include sing-alongs, science experiments, animal encounters, dance parties, language skills, and more. 
May 25-July 30, 2023
5 locations:
Central (Casselberry)
West (Longwood/Wekiva)
East (Oviedo)
Northwest (Lake Mary)
North (Sanford)
The Seminole County Library System is also focusing on the theme of All Together Now this summer, celebrating friendship, community and teamwork. With school out for the summer, children have the chance to read whatever types of books they like, and they all count for the SCLS summer reading program.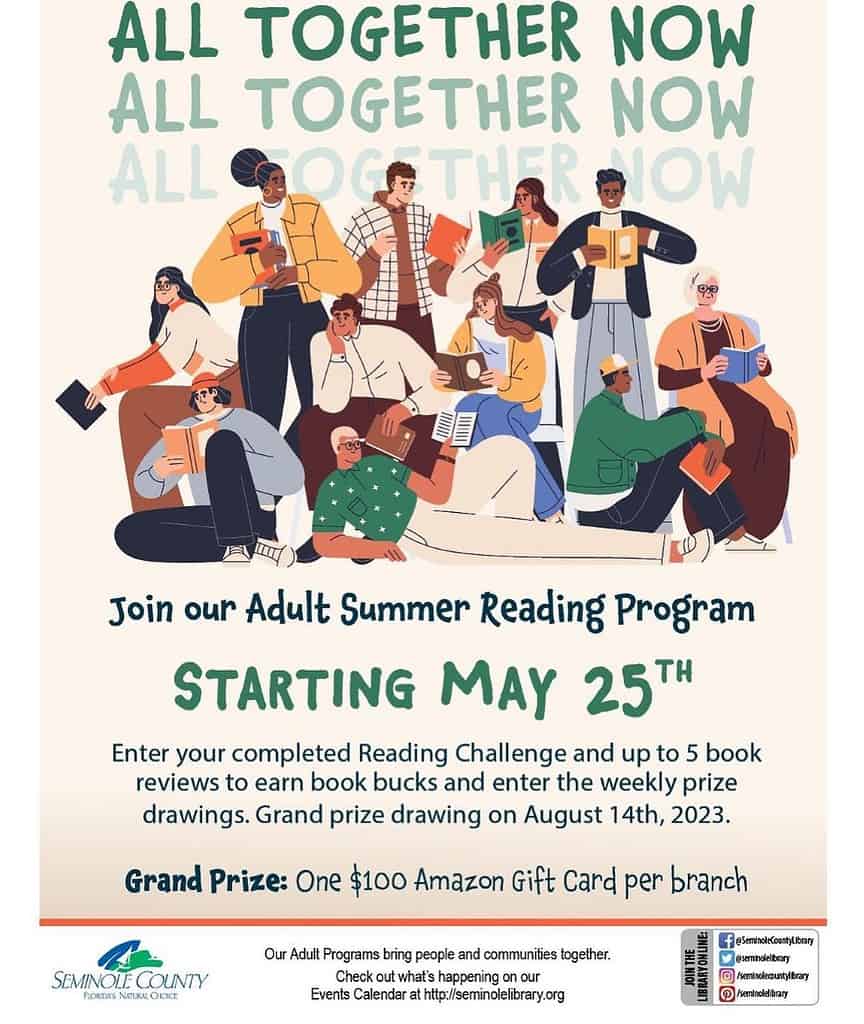 When signing up for the program, you'll receive a free book and a lanyard to collect badges for weekly reading challenges. Children, teens and adults can all participate in the challenges. Each week, make sure to fill out a raffle ticket at your local branch to be eligible for prizes, including the end of summer grand prize, a pair of LEGO creator sets.
In-person events throughout the summer include chess for kids, LEGO club, library explorers, a marionette show, art and music classes and more! 
You have two chances to join SCLS for a summer reading kick-off party:
Tuesday, May 30 | 6-7:30pm – Greenwood Lakes Park (outside the Northwest branch)
Tuesday, June 1 | 6-7:30pm – Red Bug Lake Park (Casselberry)
June 5-July 27, 2023
​Hart Memorial Central Library
St. Cloud
Poinciana
Buenaventura Lakes
West Osceola
The Osceola County Library System is offering Camp iREAD at 5 of its locations this summer for children of all ages. Unfortunately, there's not a dedicated page on the OCLS website that offers more information about the summer program.
You can find details about in-person events at each library branch on their calendar page. Activities occur Monday through Friday and include dance and music sessions, storytime, puppet theatre, and more. 
June 30-July 27, 2023
Cagan Crossings (Four Corners/Clermont)
Eustis Memorial
Leesburg
Marianne Beck Memorial (Howey-in-the-Hills)
Marion Baysinger Memorial (Groveland)
Paisley County
The 2023 theme for the Lake County Library System's summer reading program is "Ocean of Possibilities." There isn't much information about the program as a whole on the LCLS website, however, you can look up individual branch schedules on their calendar page.
Free in-person activities are available at 6 of the LCLS branches and include animal encounters, gardening lessons, foam parties, yoga, scavenger hunts, and more. 
Happy reading!