Avoid These Mistakes During the Holidays and Christmas at Walt Disney World
The holiday season at Walt Disney World Resort may be among the most magical times of year at the destination, but it's also the busiest. Not only is the Christmas season at Walt Disney World a time for major crowds, but there is also a flurry of additional activities to enhance your family's holiday celebration. These added holiday activities at Disney give families an incredible bang for their buck, but can also make it hard to decide which Christmas activities at Disney are worth it, and which aren't.
As a mom who has been visiting Walt Disney World with my kids for nearly a decade of holiday seasons, I've done it all, from Christmas character dining to walking the Christmas Tree Trail at Disney Springs. My family has seen Santa Claus in every Disney World park, taken the Walt Disney World Monorail to see holiday decorations at resort hotels, and attended Mickey's Very Merry Christmas Party, so it's safe to say we're pros at navigating Walt Disney World Resort during the holidays.
Common Mistakes During Christmas at Walt Disney World
Not planning ahead
Doing too much each day
Missing out on dining reservations or mobile ordering
Skipping the free things you can do
Read on for my list of what should — and doesn't need to be — on your holiday activity list at Disney World this year.
Don't Miss These Holiday and Christmas Things to Do at Disney World
While every Walt Disney World resort hotel gets the holiday decor treatment, there are three that are easy for all guests to view: Disney's Grand Floridian Resort and Spa, Disney's Polynesian Village Resort, and Disney's Contemporary Resort.
In the Polynesian, beautifully decorated Christmas trees and wreaths are adorned with island-style ornaments and beautiful flowers. The Grand Floridian offers up an iconic gingerbread cottage, while at the Contemporary, there's a large gingerbread display that's featured characters like Cinderella and Mickey Mouse in previous years.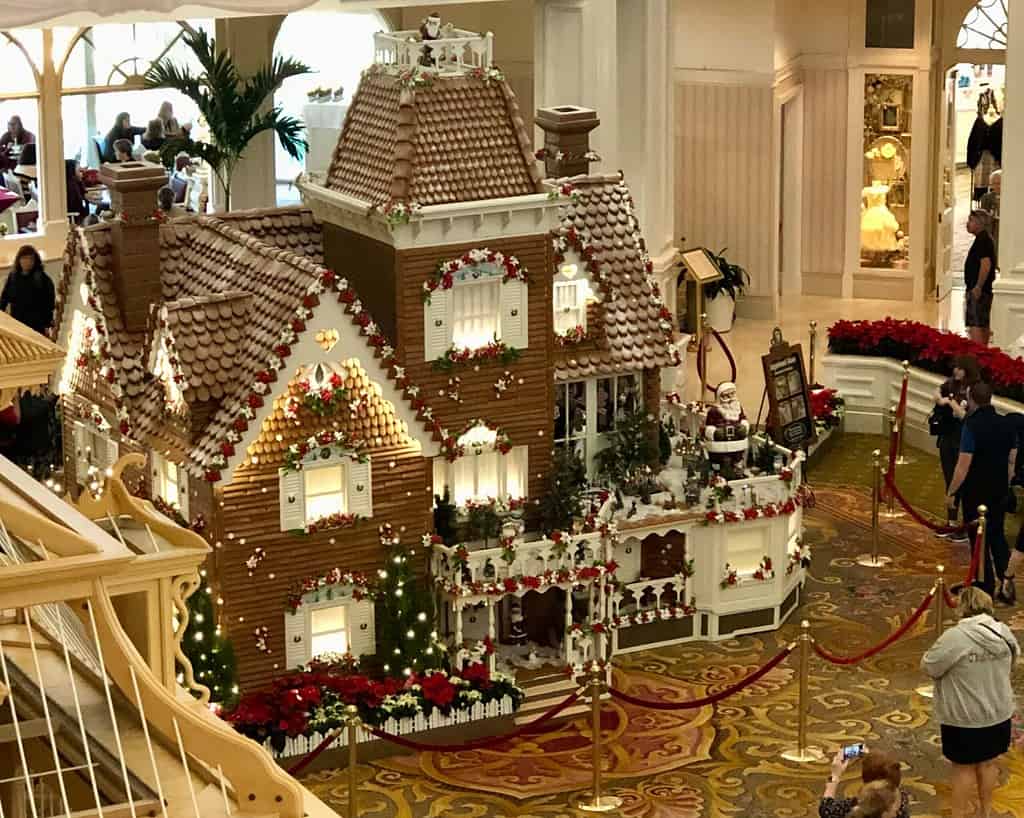 Viewing these beautiful displays costs nothing, and can easily be done by taking the Walt Disney World Monorail and getting off at each resort. Turn this activity into a full day by making a dining reservation along the monorail loop and hanging out together as a family.
DISCOVER MORE: The Best Disney Hotels During the Holidays
On select nights from November 9 through December 22, 2023 Magic Kingdom Park closes early and reopens for a special ticketed event: Mickey's Very Merry Christmas Party.
Tickets for this event are separate from theme park admission and vary depending on date, ranging from $159 to $199 per adult and $149 to $189 per child. Pricey? Yes, but there are a lot of benefits to attending Mickey's holiday gathering.
Get the most out of your money by skipping a regular park ticket on the day of the party. Instead, know that ticket holders get access to Magic Kingdom starting at 4 p.m. You can maximize your money by arriving early and then staying through the end of the party, which goes from 7 p.m. to midnight.
Once the party starts, there are special Disney characters in their holiday attire to take photos with, cookies and cocoa being handed out, fake snow on Main Street, U.S.A., and more.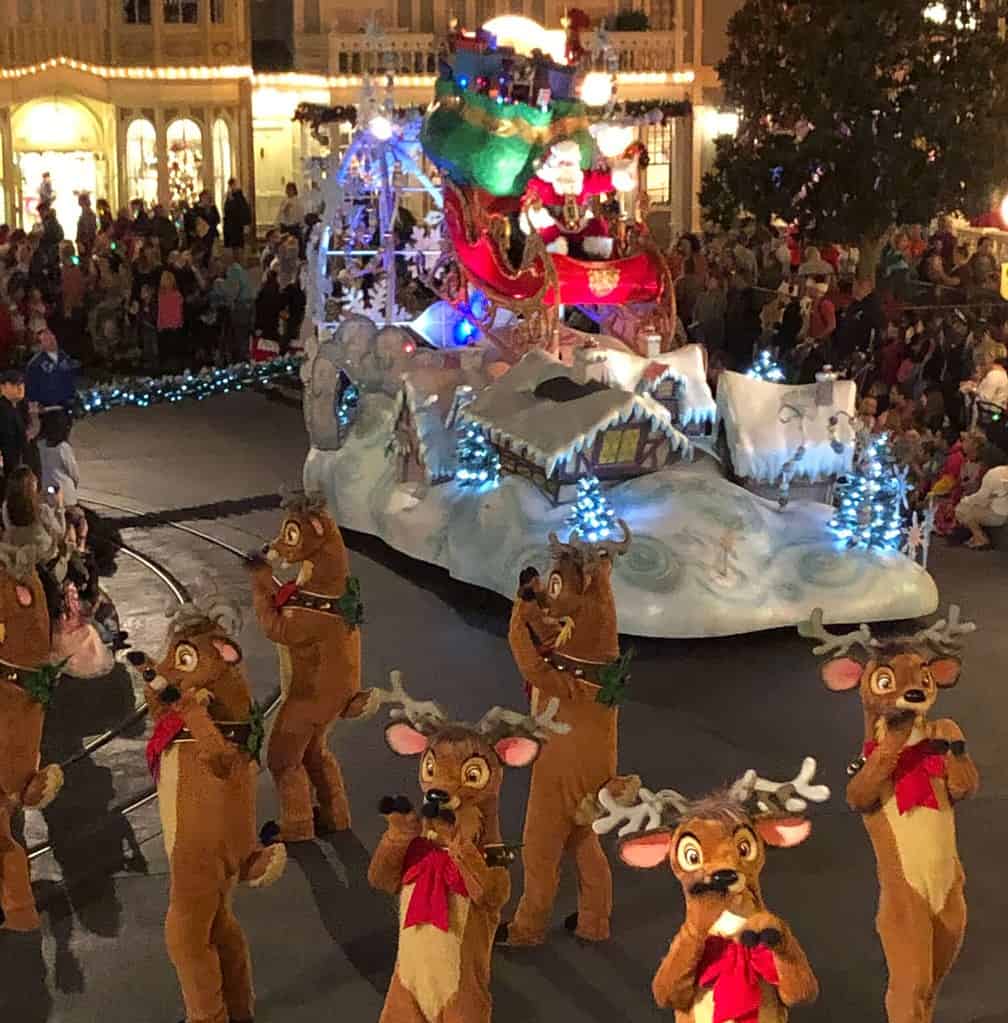 You'll also be able to view special nighttime shows like Minnie's Wonderful Christmastime Fireworks and Mickey's Once Upon a Christmastime Parade. And, because the event will have limited attendance, there will be shorter wait times for the park's attractions.
As a lover of holiday ornaments and Disney, one of my favorite things to do at Walt Disney World during the Christmas season is the Christmas Tree Stroll at Disney Springs. Starting on November 10, 2023, this is a highlight of the holidays at Disney Springs for the last several years. 
MORE: Free Holiday Events in Orlando
This experience is simple to enjoy: Just stroll around Disney Springs, locate the holiday trees decorated in Disney theming, and get in the Christmas spirit.
In the past, we've seen trees decorated for Disney films like 101 Dalmatians and Disney Parks attractions like the Haunted Mansion.
A free Tree Stroll Map is available at the Disney Springs Welcome Center. Find every tree and attach its sticker to the map and turn it in for a prize when you've finished.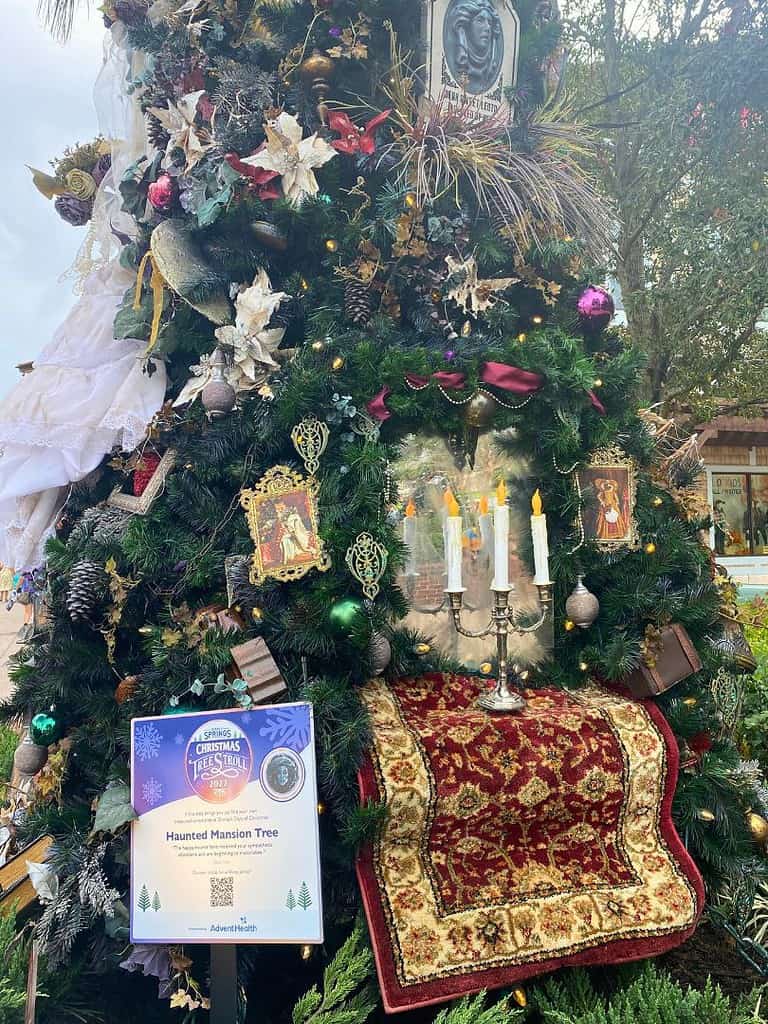 Santa appears at all four Walt Disney World parks and at Disney Springs during the holiday season. Whether the man in red is parading down Hollywood Boulevard at Disney's Holiday Studios or joining Santa in his sleigh at EPCOT, it's fun to get eyes on him wherever your Disney day takes you.
At Disney Springs, there's a virtual queue for photos with Santa. Simply scan the QR code near the meet-and-greet entrance (close to Once Upon a Toy) and follow the steps to hop into the virtual line. Then, enjoy Disney Springs until you receive a text that it's time to return for your photo with Santa.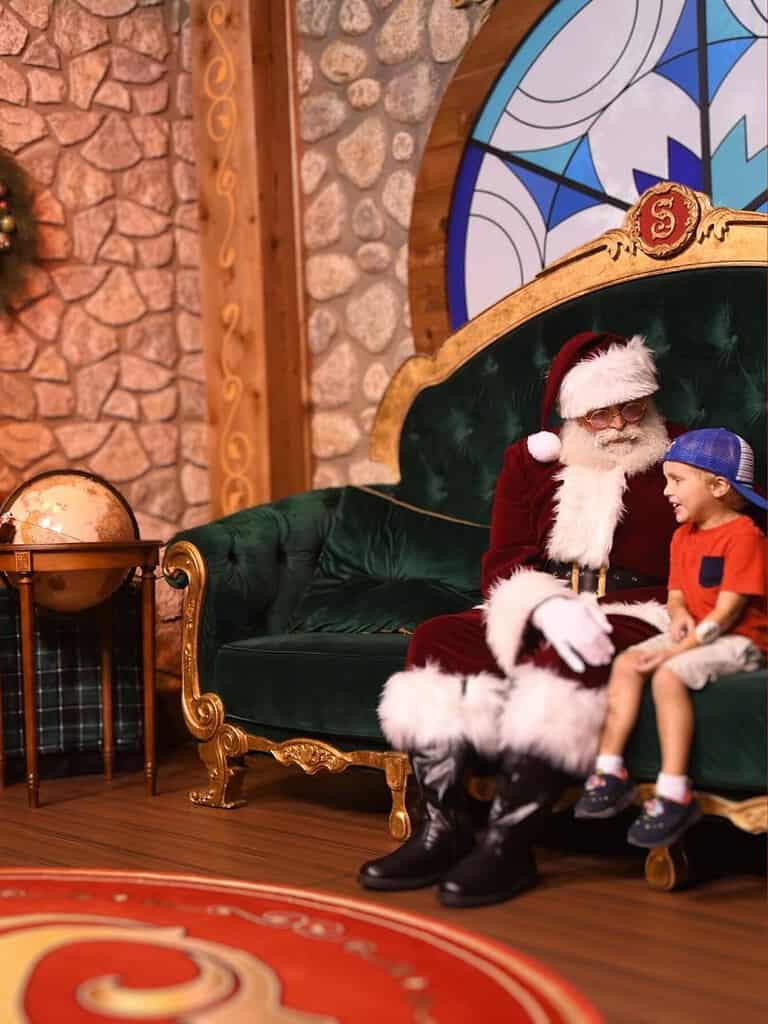 Get expert tips: Where to See Santa at Walt Disney World
These Disney holiday happenings are OK to skip
The Candlelight Processional is not ideal for young kids
For families with young kids, EPCOT's Candlelight Processional is far from a must-do. During this show, part of EPCOT's International Festival of the Holidays, a celebrity narrator tells the story of Christmas while an orchestra and choir perform holiday music. It's a beautiful show, but at 40 minutes long, little ones may get squirmy in their seats, especially at the end of an eight-hour park day.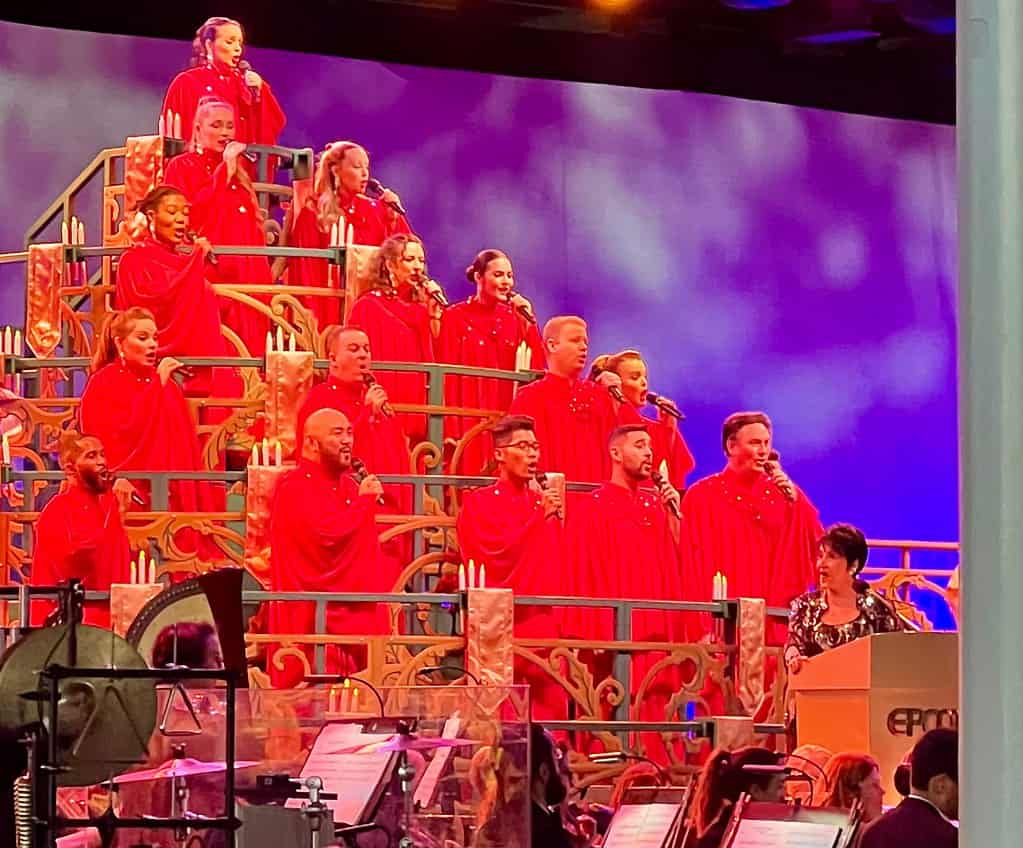 This truly stunning holiday spectacle may be better for a date night around the Festival of the Holidays, when parents can enjoy themselves and the show.
It's okay to skip holiday character dining
The holiday character dining at Hollywood and Vine may feel like a must-do, but with opportunities to meet Christmas attire-clad characters throughout Walt Disney World Resort, it's not essential. At $60 per adult, the meal can add up fast and, with so many holiday treats and merchandise items to splurge on at Disney during the holidays, it's okay to save your money for other activities.
During Minnie's Holiday Dine, which started at Disney's Hollywood Studios on November 5, Mickey and Minnie Mouse and friends roam the restaurant, posing for photos in their Christmas best. There's also a Santa Goofy photo op at the entrance to the restaurant. The buffet-style meal is good, but let go of the mom guilt if this one isn't in the Christmas budget.
Parenting Pro-Tip: Visiting Disney World during Christmas and the holiday season means crowds. So plan your meals ahead of time.
If you miss out on reservations, here's what to do if you Can't Get a Disney Dining Reservation.
Don't pack in every single holiday activity
As a parent, you can't do it all — you're not Santa Claus after all. It's easy to want to fill every moment of a Disney trip with magic, especially during the holiday season, but it's okay to make like Elsa and let it go in this case.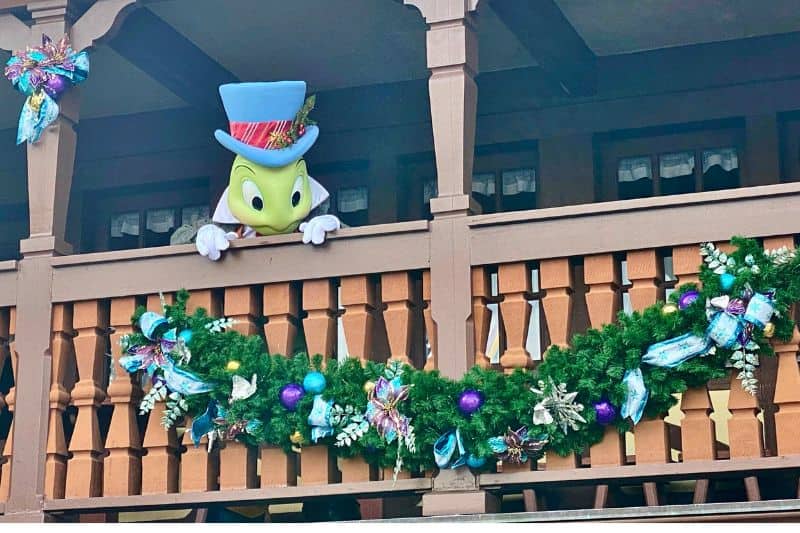 The Christmas season at Walt Disney World is full of ways to make memories and create a sense of wonder as a family, but it's important to remember your kids will be thrilled with as much — or as little — Disney holiday magic as you're able to fit in.
With after-hours parties, holiday overlays on certain attractions, Christmas decorations, special themed food and beverage offerings, festively-dressed characters and beyond, there's more to pack into one holiday season at Disney World than the average family can handle.
With it being so crowded during Christmas time at Walt Disney World, read over these ways to avoid long lines at Walt Disney World.
This holiday season, give yourself the gift of knowing whatever Disney magic you make is the perfect amount.