How to Do a FREE Monorail Christmas Decorations Tour at Disney World Hotels
The holidays at Walt Disney World Resort is the most magical time of the year in Orlando. But with holiday-themed treats, festive merchandise, pricey ticketed events like Mickey's Very Merry Christmas Party, and more, Christmas at Disney World can also be expensive. Add in the fact that the holidays are one of the busiest times of the year at Walt Disney World, and it's easy to see why inexpensive and less crowded holiday activities should be on your family's must-do list as well. We're showing you how to conduct your own self-guided tour of Disney hotel Christmas decorations using the monorail.
Disney Monorail Tour
All of the Disney hotels decorate for the holiday season and sell festive merchandise in their gift shops during Christmas. While even the value resorts will have basic decorations like Christmas trees up for guests, Disney World's deluxe resorts go all out during the holidays.
A fun and free holiday activity for families outside of the Disney World theme parks is to take a ride on the Walt Disney World Monorail, stopping at the resorts along the monorail loop to check out their extravagant holiday decor.
Want to take a monorail Christmas decorations tour at Disney's Grand Floridian Resort and Spa, Disney's Polynesian Village Resort, and Disney's Contemporary Resort? Read on for everything you need to know to make holiday monorail magic happen.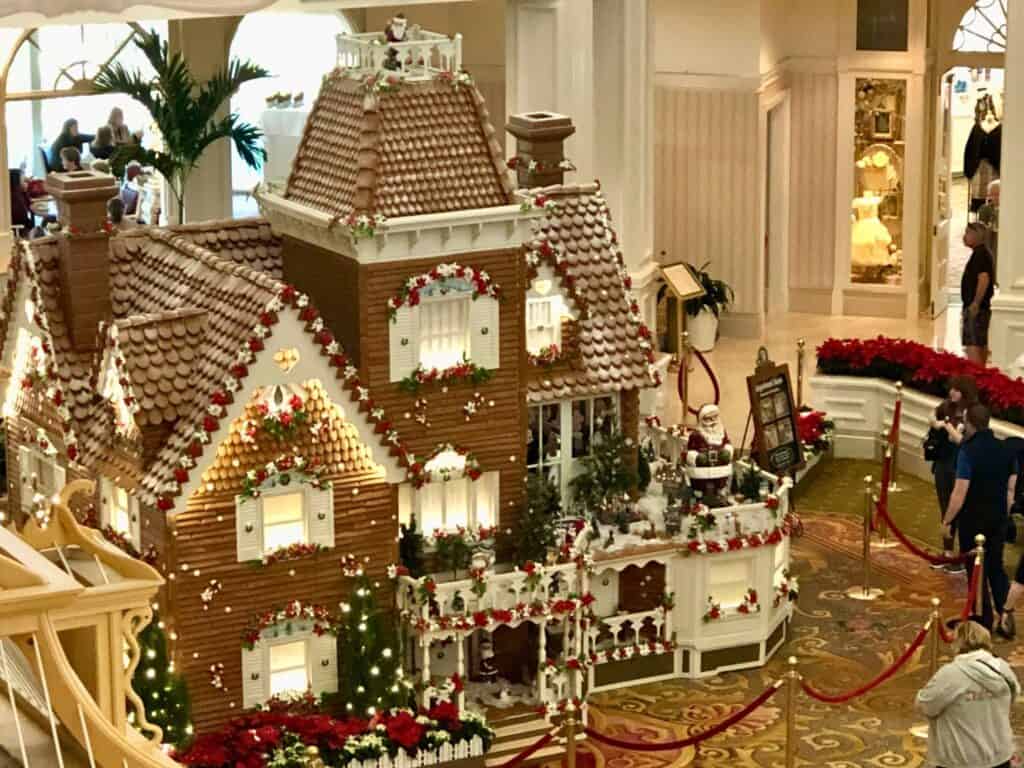 How to get to Disney's Resort Monorail loop
The Walt Disney World Monorail is made up of three loops. The EPCOT Monorail and Express Monorail originate at the Transportation and Ticket Center (TTC) and provide round-trip service to EPCOT and Magic Kingdom Park. The Resort Monorail makes stops at Magic Kingdom, the TTC, the Grand Floridian, the Contemporary, and the Polynesian in a continuous loop.
The Resort Monorail can be accessed from both the TTC and Magic Kingdom, so the simplest way to hop on this loop may be to park at the TTC and ride. If you're planning to visit Magic Kingdom before your monorail tour, however, it's easy to access the Resort Monorail when you exit the park.
Other ways to get to the resort monorail
Since Disney resort parking is reserved for guests staying at the hotel, and guests with confirmed dining reservations, the easiest way to park at one of the monorail resorts and take the monorail from there is to make a dining reservation.
At the Contemporary, consider booking a meal at restaurants like Steakhouse 71 or California Grill to ensure parking. At the Grand Floridian, restaurants like Narcoossee's or Grand Floridian Cafe accept dining reservations, and at the Polynesian, guests can choose from restaurants like Kona Cafe or 'Ohana.
Some of our favorite Disney restaurants for families are right here at these resorts.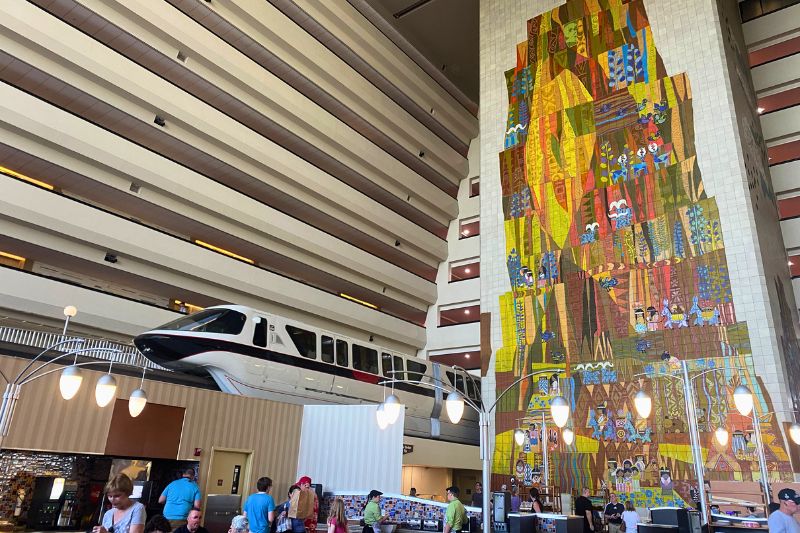 After breakfast, lunch, or dinner with your family, enjoy the holiday decorations at your chosen resort then hop on the monorail to see the other two before returning to your car.
It's also possible to park at a resort with a confirmed mobile order at one of the resort's quick service restaurants, though this is not a guarantee.
Additionally, buses from each theme park and Disney Springs offer transportation to these three resorts, so it's possible to leave your car behind and take a bus to one of the monorail resorts, ride the monorail, then take a Disney bus back to where your car is parked when you've finished.
Parking at Disney Springs, which is free, and taking a bus to Disney's Grand Floridian, Contemporary, or Polynesian Village is the best way to ensure you won't have any difficulty with parking. Plus, it is fun to use Disney's transportation and there's the Christmas Tree Stroll at Disney Springs!
And bonus, if you want to extend the fun, take the bus from Disney Springs to Disney's Wilderness Lodge for some of the best holiday decorations at Walt Disney World.
Sample Itinerary, including Wilderness Lodge
Park at Disney Springs, take bus to Disney's Wilderness Lodge Resort
Boat from Disney's Wilderness Lodge to Magic Kingdom
Take Resort Monorail from Magic Kingdom to Disney's Contemporary
Monorail from Contemporary to TTC, continue from TTC to Polynesian
Monorail from Polynesian to Grand Floridian
Bus from Grand Floridian back to Disney Springs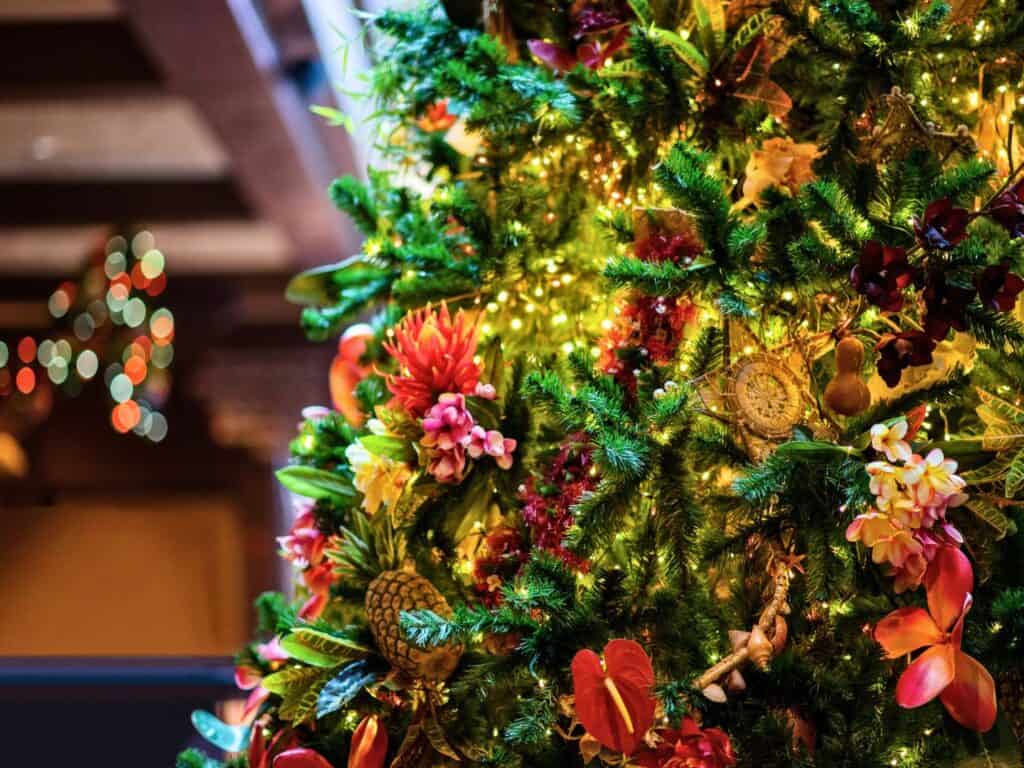 Holiday decorations at Disney's Grand Floridian Resort and Spa
The Grand Floridian lobby smells like heavenly gingerbread cookies throughout the holiday season and the reason is its iconic giant gingerbread house, which can be found in its lobby. The gingerbread house is beautifully decorated and houses an adorable bakeshop where guests can buy baked goods to snack on while they enjoy the holiday decor.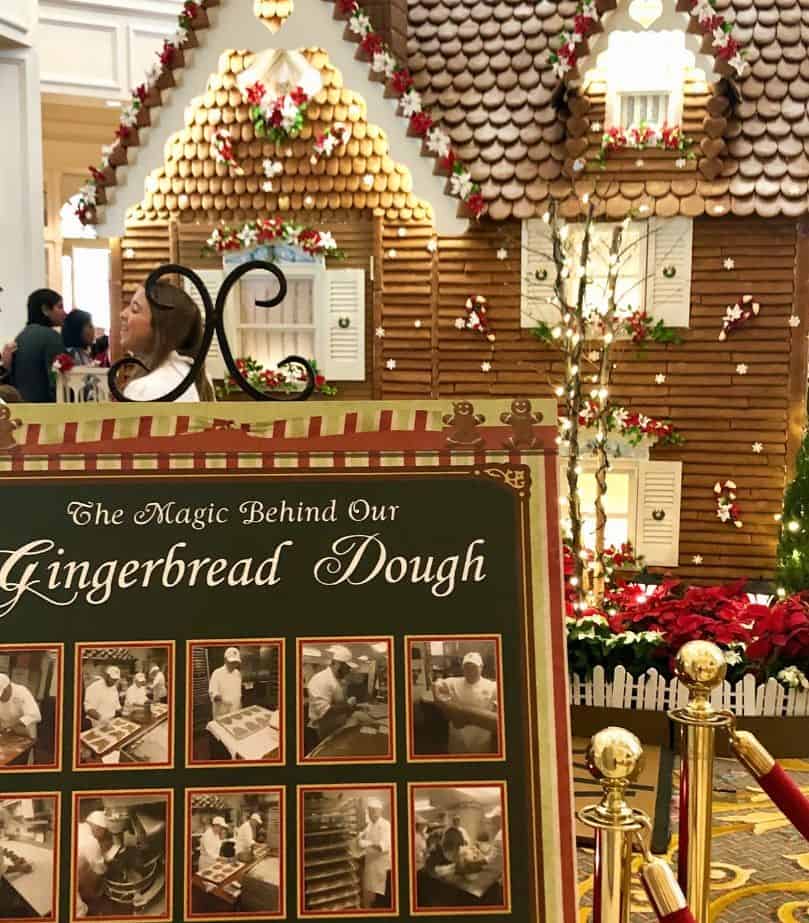 There's also a giant Christmas tree in the Grand Floridian lobby, decorated with stunning Victorian-era ornaments. And, since the Grand Floridian lobby houses multiple sweet gift shops, it's a great place to hunt for Disney holiday merchandise.
Holiday decorations at Disney's Contemporary Resort
There's a second gingerbread display at the Contemporary, which has been themed after characters like Cinderella and Mickey and Minnie Mouse in recent years. The display typically contains lots of "hidden Mickeys," Mickey Mouse shapes that get worked into the overall design.
The Contemporary's Contempo Cafe is known for its baked goods, including giant cupcakes, so it's usually a great place to find a few holiday-themed sweet treats.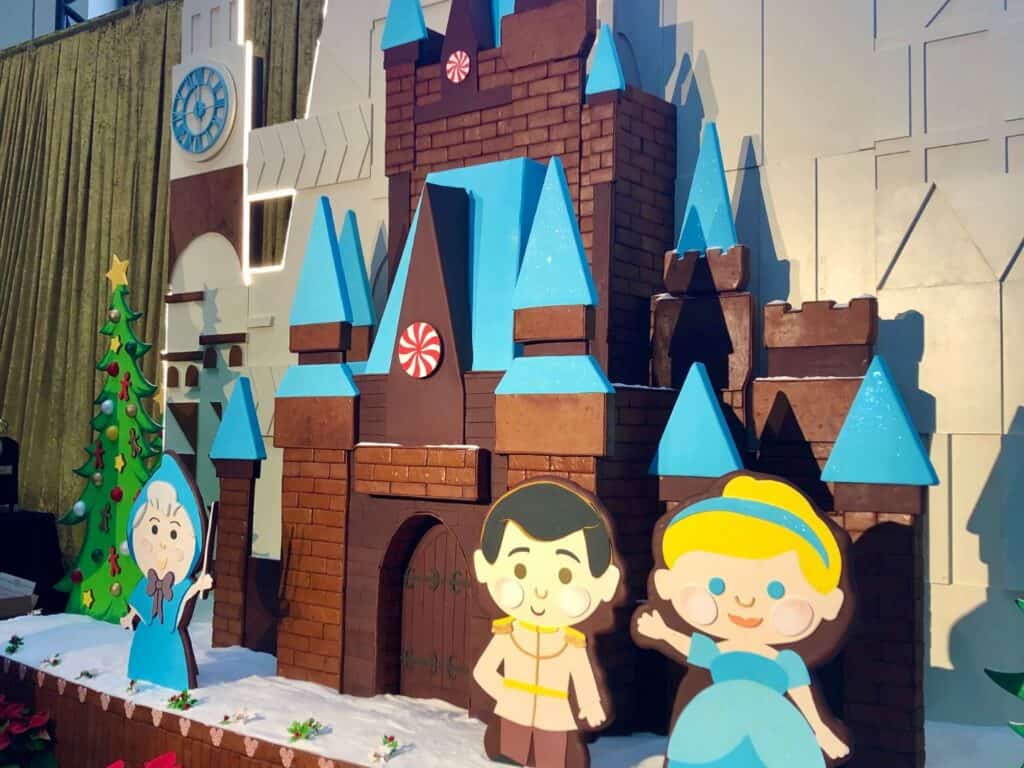 Be on the lookout for stunning Christmas trees and decorations throughout the resort, from the lobby to the conference center. There's also an outdoor tree adjacent to the Contemporary lobby that makes for some adorable family photos.
Holiday decorations at Disney's Polynesian Resort
At the Polynesian, the vibe is distinctly Christmas in the Pacific Ocean islands. Wreaths, swags, and Christmas trees are adorned with tropical fruit and flowers, and the resort's main entrance is beautifully decorated with wreaths that feature glowing glass orbs.
While the holiday decorations are the most subtle at the Polynesian, they're still a must-see for their creativity and beauty.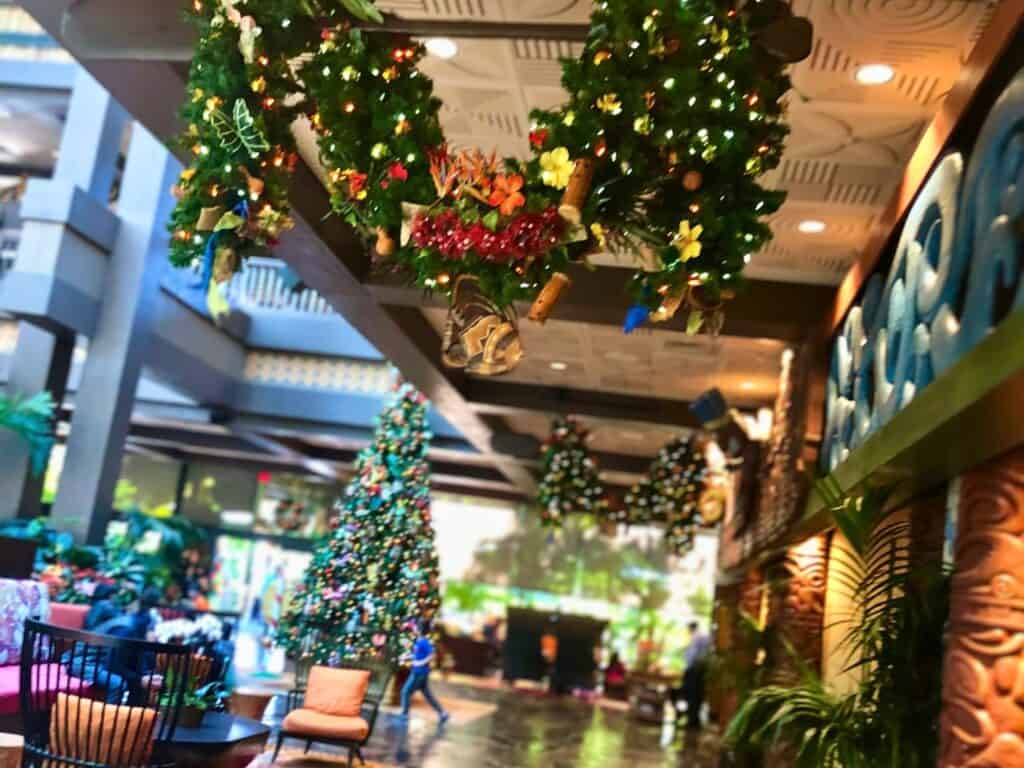 While you're there, be sure to take in the resort's beautiful grounds, which are famous for their tropical plants, waterfalls, and rock formations. And, order a Dole Whip at Pineapple Lanai, a sweet treat quick service restaurant that's been known to make festive versions of the frozen tropical treat.
When do Disney hotels decorate for Christmas?
Although the holidays at Magic Kingdom kick off the first week of November, and the holidays at Hollywood Studios begin early too, the Disney hotels take a little longer. Generally, decorations begin to arrive at the hotels the week before Thanksgiving.
The Disney World hotels are decorated for Christmas and the holidays by the week of Thanksgiving, generally around November 20 each year.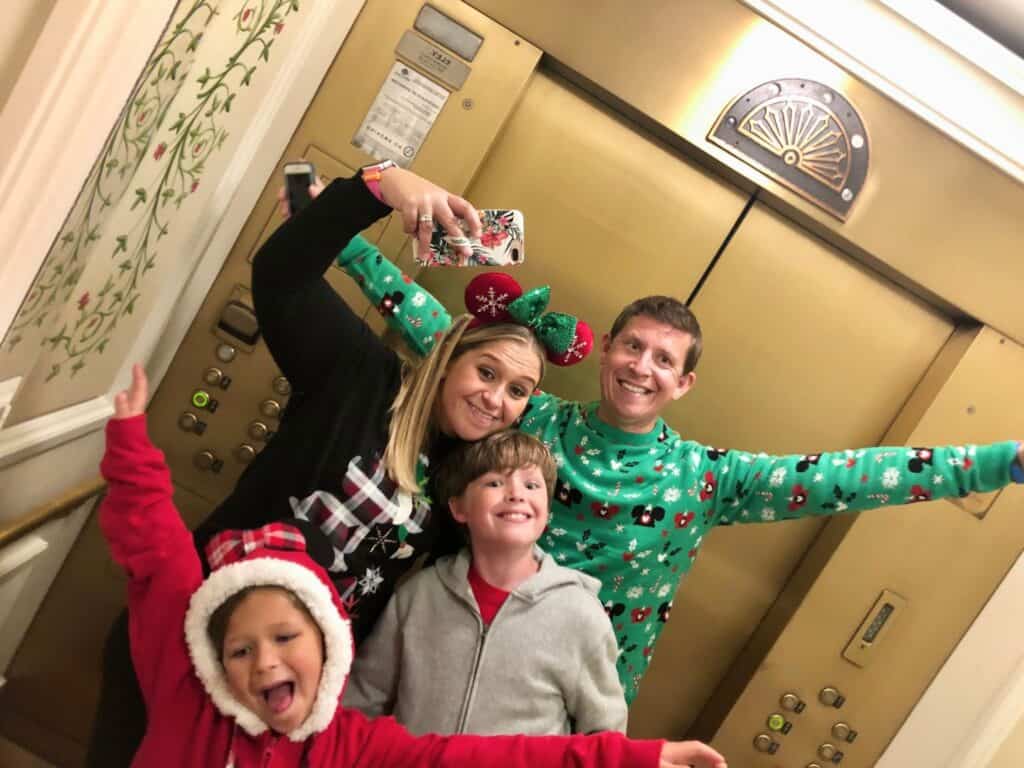 Have a magical time on your monorail tour!
If you're ready for extra credit, then go tour the Christmas decorations at Disney's Boardwalk hotels!
Featured image provided by Walt Disney World Media Relations