Celebrate the Holidays at Disney Springs with the Christmas Tree Stroll
The holidays at Walt Disney World Resort are among the most special times of the year at the Central Florida property. But sometimes it can feel like it's hard to find holiday magic with Mickey that doesn't cost lots of money. The prices and never-ending to-do list of Christmas activities at Disney World can leave families wondering what they can do to save a bit of money during a holiday Disney visit.
Sure, you can take a monorail tour of the holiday decorations at certain resort hotels or make a dining reservation at a hotel along Disney's BoardWalk and see the gingerbread carousel at Disney's Beach Club Resort. But one of the most festive and free activities at Disney World during the holidays is the Christmas Tree Stroll at Disney Springs.
What is Disney Springs' Christmas Tree Stroll?
An annual tradition at Disney Springs, the Christmas Tree Stroll is presented yearly by AdventHealth. It's a simple holiday activity that's 100% free to participate in.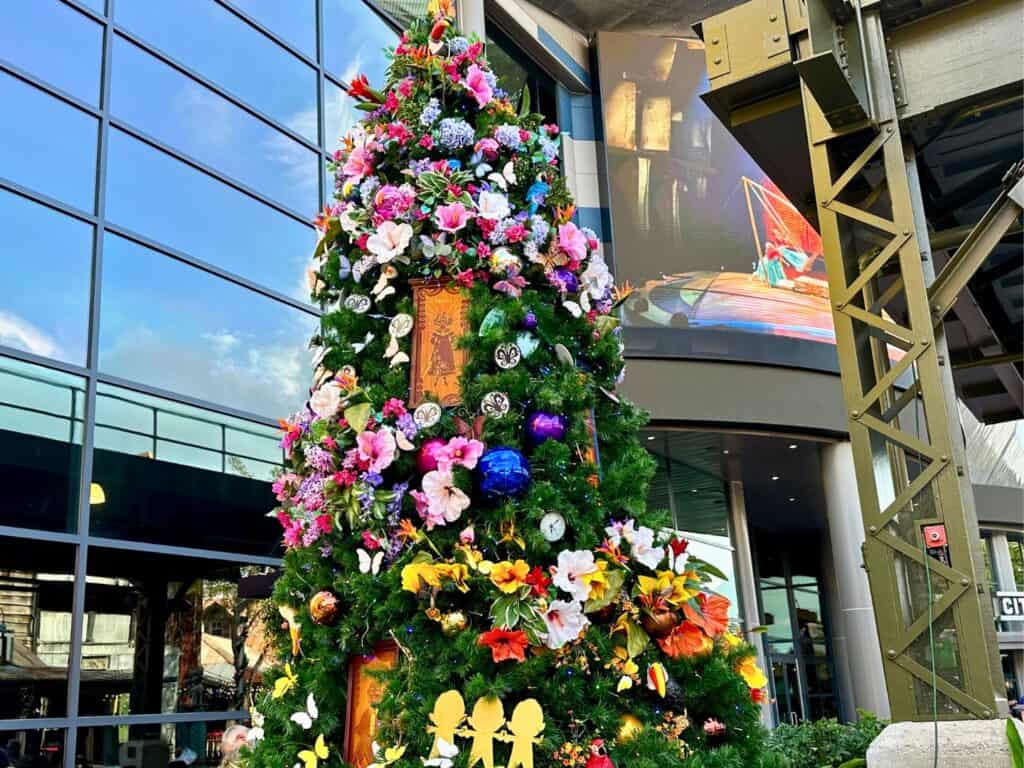 The 2023 Disney Springs Christmas Tree Stroll kicked off on Nov. 10 and runs through Dec. 30, 2023. Throughout Disney Springs' various neighborhoods, Disney displays beautifully-decorated Christmas trees themed around Disney movies, Disney Parks attractions, and Disney characters. From an Encanto-themed tree to a Haunted Mansion one, there are creative and interesting trees for everyone in the family.
How does the Christmas Tree Stroll work?
In past years, the Christmas Tree Stroll was known as the Christmas Tree Trail and was set up in one specific location at Disney Springs. Now, instead of seeing all of the trees along one trail, guests explore all of the neighborhoods of Disney Springs hunting for themed Christmas trees.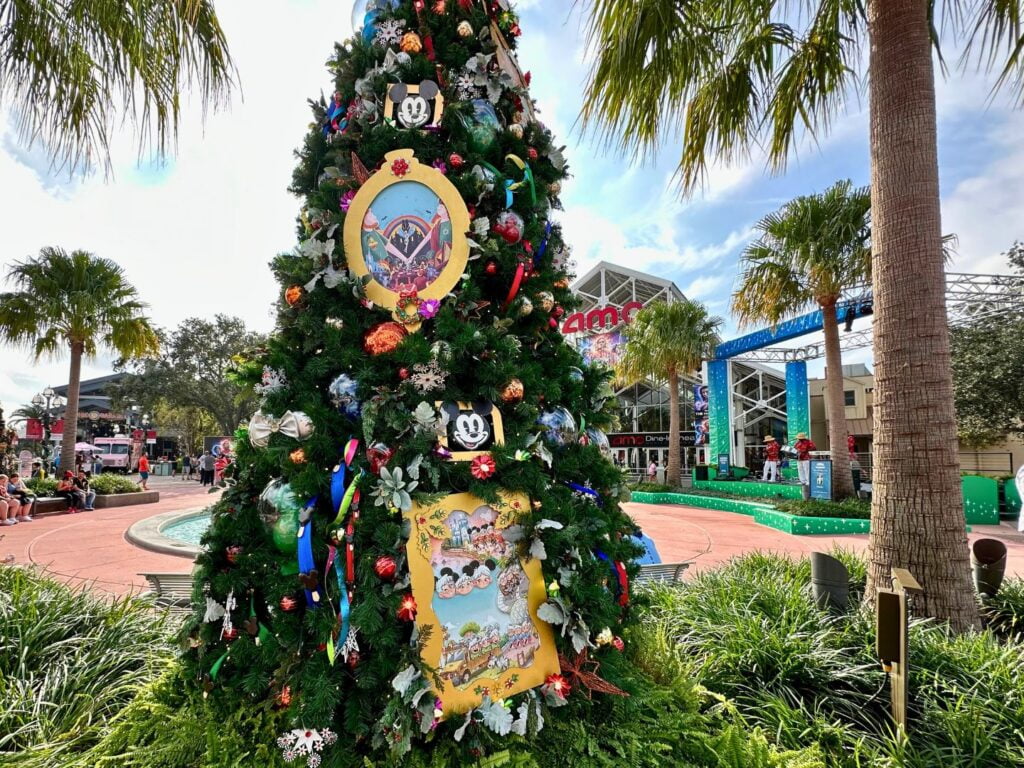 A map of the trees can be picked up at several locations throughout Disney Springs: City Works Eatery and Pour House, Crystal Arts by the Arribas Brothers, Joffrey's Coffee and Tea Company, The LEGO Store, and Planet Hollywood.
Maps come with stickers to place over each tree, marking off when each gets discovered. Once you've discovered all of the trees and placed your stickers accordingly, simply bring the map back to one of the participating retailers to show your finished work and receive a prize.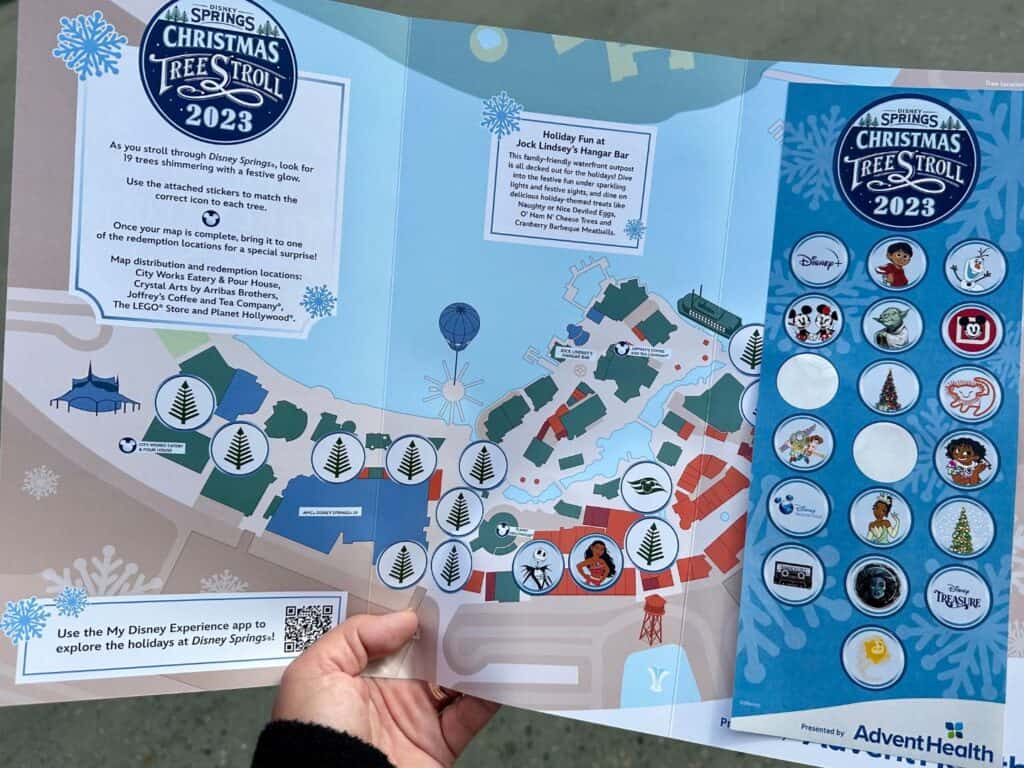 Tips for a Great Christmas Tree Stroll
Decide in advance if you'd like to explore every tree at Disney Springs all at once, or focus on just one neighborhood during your visit.
Visit the Christmas Tree Stroll on weekdays to avoid some of the crowds. (Note: The crowds at Disney World increase greatly leading up to the Christmas holiday, regardless of the day of the week.)
Nights and weekends get very busy at Disney Springs, so plan accordingly.
To give kids a rest from walking, make a dining reservation or plan to stop for a seated snack.
Don't forget to put a sticker on the map for each tree. The stickers are designed with each tree's theme, so you'll want to mark off which theme exists at each stop on the map.
For some extra fun, try to guess which tree is each person in your family's favorite and take a selfie with each one.
Don't forget to return to guest services with your completed map for a special prize.
Christmas Tree Stroll Map and Guide
While a guide map is not required to enjoy the Christmas Tree Stroll, it's free to grab one. It's worth picking up since inside, you'll find discounts, freebies, and other goodies listed by Disney Springs businesses.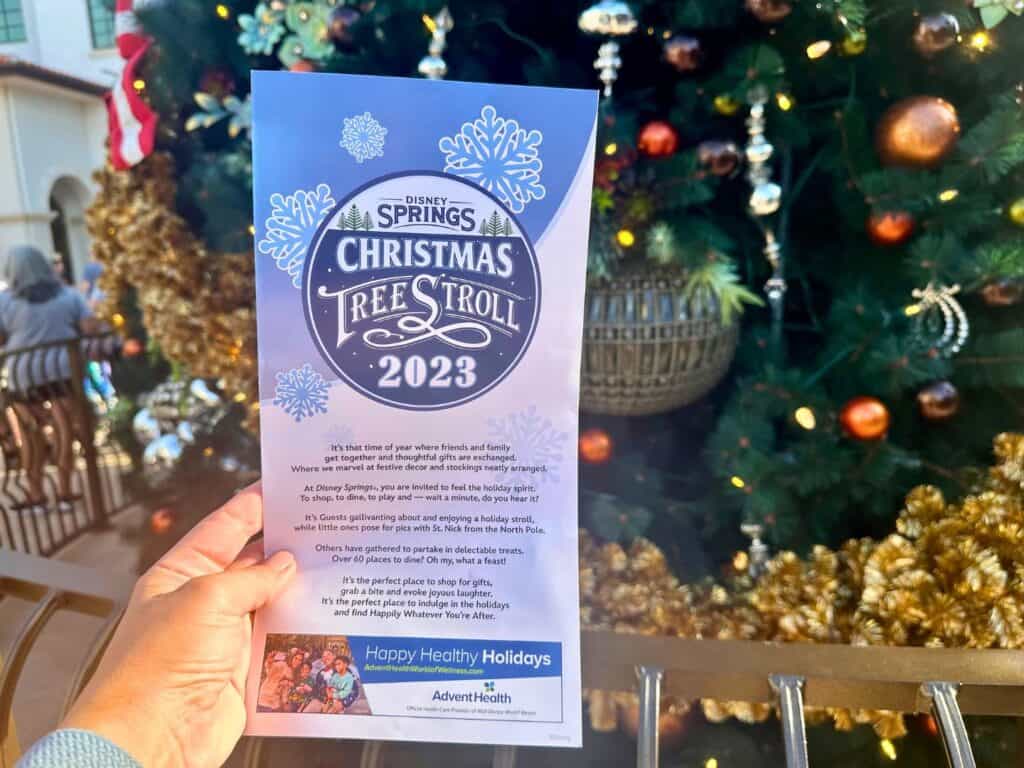 What kinds of trees are in the Christmas Tree Stroll?
While we won't give away all of the secrets, past tree themes along the Christmas Tree Stroll have included everything from a Disney Villains-themed tree to a tree perfectly decked out in red-and-white-polka-dot Minnie bows. But don't take our word for it — getting out there and exploring the trees together as a family is part of the holiday fun.
The Christmas Tree Stroll at Disney Springs is one of our favorite holiday activities at Disney World for good reason. Not only is it free to participate in, but visiting Disney Springs during the holidays is always a fun time — sometimes there's even fake snow.
In addition to an iconic photo opportunity with Santa Claus, lots of the bars and restaurants in the area offer special food and beverage options with a holiday spin. And, with a myriad of stores at Disney Springs, it's a great place to knock out some holiday gift shopping while you walk around.