Family-Friendly Orlando Restaurants Serving Thanksgiving Dinner
The tastiest day of the year is near. Many local Orlando restaurants are offering special Thanksgiving dinners. With all the busyness of the holiday season in Orlando, we can't blame you for wanting to make things easier on yourself. Check out our favorite picks for Thanksgiving dinner in Orlando.
Restaurants for Thanksgiving in Orlando
Kick up your feet and enjoy a traditional Thanksgiving meal together without the work. Check out these Restaurants Serving Thanksgiving to go – including ones where you can order just the sides.
Casual Restaurants Open on Thanksgiving Day
Mia's Italian Kitchen
8717 International Drive
Orlando, FL 32819
At Mia's Italian Kitchen, you can enjoy a traditional Thanksgiving dinner with an Italian twist on your favorites. Special Thanksgiving menus sure to be a hit with the whole family including classics like roasted turkey, Italian sausage stuffing, and pumpkin pie.
Cost: Thanksgiving menu is available for a flat fee for adults and kids, or order a la carte off of the main menu.
Landry's Seafood House
8800 Vineland Ave
Orlando, FL 32821
Landry's will be open on Thanksgiving day from 3:30pm – 9:30pm with a special 3-Course Traditional Turkey dinner, complete with a choice of salad, turkey with all the fixings, and pumpkin pie. Landry's full regular menu will also be available.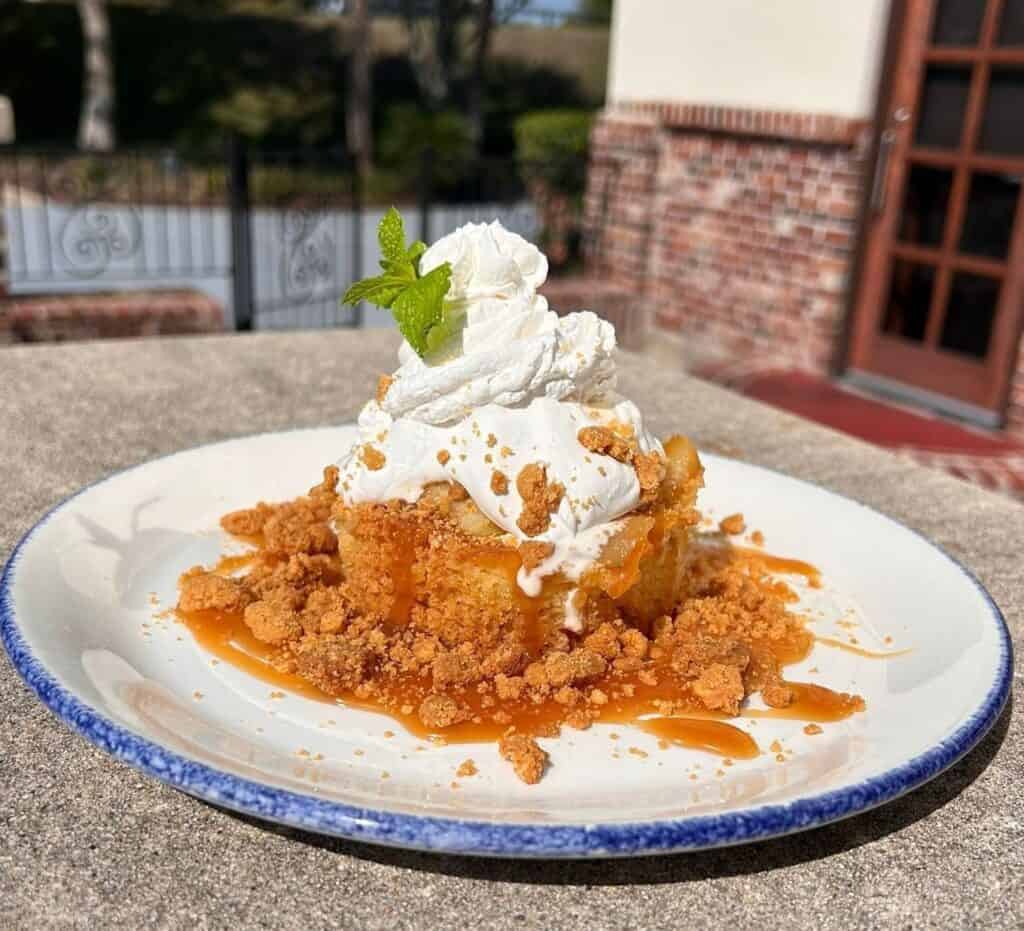 Cost: $36 for adults and $15 for children (children's plate does not include salad or pie)
Park Avenue Tavern
558 W New England Ave
Winter Park, FL 32789
Showing gratitude is one of the most powerful things a human can do for one another. PAT has designed a special Thanksgiving menu for this important day. Their Family Style Menu curated by Executive Chef Don Hourihan includes perfect Thanksgiving options for both adults and children.
Cost: $65 Adults, $22 Children (under 12)
The Wharf at Sunset Walk
3251 Margaritaville Blvd.
Kissimmee, FL 34747
Head to The Wharf at Sunset Walk for a traditional Thanksgiving meal for just $30 per person. Enjoy turkey served with stuffing, mashed potatoes and gravy, green beans, cranberry sauce, and a dinner roll.
Island Time
712 E. Washington Street
Orlando, FL 32801
Island Time is offering a family-style dining experience with seasonal dishes that will satisfy your taste buds. The three-course meal is available during two seatings at 12-12:30pm and 3-3:30pm.
Dinner includes soup or salad, a turkey dinner plate, and dessert. They even have an "All The Sides" option for any vegetarians in your party. They recommend making a reservation in advance to ensure that they can accommodate your party size and preferred seating time.
$50 per person
FastBreak Sports Bar
6001 Destination Pkwy
Orlando, FL 32819
Is your family looking for a spot to enjoy some football while having a great Thanksgiving meal? Catch all the game day action at the Hilton Orlando, where FastBreak Sports Bar will serve a game-winning Thanksgiving special of turkey and classic sides from 12 – 10 p.m.
Add a slice of pumpkin cheesecake or an apple cider mimosa to take your meal into overtime.
Cost: $25 per person
Hard Rock Cafe Orlando
6050 Universal Blvd
Orlando, FL 32819
Bring your family together for a rockin' Thanksgiving dinner at Hard Rock Cafe Orlando! Their Turkey Entrée is loaded with slow-roasted turkey breast, roasted fresh vegetables, home-style classic stuffing, creamy sweet potato mash, cranberry sauce, and finished with a traditional turkey gravy.
They also have a special kids Thanksgiving menu, pumpkin pie, and beverages that are available as add-ons.
Cost: $30.95 per person
Walk off some of that yummy Thanksgiving dinner by enjoying all the fun of Universal CityWalk.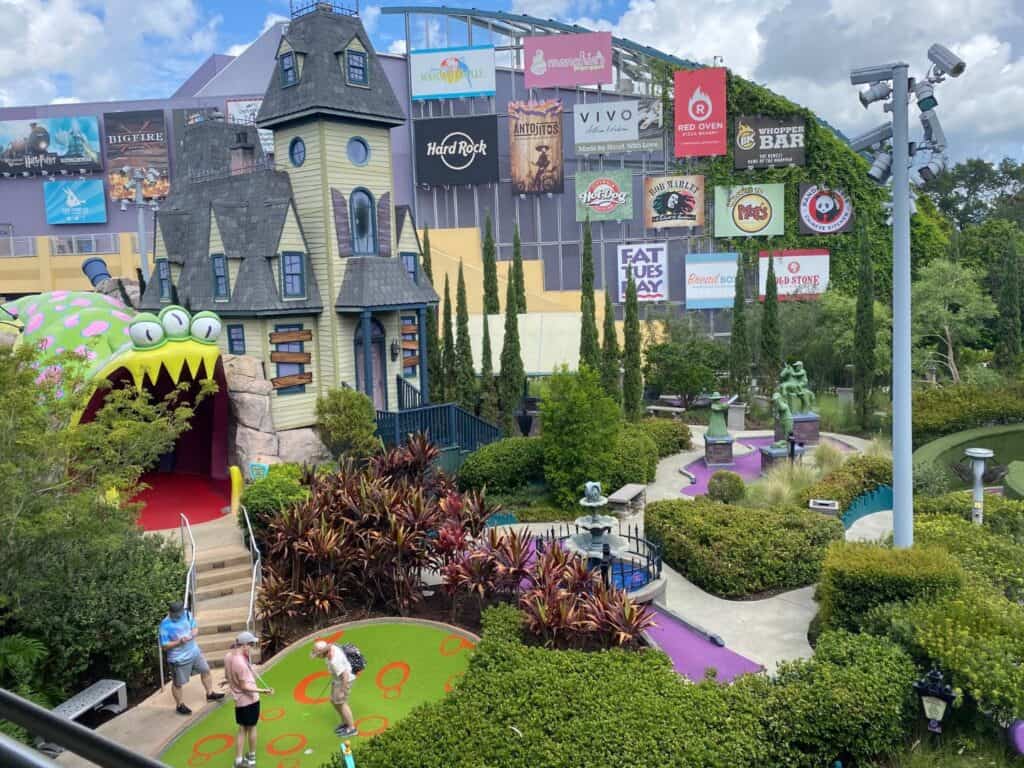 Rosen Inn Lake Buena Vista
8442 Palm Parkway
Orlando, FL 32836
Gather your family and friends at the lovely Rosen Bella Vista Ballroom this Thanksgiving. Their buffet is filled with both classic and festive favorites that are sure to leave you feeling stuffed.
Patches, their six-foot-tall friendly scarecrow, will be available to take photos with you and your loved ones. Buffet is available from 11:30am – 5:00pm.
Cost: Adults $35.95, Children (ages 4 to 11) $17.99; Reservations Recommended – Call (407) 996-7345
Romano's Macaroni Grill
Locations in Kissimmee, Winter Garden, and Oviedo
Macaroni Grill is offering a three-course traditional Thanksgiving meal. Meal includes soup or salad, turkey with mashed potatoes and gravy, a choice of vegetable, and dessert.
Cost: $34 per person, kids menu available for $17.
Chain Restaurants for Thanksgiving
Fine Dining Restaurants for Thanksgiving
UnReserved
14900 Chelonia Pkwy
Orlando, FL 32821
Enjoy a traditional Thanksgiving feast with all the trimmings. UnReserved Food Bazaar will feature an extensive range of offerings including live music, specialty cocktails and an array of culinary treats featuring a turkey and meat carving station, fresh raw bar and seasonal sweets to end the feast. Includes a welcome beverage and farewell gift.
Cost: $145 per adult, $55 per child (ages 4-12), Complimentary (children age 3 & under). Complimentary valet parking is included with this dining reservation. Book online.
Sear + Sea
14900 Chelonia Pkwy
Orlando, FL 32821
Give thanks with family and loved ones over an intimate, three-course Thanksgiving Dinner at Sear + Sea Woodfire Grill. This prix fixe dining experience includes an extensive, traditional holiday meal, a glass of Taittinger champagne, an amuse bouche, and optional dishes a la carte set within the resort's signature dining venue.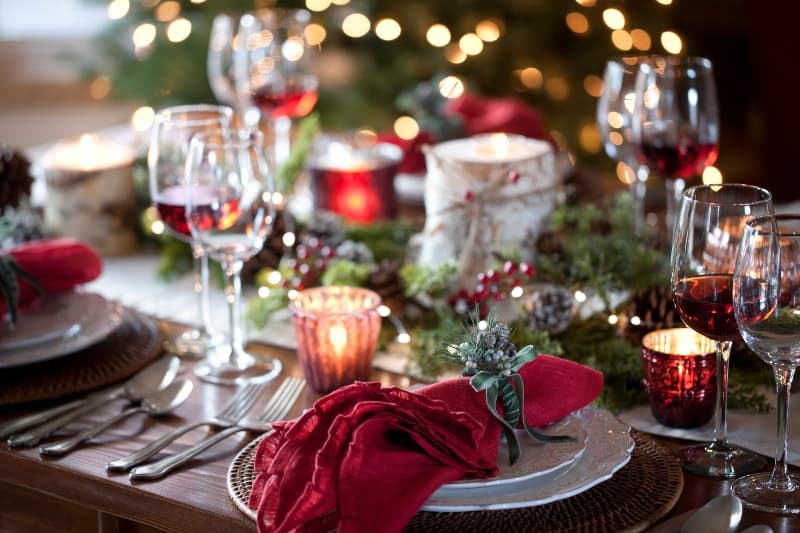 Cost: $110 per adult, $55 per child. Complimentary valet parking is included with this dining reservation. Book online
Bull & Bear
14200 Bonnet Creek Resort Ln
Orlando, FL 32821
Indulge in a four-course Thanksgiving dinner at the renowned Bull & Bear, served Thanksgiving Day from 6-10pm. This dining experience includes an extensive, traditional holiday meal with all the trimmings. A la carte menu also available.
Cost: $155/person, $65 per child 12 years of age and younger. Reservations are required by calling: 407-597-5413.
Oscar's
14200 Bonnet Creek Resort Ln
Orlando, FL 32821
On Thanksgiving Day, Oscar's will feature a holiday family buffet from 5-10pm. This special feast will include classic holiday fare.
Cost: $85 per adult, $40 per child 6-12 years of age. Reservations are required by calling: 407-597-5413.
Hamilton's Kitchen at The Alfond Inn
300 East New England Avenue
Winter Park, FL 32789
Hamilton's Kitchen will offer a Thanksgiving buffet with seatings available at noon and 3pm. Chilled seafood, an assortment of fresh salads, Roasted Whole Turkey with Gravy, Slow Braised Short Ribs with Demi Glaze, and more will be served in addition to traditional Thanksgiving staples.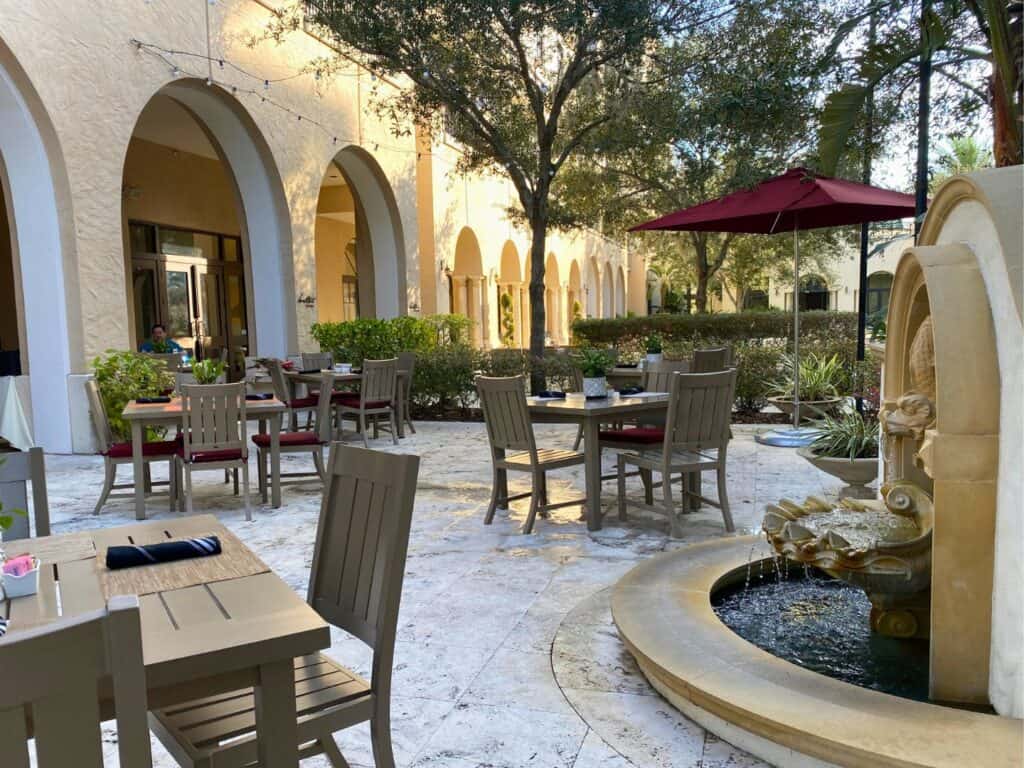 Cost: $119/adult and $39/child; reservations are required and can be made online through Eventbrite.
HAVEN Kitchen
6100 Wave Hotel Dr.
Orlando, FL 32827
Bringing the outdoors in, Haven Kitchen is a stylish escape serving a delicious Mediterranean menu that incorporates the freshness and nuance of Floridian flavors. Connect with friends and family over a traditional Thanksgiving brunch buffet at HAVEN Kitchen with all the trimmings and more! Buffet available from 11am – 3pm.
Cost: $110 for adults | $49 for children under 12 (excluding tax + gratuity). Book online.
225 Celebration Place
Celebration, FL 34747
Enjoy a three-course menu filled with traditional Thanksgiving flavors with a twist for $55 for adults, $25 for children 12 and under. Choose an appetizer like Roasted Acorn Squash Soup, then enjoy Five-Spice Roasted Turkey with all the trimmings, and finish the meal with Apple Strudel with vanilla gelato or a S'mores Pizza with toasted walnuts. Click HERE for Reservations
Lakeside Bar + Grill
700 Bloom St.
Celebration, FL 34747
Lakeside will be serving up classic Thanksgiving fair; Smoked Pit Turkey, Turducken, and Brown Sugar Glazed Ham carving stations, Old Fashioned Candied Yams, Roasted Root Vegetables, Sage spoon cornbread, Bacon Pecan Brussel Sprouts, and much more!
Enjoy desserts such as Chocolate Temptation Cake, Butterscotch Pot De Creme, Assorted Mini Petit Fours, and Classic Pumpkin Pie. Each table will also indulge in Cranberry Jam, Grandmas Family Giblet Gravy, and Pumpkin Sage Drop Biscuits with Honey Butter. Available 3pm-8pm with reservation.
Cost: $65 Per person/ $25 Kids 6-12yo. Book online.
This Turkey Day, visit Maria & Enzo's and Enzo's Hideaway at Disney Springs for delicious Thanksgiving specials with an Italian twist.
Frittelle di Zucca ($19):

Pumpkin ricotta fritters, cacio e pepe zabaglione

Porchetta di Tacchino ($39):

Heritage turkey, crispy pancetta, brussels sprouts, polenta "dressing" and butternut squash cranberry agrodolce

Pumpkin Cheesecake ($16):

Graham cracker crust drizzled with orange salted caramel
Join The Edison at Disney Springs for a classic Thanksgiving meal this holiday season. Immerse yourself in the thrill of the roaring '20s, with gothic decor and nostalgic entertainment, while dining on traditional Thanksgiving turkey breast with all the accompaniments including stuffing, green beans, mashed potatoes and cranberry sauce.
Cost: $39 for adults and $18 for children ages 9 and under.
Reservations are strongly recommended.
Terralina
Terralina will be offering a traditional Turkey Dinner on Thursday, November 23rd, featuring a Rosemary Roasted Turkey with Applewood Smoked Bacon and Granny Smith Apple Dressing, Yukon Gold Mash, Roasted Asparagus with a Sage and Thyme Gravy and Homemade Cranberry Relish. Reservations are strongly recommended.
Raglan Road Irish Pub and Restaurant at Disney Springs
Enjoy Thanksgiving dinner with an Irish twist. Roast turkey, mashed potatoes and gravy, honey glazed carrots, bacon-roasted brussel sprouts, and sausage-walnut stuffing. Thanksgiving dinner will be served all day—11 a.m. to 10:30 p.m.
Guests who prefer to order lunch or dinner from the All-Day Menu are welcome to do so.
Live Irish music and dance begins at 5 p.m. on Thanksgiving Day and continues through pub close.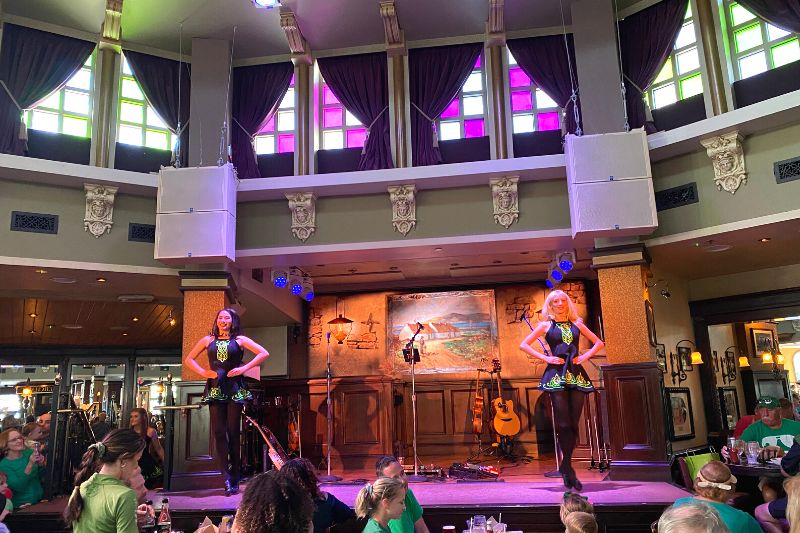 Cost: $39.99 for ages 9 and up / $19.99 kids under 9
City Works
1486 East Buena Vista Drive
Lake Buena Vista, FL 32830
Feast on City Works' Thanksgiving dinner featuring Herb-Roasted Turkey, Slow-roasted Prime Rib, and a special Roasted Turkey option for the kids, all accompanied by classic Thanksgiving sides. You can also add on your favorite desserts for a perfect holiday meal. *Standard kid's menu will be available as well.
Thanksgiving Dinner Near Orlando
1921 Mount Dora
142 East 4th Avenue
Mount Dora, FL 32757
Located about 40 minutes north of Orlando's tourism districts, 1921 Mount Dora will have a prix-fixe Thanksgiving meal with your choice of first course and main course, plus two desserts. A children's dinner and a vegetarian option will also be available. Choose from seatings at 11:30 a.m. – 2:30 p.m. and 3:30 – 8 p.m.
Cost: $72 adults, $25 children under 13.
Hard Rock Hotel Daytona Beach
918 North Atlantic Avenue
Daytona Beach, FL 32118
Do Thanksgiving at the beach at Hard Rock Hotel Daytona Beach's Thanksgiving Day Champagne Buffet from 11am-3pm in the Avalon Ballroom. The menu will feature Thanksgiving favorites alongside unique offerings like Korean BBQ salmon and a butternut squash, chickpea and sweet potato tagine. Desserts like pumpkin pie, apple pie, and peach crisp will round out the meal. Complimentary valet is included and true to Hard Rock Hotel form, there will be live music.
Cost: $60/adult, $55 for seniors 55+, $35 for kids aged 5-12, and free for kids under 5.
Columbia Restaurant
Locations include Ybor City, Sarasota, St. Augustine, Sand Key, Clearwater Beach, and Celebration
For more than 118 years, Columbia Restaurants has served Thanksgiving dinner to their guests. Reserve your table today for a delicious turkey dinner with all the fixings! Thanksgiving dinner will be available at all Columbia Restaurants locations. They will also be offering Thanksgiving curbside takeout meals for the entire family. Make your reservation online at ColumbiaRestaurant.com or call your nearest restaurant's main number.
Cost: $29 for adults and $7 for children.
---