Best Birthday Party Venues in Orlando for Tweens (8- to 11-Year-Olds)
Kids between the ages of 8 and 12 are commonly referred to as "tweens" because they're in between children and teenagers. Now far from the days of hiding behind mom or dad's legs, tweens typically want more independence. When renting a birthday party venue, you'll likely be able to keep a watchful eye from a safe distance, while allowing your independent tween to feel liberated and celebrated. Orlando Parenting rounded up the best birthday party venues in Orlando for tweens.
9901 Hawaiian Ct., Orlando | (407) 705-3475
Researchers found that chocolate contains specific chemical compounds which the brain uses to produce serotonin, the neurotransmitter and hormone responsible for feelings of joy. Get a taste of that sticky, sweet happiness with a party at Chocolate Kingdom off I-Drive. Starting at $250, aspiring candy makers can whip up their own chocolate pizza, lollipops and chocolate-dipped marshmallows or pretzels. Upgraded packages drizzle on an aromatic tour of the factory, including a peak at aspects of the complete chocolate making process − from bean selection to ready-to-eat treats.
8986 International Dr., Orlando | (407) 541-3300
You know your tween is obsessed with technology, including gaming; so head to one of Orlando's best arcades for their next birthday party. This place is guaranteed fun for all ages because, come on, we know you can't resist Mario Kart either. This play space houses over 200 games, plus billiards, bowling, big screen TVs and virtual reality experiences. Birthday packages are priced per person, starting at $34.99. As a bonus, the birthday honoree gets extra tickets or game play depending on the selected package.
Also try Game Time.
Multiple locations – Clermont, Mount Dora & Orlando | (352) 241-0906
A movie theatre party can be a blockbuster hit among tweens. For guaranteed party applause, choose a star-studded package to include one hour in the celebration room, theatre admission for each party guest and, of course, essential showtime snacks (buttered popcorn, drinks and candy).
Also try West Orange 5.
1261 Winter Garden Vineland Rd., Winter Garden | (407) 654 8400
To spotlight the rising star-power of your tween, book an immersive film-making experience. In a studio lot at Florida Film Academy partgoers can make and act out their very own movie, music video or Youtube episode. The real movie magic happens when the party's original film reel plays on the Academy's big-screen. Prices start at $275, and include all filming/editing, pizza and a digital link so the special creation can be viewed and cherished over and over again.
3180 Southgate Commerce Blvd., Orlando | (407) 970-9428
Soccer enthusiasts can score a party at this indoor sports field. Packages start at $350, for a squad of 20 team players, and includes use of the party area plus game time for your friendly competition. Spend up to two hours running fun drills and scrimmaging. Will the birthday kiddo score the most goals…?
8969 International Dr., Orlando | (407) 337-4359
If the only thing holding your brave tween back from booking a skydiving adventure is an age limit, then indoor skydiving is the next best thing. The iFLY experience mimics the adrenaline rush of taking the plunge from 13,000 feet above. Birthday party options are available for groups of six or more people interested in learning the five elements of skydiving: (1) plane ride, (2) exit, (3) free fall, (4) parachute opening and (5) landing. After a brief instructional class, partygoers will each take to the flying tunnel for a birthday moment like none other.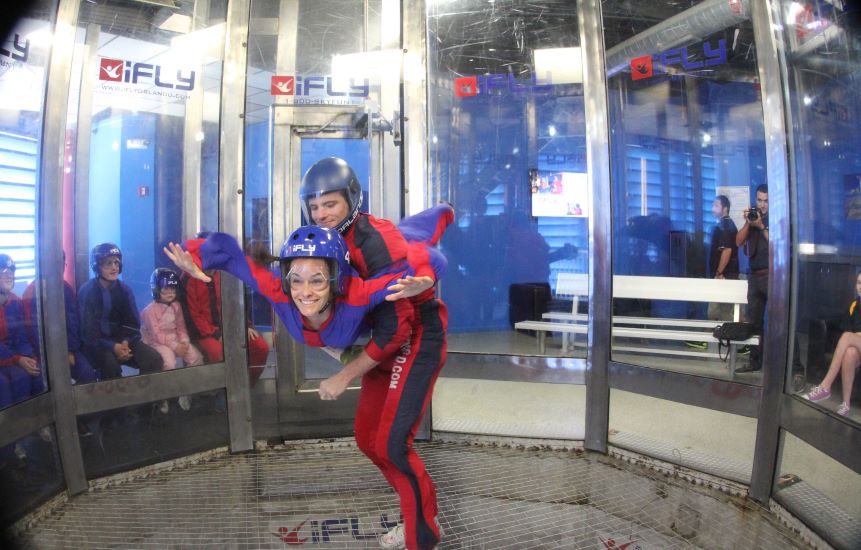 Related: Best Birthday Party Venues in Orlando for Teens
360 State Ln, Orlando | (321) 209-2081
If you're the parent of a cat lover, a private party at the Kitty Beautiful could be the cat's meow. The entire cat café can be rented out for a litter of tweenagers eager to play with adorable furry friends for two hours. Priced at $225 on weekdays and $250 on weekends, up to 20 people can enjoy this purrrfect party experience. Plus, each kiddo can adopt a plush kitty (although they'll want the real ones too).
6809 Visitors Circle, Orlando | (407) 490-0121
Got a group of tweenage clowns on your hands? Well, take the fun factor higher than a tight rope. Orlando Circus School offers unique party experiences with performance-based activities, such as aerial silks, hoops and trapezes. The kids will also flip over the awesome tricks they can learn and master on the trampolines.
14416 Shoreside Way, Unit 100, Winter Garden | (407) 500-7467
In addition to more traditional art birthday parties, Pinspiration's offers a modern style with their Splatter Room studio. Priced at $25 per person, those who prefer to color outside the lines (way outside) can suit up in protective gear and then fling paint at a canvas to create a one-of-a-kind masterpiece. The Splatter Room typically accommodates five guests at a time; though the studio offers other accommodations and themes for larger groups.
1494 East Buena Vista Dr., Lake Buena Vista | (407) 938-7467
Classic and fun, bowling parties still get the ball rolling among 8- to 11-year-olds. Situated right in the middle of Disney Springs, Splitsville perfectly pins down the magic. A private party could include unlimited bowling (during reserved time), dancing, dining and more. Plus, because Splitsville also has a bar, billiards and live entertainment, parents of invited friends can also spare some time for fun.
5758 Hamlin Groves Tr., Winter Garden | (407) 734-0474
At this mega-entertainment venue, tweens can customize a birthday party by pre-selecting which attractions they want to enjoy on their special day. A celebratory itinerary could include bumper cars, climbing walls, laser tag, go-karts, ropes courses, slam dunk basketball, trampolines and many other activities. You could visit this venue over and over and have a different experience each time.
Which of these venues in Orlando would your 8- to 11-year-old like to party at the most?
Have younger kids at home? Check out Best Birthday Party Venues in Orlando for Toddlers and Preschoolers
Featured image: Chocolate Kingdom. Image Credit: Nancy DeVault