Best Birthday Party Venues in Orlando for Toddlers and Preschoolers
Tantrums and potty training aside, isn't the toddler/preschool stage the best?! Think about it… preschoolers have the most incredible imaginations, offer the coziest cuddles and can start the funniest conversations. The toddler/preschool stage is all about playtime and, of course, birthday parties are no exception! Orlando Parenting has rounded up the best birthday party venues in Orlando for toddlers and preschoolers.
125 N. Orlando Ave., ​Suite 109, Winter Park | (407) 873-9406
Who doesn't love a dance party? Tiny dancers can snag studio time at Bella Ballerina with a birthday package designed for a dozen dolled up ballerinas. Priced at $389, parties are held at the Winter Park Studio on Saturdays from 2-3:30 pm or 3-4:30 pm. To sweeten the deal, Bella Ballerina can provide cupcakes (for an added price), with gluten- and dairy-free options available. Because of time constraints, studio staffers will help package up the gifts but advise that presents be opened later at home.
Also try birthday parties at Art from the Heart, KidzDance or Ready, Set, Dance.
Multiple locations (Altamonte Mall, Florida Mall, ICON Park & Waterford Lake) | (877) 789-BEAR
Yes, the toy box is already stuffed with stuffies, but Build-A-Bear allows kids to design their very own creation. Best of all, you can skip the laborious task of filling party favor bags with junk because a Build-A-Bear is the ultimate take-home favor. Choose from five packages, ranging from $20 to $60 per child, with each amping package up bear accessories. Aside from making furry friends, parties include games and a plush, light-up cupcake keepsake for the guest of honor. Build-A-Bear also offers free, printable invitations and thank you notes.
Multiple locations (Altamonte Springs, I-Drive, W. Colonial & Waterford Lakes) |
(888) 778-7193
There is a reason Chuck E. Cheese continues to squeak its way onto recommendation lists like this one… this birthday party venue is just plain FUN. Plus, the party execution is seamless. Each package includes interactive play (of arcade-style games and more), reserved table time to feast on pizza, a live 'Chuck E.' show and a ticket blaster experience for the guest of honor. Chuck E. Cheese offers tons of additional features to simplify hosting duties, such as invitations, cake, ice cream, decorations, goodie bags and food for adults. If you have a child with special needs, explore options that align with the venue's Sensory-Friendly Sundays.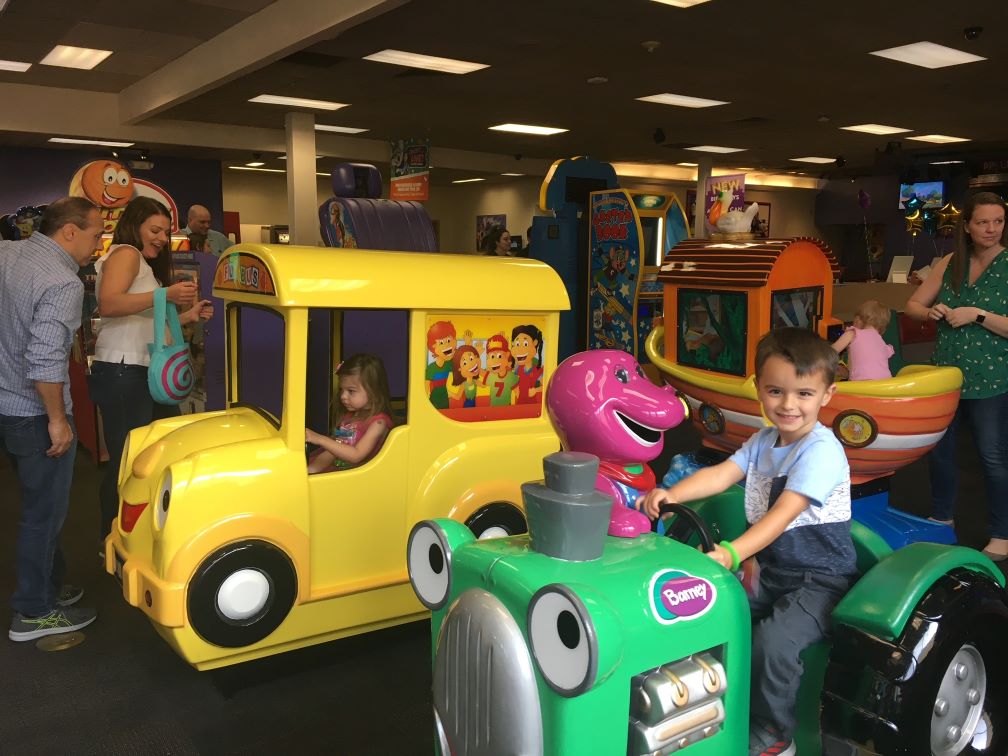 Florida Mall, 8001 S. Orange Blossom Trail, Orlando | (407) 757-1700
Artsy kiddos will be tickled pink by Crayola's vibrant, 70,000-square-foot wonderland. This picture-perfect birthday party venue features 27 hands-on attractions and countless ways to explore creative expression. Party packages start at $379.99, which includes admission for 19 guests. The basic bundle includes printable invitations, serving supplies (plates, cups, napkins and utensils), unlimited drinks and a birthday gift for the special kiddo. An upgrade to the next package adds lunch (pizza, hot dog or hamburger), party favors and cake pops.
Dr. P. Phillips Community Park Splash Pad
8249 Buenavista Woods Blvd., Orlando | (407) 254-9038
Take the plunge into outdoor park play by reserving a covered pavilion at Dr. P. Phillips Community Park. Aside from a cool playground section and sports fields overlooking Big Sand Lake, partygoers can plunge into inactive water play on the splash pad. The city doesn't facilitate party packages so hosts will need to coordinate splash pad wristbands (which is easy peasy).
Also try Apopka Splash Pad, Champions Splash Park and Wooten Park.
4085 L.B. McLeod Rd., Suite F, Orlando | (407) 373-4553
Kelly Wells, an Orlando mom, says she couldn't find an indoor play space that met the needs of her family, so she created one. [Kudos mama!] From toy kitchens to ball pits to ride-on Thomas the Tank Engines, this inclusive environment is bursting with fun things for toddlers and preschoolers to do. Millie Moo's has three private party packages, starting at $349. To coincide with your little one's interests, this venue has a whooping 80 different themes to choose from. Some package options include a balloon arch, snow flurries, pizza and more.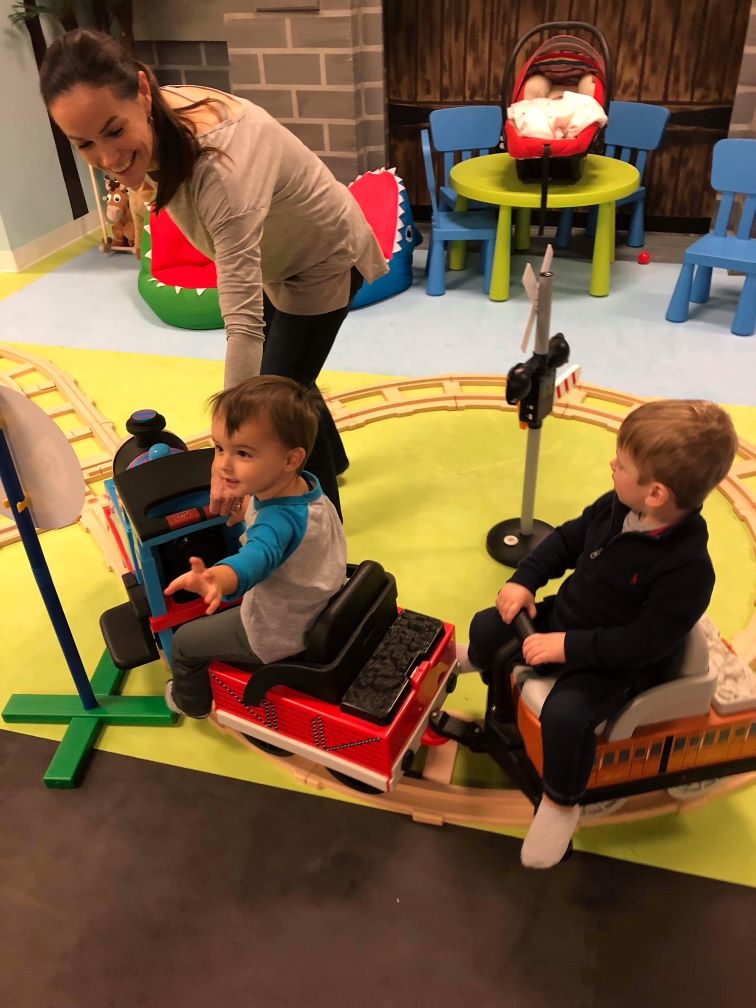 Also try Kidiverse and My Little Town.
Two locations – Pointe Orlando & Winter Park | (407) 352-8484 / (407) 478-4000
You shouldn't feel embarrassed if and when your kiddos act like wild animals at Monkey Joe's – it's sort of encouraged. Your birthday tribe can swing, slide, scoot and smash about tons of bouncers, ride-ons and interactive arcade-style games. Party packages start at $299 for eight children, which includes pizza and an entertaining visit from Monkey Joe himself.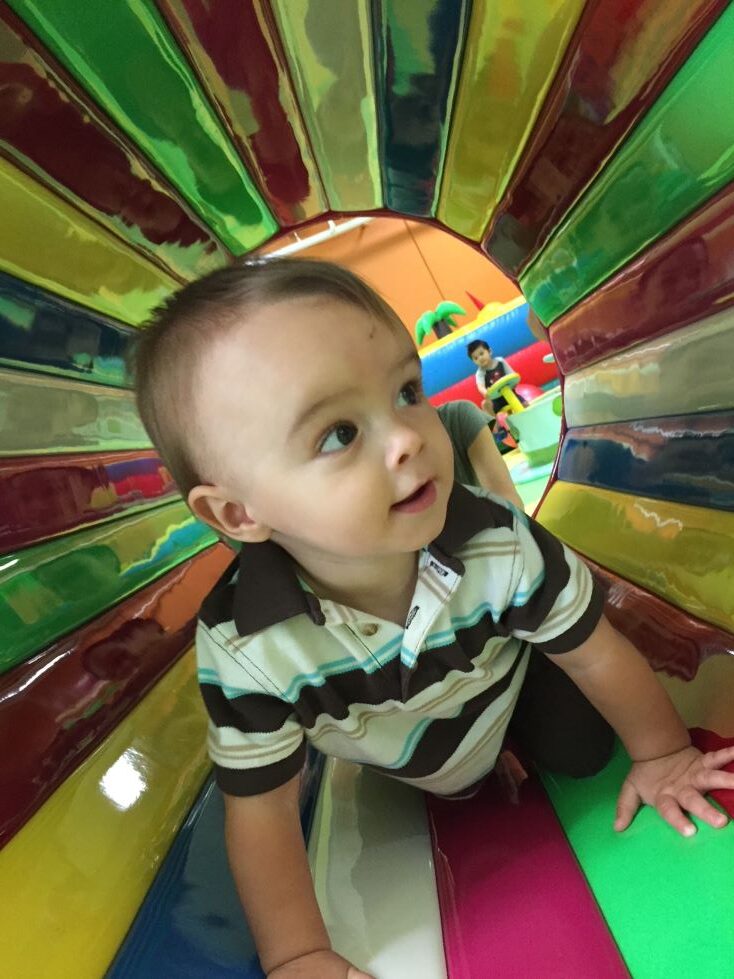 Also try Cranium Academy.
Four locations – Lake Mary, Maitland, Waterford Lake & Winter Garden | (818) 907-6966
Let the good times roll (and tumble, flip and so on). My Gym helps kids work off that cake-induced sugar rush with active play, such as on floor mats, climbing ropes, ball pits and a sky-coasting ride-on plane. Party specialists keep things moving smoothly with unique add-ons, like puppets, songs and more. Packages start at $300.
Also try Little Gym and O2BKids.
15051 Frank Jarrell Rd., Clermont | (352) 394-4377
This outdoor birthday party venue is somewhat of a hidden gem, even though it features a HUGE, can't-miss Monster Truck. Aboard a massive, mud-slinging safari vehicle, partygoers can have a 'wheely' good time trekking through the wooden area of this farm property. During the journey, expect sightings of zebra, watusi, water buffalo, alligators, snakes and exotic and native birds. Do opt for the largest package ($400), which includes the Monster Truck Adventure (for 25 people), a reserved table space, use of the playground and two buckets of feed to offer up to farm animals.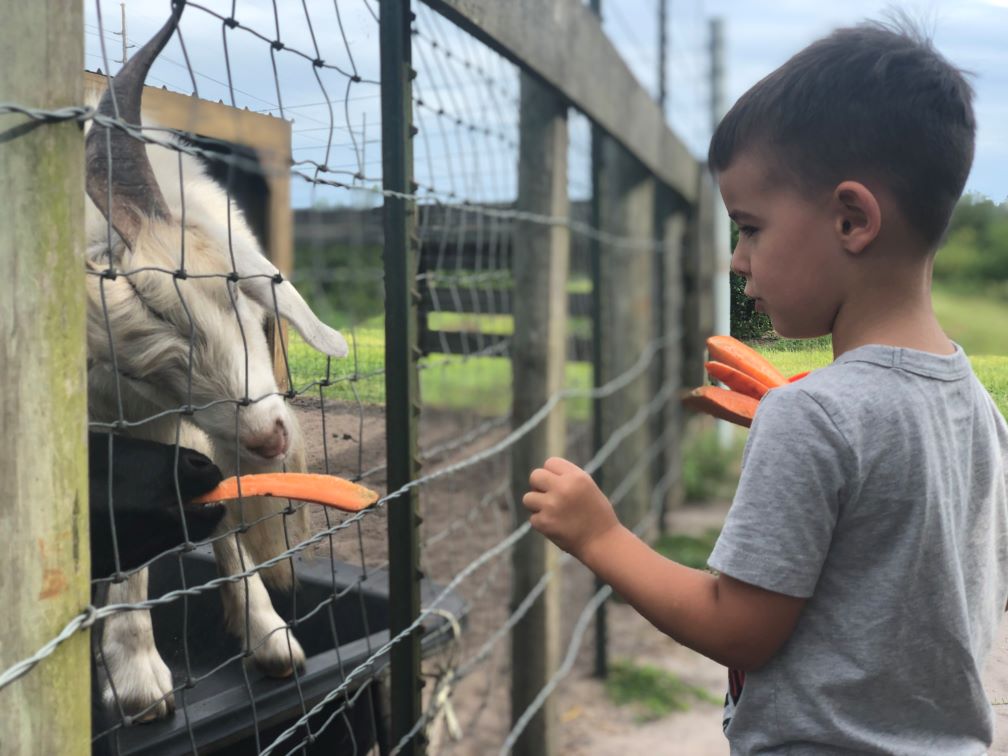 Also try Wildflower Farm.
What do you think is the best birthday party venue in Orlando for toddlers and preschoolers? Share with Orlando Parenting on Facebook, Twitter and Instagram!
Have older kids at home? Check out our ideas for Best Birthday Party Venues in Orlando for Tweens (8- to 11-Year-Olds) and Best Birthday Party Venues in Orlando for Teens.
Featured image: Dr. Phillips Splash Park. All images courtesy of Nancy DeVault