6 Adorable Christmas Tree Lots in Orlando to Visit with Kids
The most wonderful time of the year is full of festive fun. Besides getting photos with Santa Claus and seeing the best Christmas light displays in Orlando, there is yet another must-do activity. Take your kids to one of the precious Orlando Christmas tree lots. Even if you traditionally use an artificial tree, it is still fun to browse these tree lots. And maybe pick up a small one to adorn your porch, or just take lots of cute pictures.
And if you need to watch your spending, consider these 25 Free Holiday Events in Orlando.
Adorable Orlando Christmas tree lots
Sure, you could easily stop by one of the many tree lots in Orlando on the side of the road. There is nothing wrong with the simple white tents with rows of fresh trees from our neighbors up north. But, if you're going to get a fresh cut tree in Orlando you might as well make some precious memories.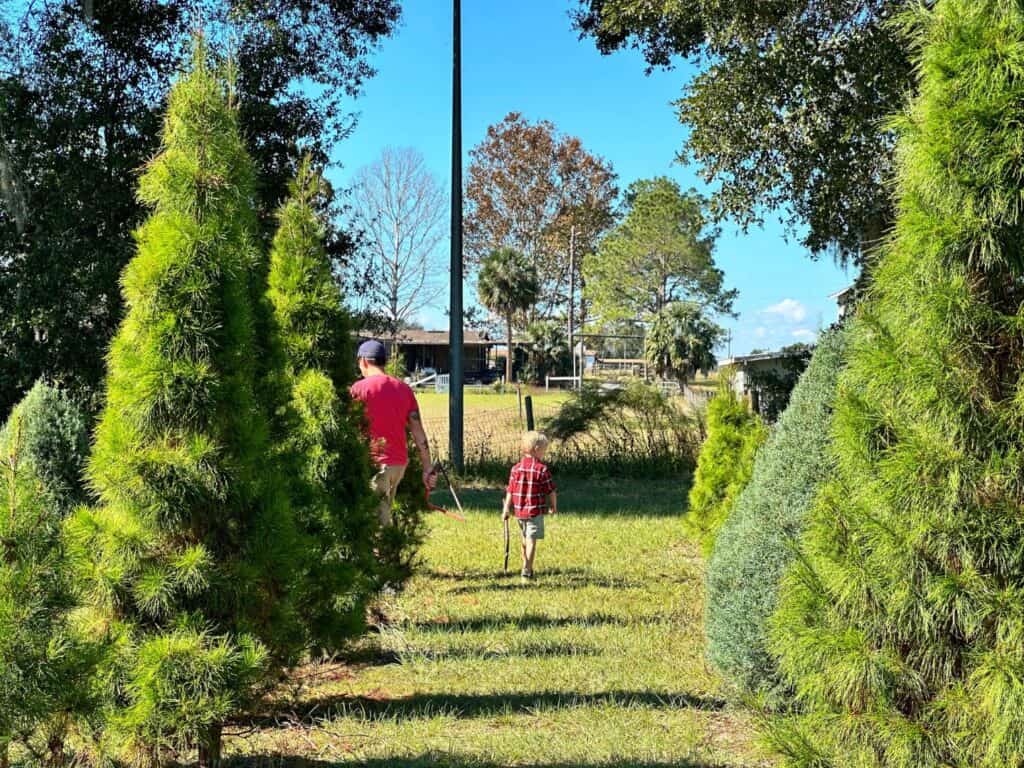 30 – 45 Minutes from Orlando
1. Santa's Christmas Tree Forest
35317 Huff Rd
Eustis, FL 32736
We may not have towering pine tree forests like the ones you see in Hallmark Movies, but there is still holiday magic to be found in Orlando. You can cut your own Christmas tree at Santa's Christmas Tree Forest in Eustis!
You can roam the grounds and enjoy fun on the farm before heading into the forest itself. They provide the saw and endless rows of Florida Christmas trees, and you get to do the cutting! The Christmas Tree Forest opens for the season on November 18th through December 17th.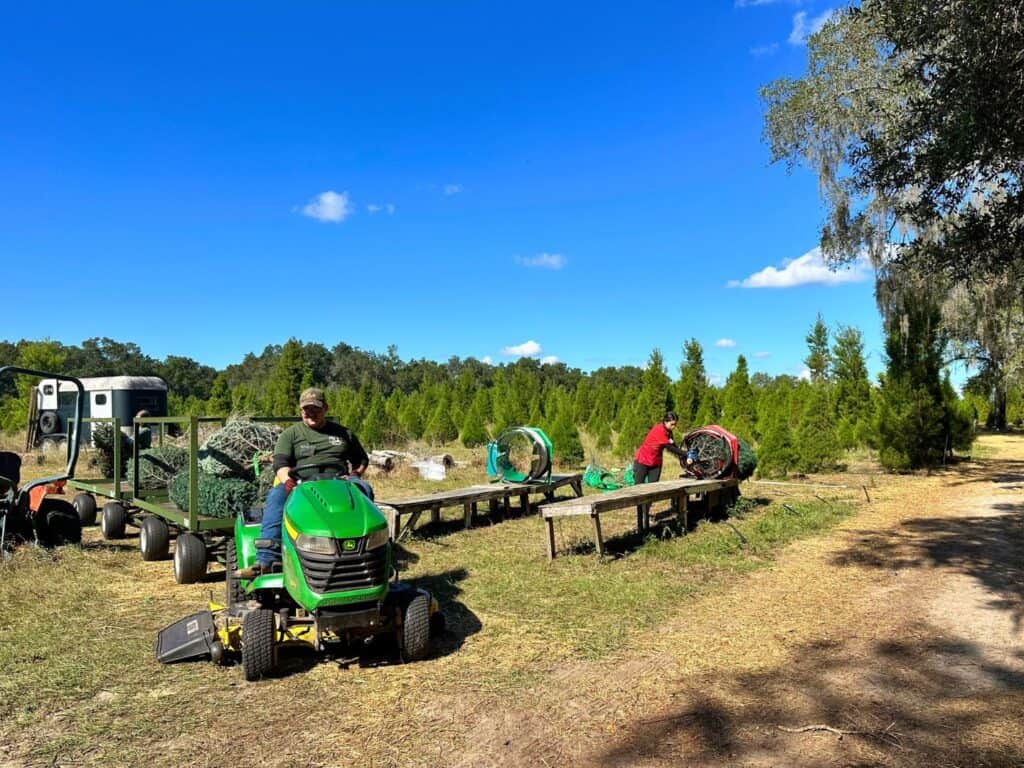 Cost: Trees 5′-12′ – $45 flat fee, Trees over 12′ – Add $6/foot for every foot over.
Admission to Santa's Farm is required, $5 – $8 per person. However, a smaller lot with a limited selection of pre-cut trees is accessible outside of the farm gates at no charge.
But wait, there's more! At Santa's Farm in Eustis your kids will have a ball with all the activities. Included in admission are things like a jump pad, tricycle track (kids and adults), a giant slide, a tire tower, barrel train, and more. Plus you can add on zip-line, horse rides, and bags of feed for the petting zoo.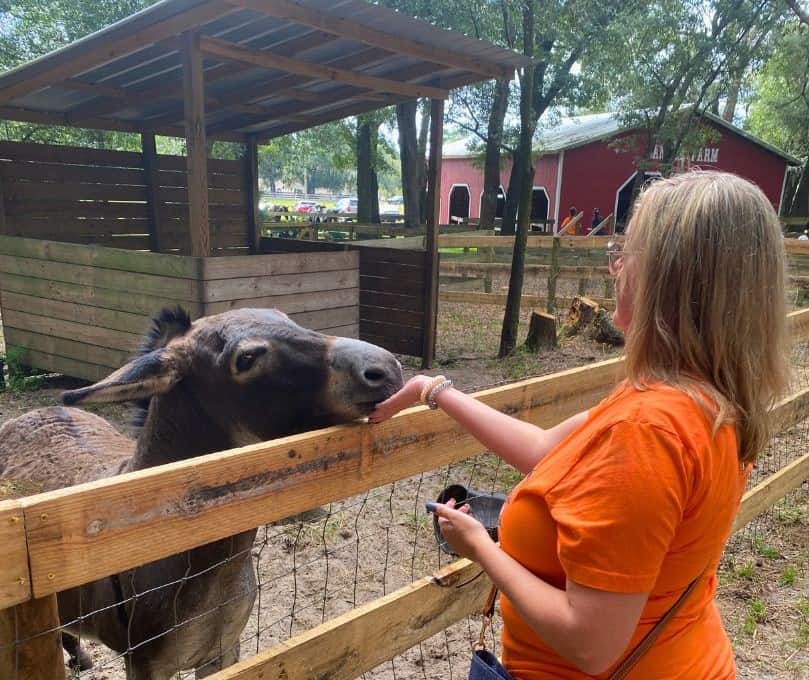 2. Christmas Tree Stand at Propagate Social House
40 E. 5th St.
Apopka, FL
Together with Kasheta Farms, Propagate Social House has a Christmas Tree Stand open Tuesdays – Sundays.
Opening weekend is November 16 – 19th, and the adorable tree lot will continue throughout November, and potentially most of December.
Fresh-cut Fraser Firs from North Carolina, ranging in size from 3 – 10 feet, line a precious little lot and adorn The Shade House. In addition to the tree stand, they will have daily activities including photo ops, live music, food trucks, and a farmer's market.
The Shade House itself is decorated top to bottom with Christmas lights and decor. This outdoor bar offers beverages, for adults and a small selection of soft drinks, plus local food trucks and pop-ups stop by on the weekends.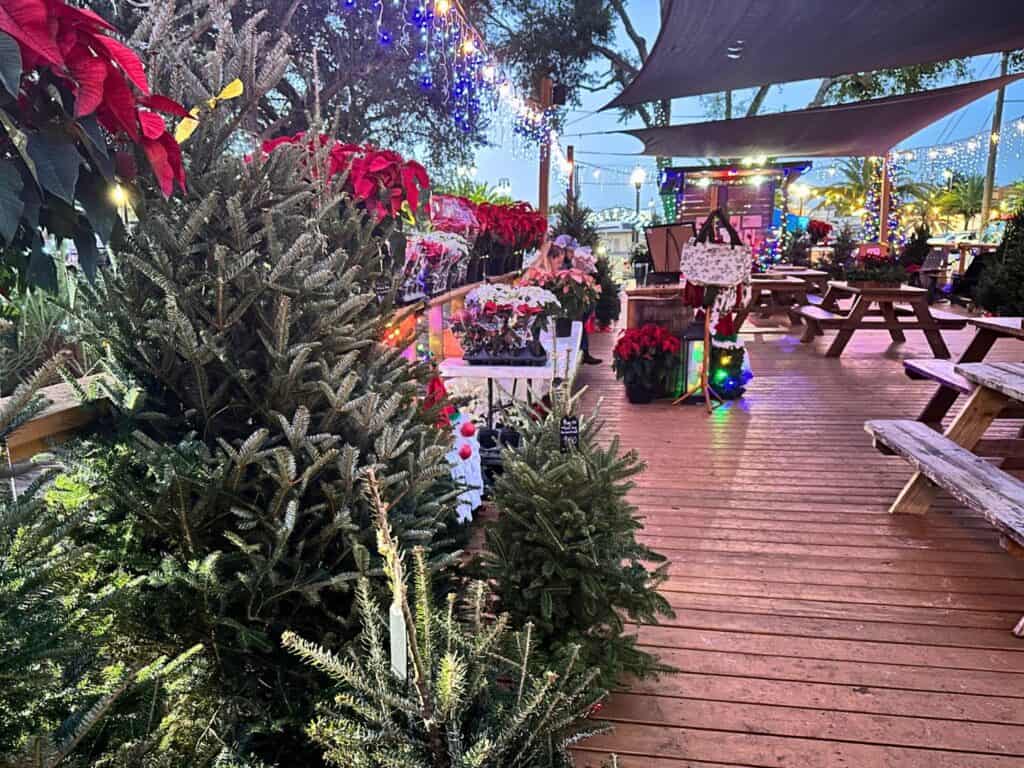 3. 13th Annual Christmas Charity Benefit
Lucas Nursery & Butterfly Encounter
1909 Slavia Rd
Oviedo, FL 32765
Lukas Nursery & Butterfly Encounter is proud to host its 13th Annual Christmas Charity Benefit, supporting organizations in the local community.
All of the net proceeds from this year's Christmas Tree sales will be donated to Camaraderie Foundation & Commission 127.
Stop by this holiday season, starting on Friday, November 17th, to pick out your Christmas Tree. Lukas Nursery carries premium-grade, Fraser Fir Christmas Trees that are fresh cut from one of North Carolina's best Christmas Tree farms. They also offer a variety of other holiday favorites like handmade Christmas Wreaths, florist quality Poinsettias, Christmas Cactus, Living Christmas Trees, Gift Cards, and many Christmas gift ideas.
Christmas tree sales begin on Friday, November 17th; a week before Thanksgiving! Christmas Tree sales are during their normal store hours: Monday – Saturday 8:30am – 5:30pm & Sunday 9:00am – 5:00pm. They sell out quickly, so make sure to visit early!
4. Holly Jolly Meadows Christmas Tree Farm
4705 Meadow Green Road
Mims, FL 32754
Holly Jolly Meadows Christmas Tree Farm offers a wide selection of Fraser Fir Christmas trees grown in NC, ranging from 5 – 12′. They also have a super cool ski lift photo op available that would make a great Christmas card photo. Opening day is November 24th.
5. Misty Mountain Christmas Tree Farm
22400 County Road 455
Howey in the Hills, FL 34737
Misty Mountain Christmas Tree Farm proudly grows Fraser Firs in North Carolina on their family farm and transports them to their farm in Lake County, Florida days before Thanksgiving.
U-Cut Christmas Trees curated by Misty Mountain Christmas Tree Farms are Southern Red Cedar and Arizona Blue Cypress. Festive features include handmade wreaths, Misty Mountain specialty-made jams, and pottery by Crazy Jugs.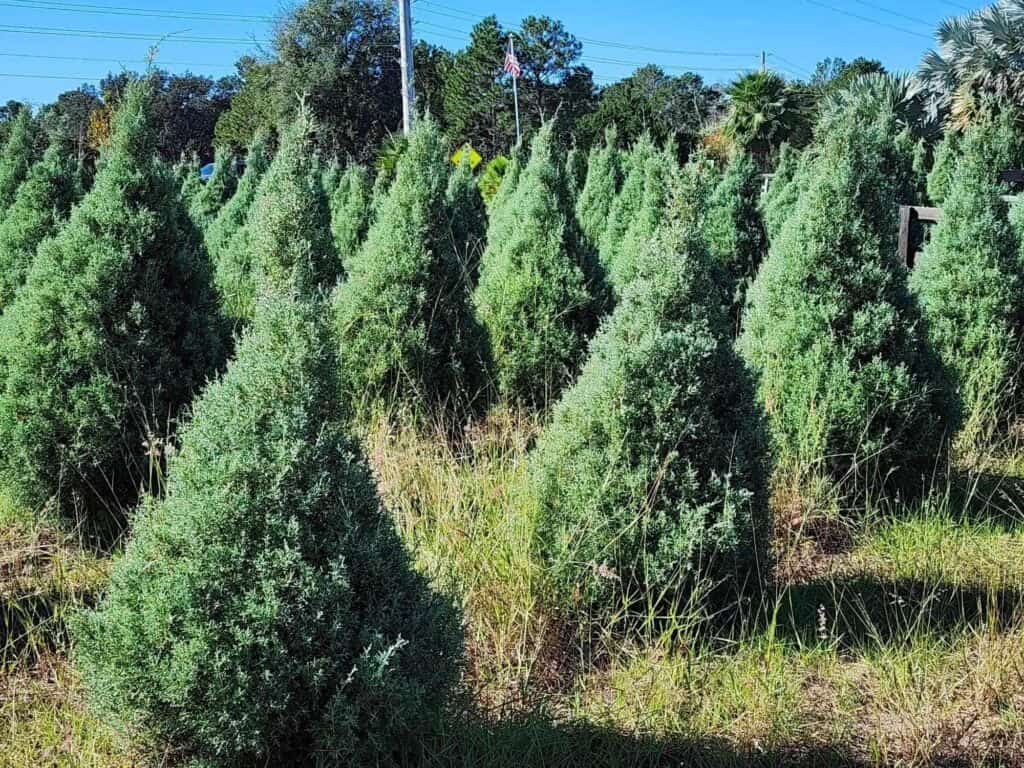 They also have a Photographer on site offering family photos for you in our trees.
Looking to book a family photo shoot? By popular demand, Misty Mountain Christmas Tree Farm has opened its arms to local professional photographers. The property is divided into five bookable venues and only one photographer at a time in each venue. They even supply some antique cars and tractors for backdrop props.
6. Santa's Enchanted Forest and Scavenger Hunt
Lake Catherine Blueberries
5849 Lake Catherine Rd
Groveland, FL
Santa's Enchanted Forest includes a hayride to and from the forest and a walking trail with a beautiful display of lights, classic Christmas music, and a scavenger hunt.
Visit Santa, Buddy the Elf, and special guest The Grinch for free photo opportunities and write letters and Christmas lists to give to Santa. After completion of the scavenger hunt, redeem your prize in Santa's Workshop! Get crafty to create a Christmas souvenir. It is fun for the whole family in Santa's Enchanted Forest!
The Enchanted Forest will open on Friday, November 24th. They will be open from 6pm-10pm every Friday and Saturday evening until December 23rd.
Bonus: Evergreen Tree Trail at Oh, What Fun!
6955 Tavistock Lakes Blvd.
Orlando FL, 32827
Visit the tree trail winding from the Lake Nona Town Center to the Lake Nona Wave Hotel. Lake Nona partners compete to decorate a tree for guests to enjoy during Oh, What Fun! Cast your vote for your favorite tree at the end of the trail.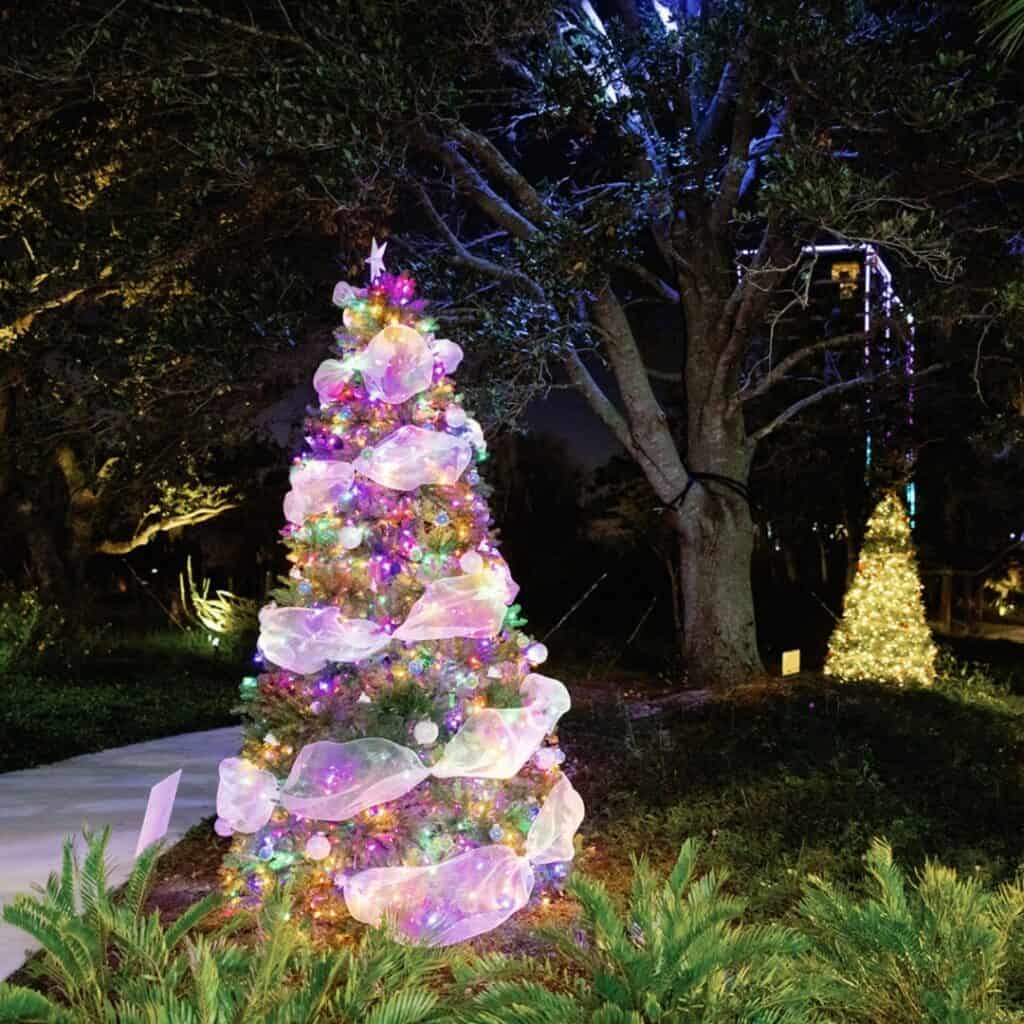 Make sure to snap some family photos in front of the picture-perfect photo walls, 24-foot centerpiece Christmas tree, oversized ornaments, and more throughout the event!
NOTE: This is not a traditional tree lot. This is a festive display.
Tree lots outside of the Orlando area:
Ergle Christmas Tree Farm
3331 Treiman Blvd
Dade City, FL 33523
Ergle Christmas Tree Farm is like something out of a holiday greeting card! It has been a holiday tradition for Central Florida families for years offering a variety of fresh trees (cut your own, potted, and pre-cut), fresh wreaths, and Christmas Cactus.
For some Orlando families it may be a bit of a drive to Ergle Christmas Tree Farm, but it is a fun outing!
The farm offers train rides Friday, Saturday, and Sunday and has a concession stand with a selection of yummy snacks. Opening day is November 10th. Admission to the farm and parking are free.
Cost: $36.00 for 5 ft and under, 6 ft and up to 9 ft are $6.00 per additional foot, and $7.00 for trees 9 ft and above.
Cottom Farm's Christmas Village
4650 Marion County Road
Weirsdale, FL
Enjoy hayrides, and a Christmas light display, and take a tour of Santa's "southern home" in Lake County at Cottom Farm's Christmas Village. Open December 8th – December 24th, from 6 to 9pm on weekends and the whole week before Christmas. Tickets are $5 for children ages 4-11 and $10 for adults.