15 Orlando's Best Christmas Lights and Holiday Decorations
As the festive season approaches, the enchanting glow of twinkling lights transforms Orlando into a magical wonderland. For Orlando families and visitors, the quest for the best Christmas lights displays is an annual tradition. From the heart of the city to charming parks and venues, there's a kaleidoscope of dazzling displays to see.
Orlando's Best Christmas Lights
We're sharing the top 15 Christmas lights and holiday displays in Orlando, with a focus on the best ones for kids and families. To help you plan out this festive time of year, we've listed these light displays in chronological order.
Christmas Lights Events
November 11 – 19, 2023
Orlando Museum of Art
Over 30 designer-inspired decorated trees, stylish holiday wreaths, exceptional gingerbread houses, and more await inside the Festival of Trees.
I have been going to the annual Festival of Trees at the Orlando Museum of Art since I was a young child. I am grateful for many memories across the decades of attending with my mom. It always marked the start of the holiday season in Orlando.
Now I love bringing my son to see all the dazzling displays and decorated trees. It's also a great place to see Santa Claus in Orlando.
Plus there are holiday pop-up shops, daily entertainment, and lunch available in the on-site holiday café.
Adult: $20, Children (ages 3-12): $12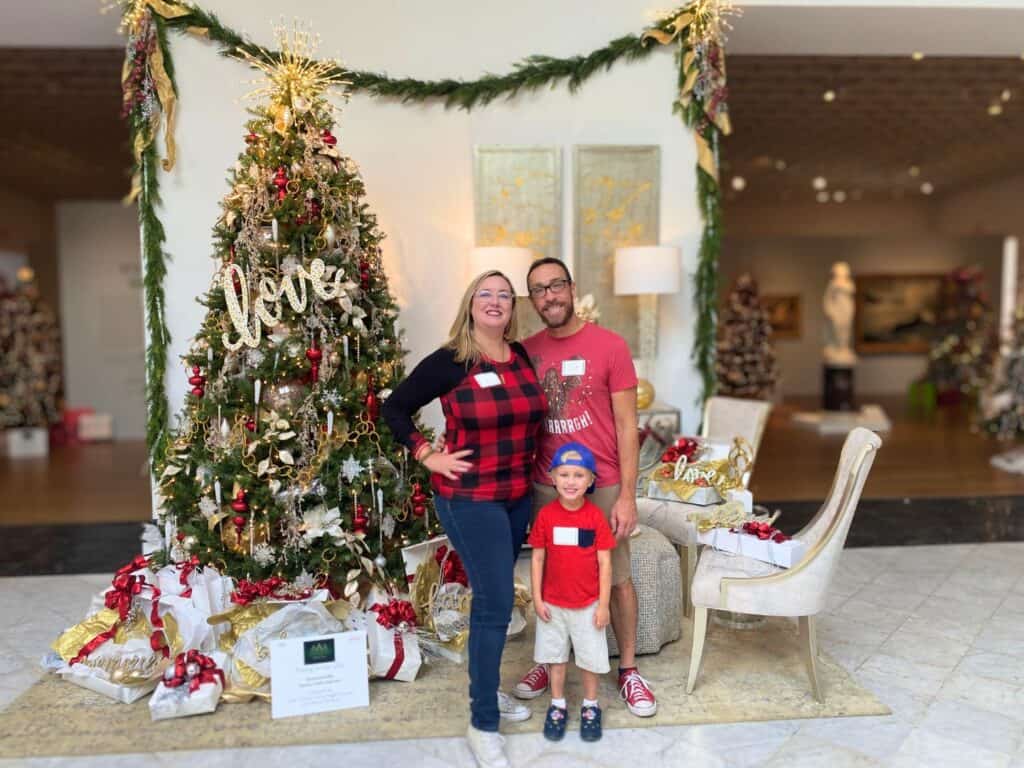 November 10, 2023 through January 2, 2024
This year the Christmas Tree Trail is now a Stroll, with each tree at its own individual location to make social distancing possible. Maps for the Stroll can be obtained at House of Blues, 12 Days of Christmas Store, The Marketplace Co-Op, and The Welcome Center. Each tree is inspired by a Disney character or theme.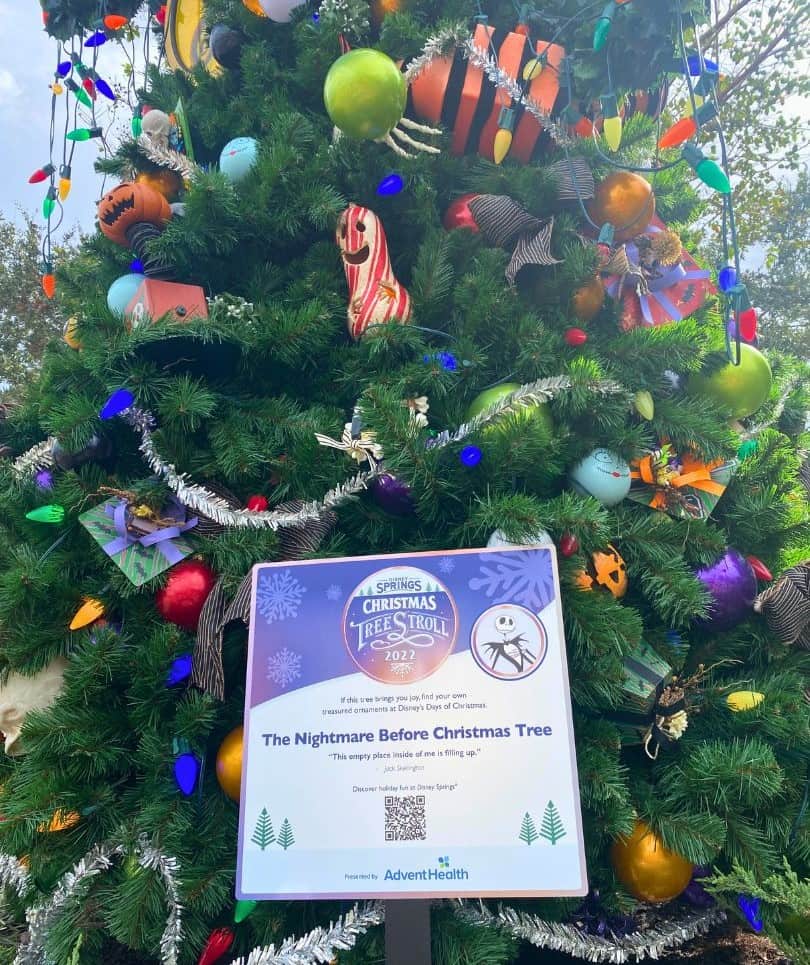 Lights and decorations November 10 through December 26, 2023 beginning at dusk
Tree lighting December 2, 2023
Lake Concord Park, Casselberry
Stroll through Lake Concord Park to enjoy charming vignettes of holiday displays and brilliant lights. This small community park is perfect for a simple evening of enjoying light displays and a lakeside park.
FREE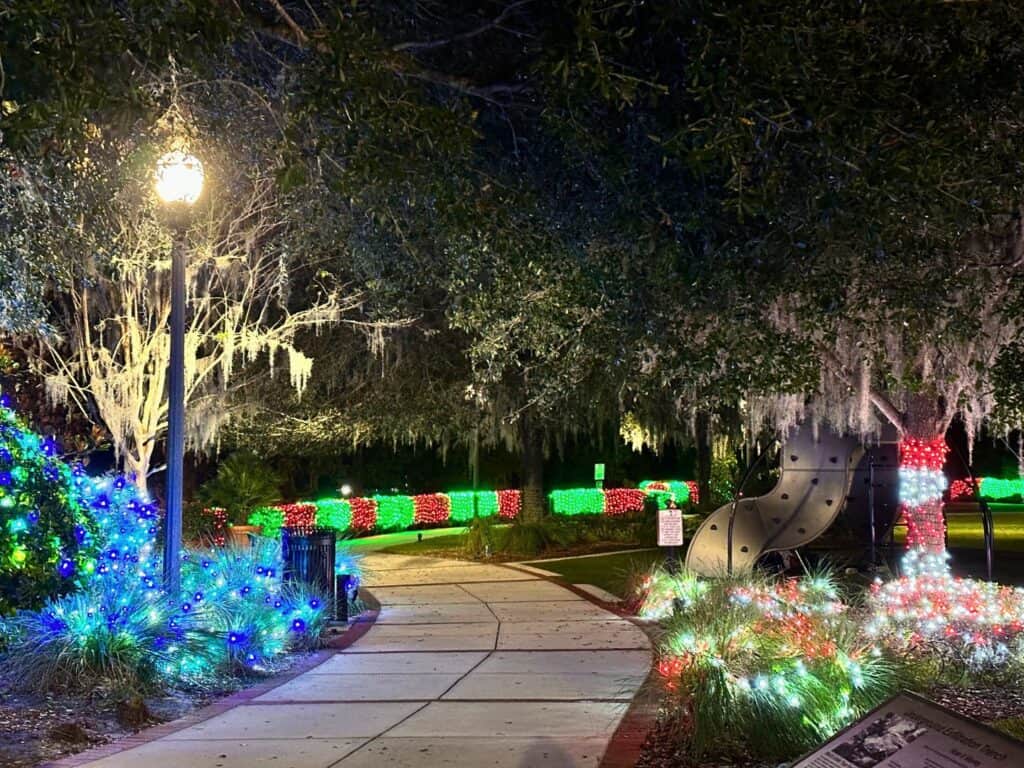 November 17 and 18, 2023
December 1 and 2, 2023
December 15 and 16, 2023
December 21 and 22, 2023
Savor the magic of 1.6 million glimmering lights covering the iconic GKTW venues, have fun taking holiday photos with special backdrops, and enjoy the exclusive behind-the-scenes stories that go along with each unique area. And how about adding in GKTW villas decorated by the incredible Village partners?
Tickets are $59.99 per person. All proceeds will benefit Give Kids The World.
Every Wednesday through Sunday from Nov. 15 – Dec. 10, 2023
Every day Dec. 13 – 31, 2023
Island H2O Water Park
Holiday Nights at Island H2O Water Park is so much more than a dazzling lights display – it's the one-stop spot for family fun, festive food, holiday shopping, and nightly entertainment – with proceeds benefitting Give Kids The World Village.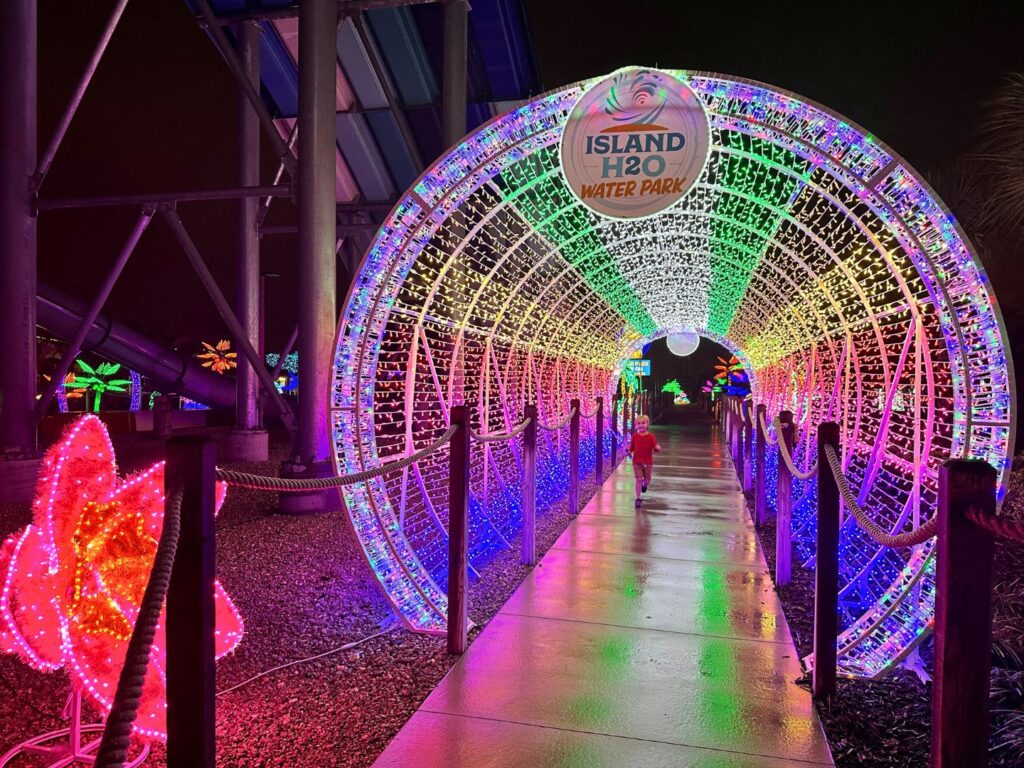 This dazzling and fun event is great for families, and for couples. There is a play area for little tykes, plus character and Santa Claus greetings. And a new train is perfect for a short little ride together.
New kids' activities also include a station to write a letter to Santa, a foam party, and an inflatable bounce house style super slide.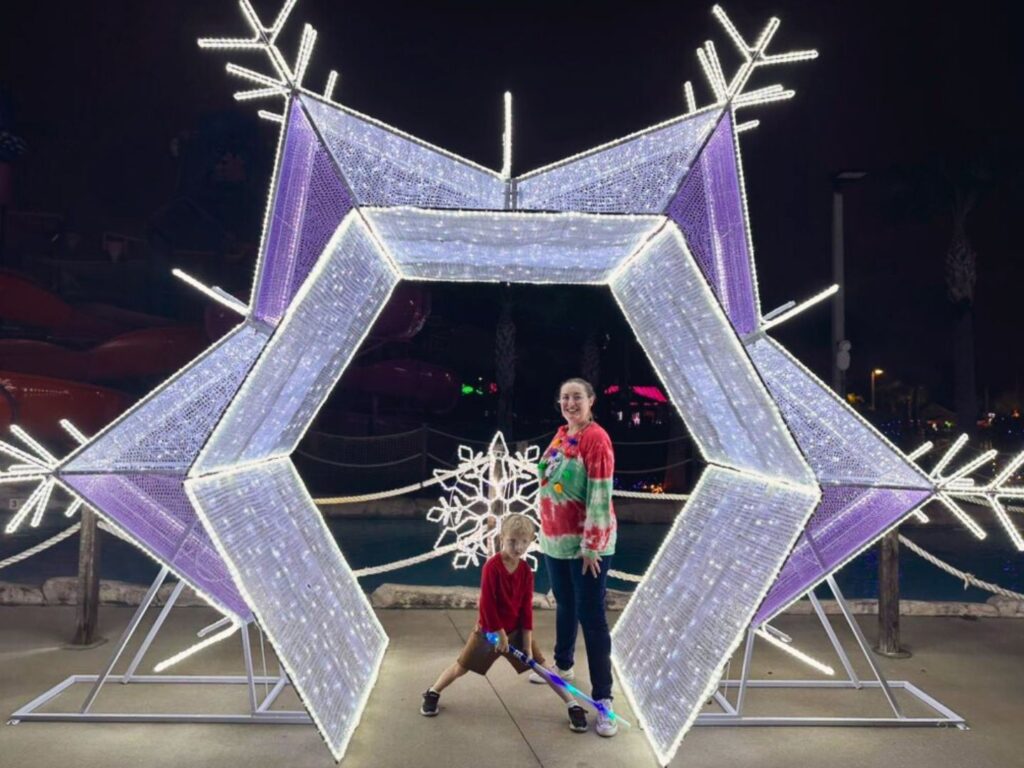 Sip steaming mugs of cider and hot cocoa, enjoy holiday themed bites, and toast s'mores big enough to share all while enjoying unique live entertainment each night.
Tickets Start at $29.99 Adults, $24.99 child when purchased online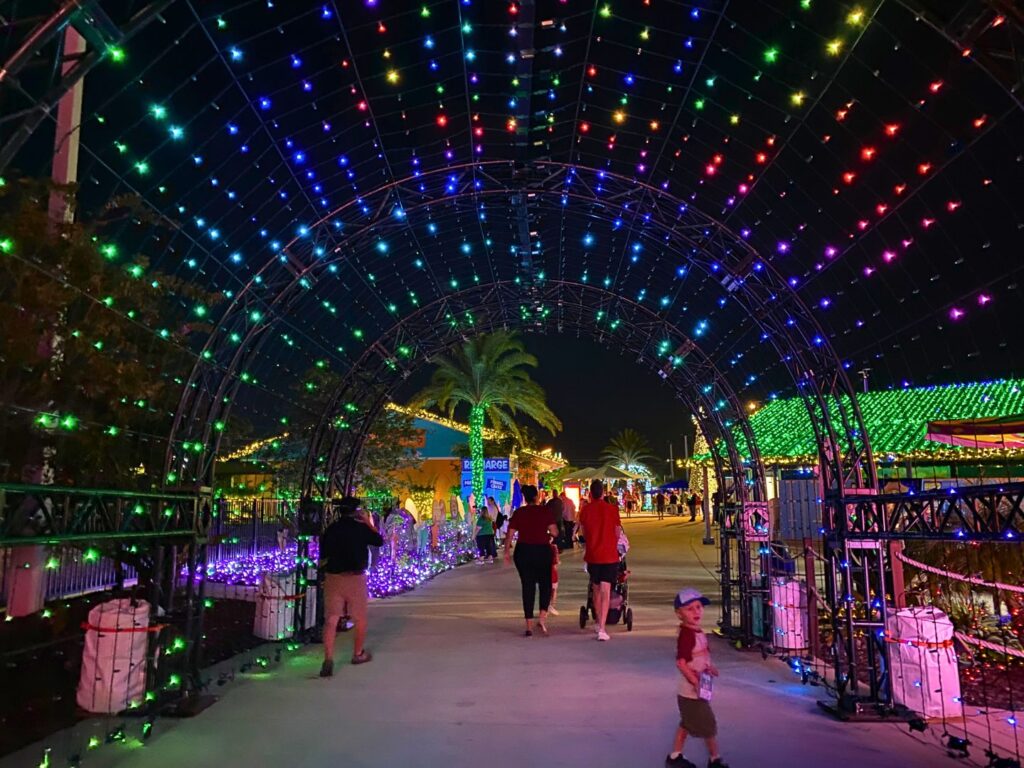 November 17, 2023 – January 6, 2024
Leu Gardens
A 3/4 mile journey of awe-inspiring light experiences. A million lights that bring Leu Gardens to life.
Meet-and-greet characters
40′ diameter snow dome with swirling snow
70′ long candy cane vortex light tunnel
Walk through a forest with giant, neon flowers
Laser light show with live singers
Food and beverage options
And so much more!
$25 adults / $22 child
Saturday, Nov. 18, 2023 – Jan. 5 2024
Victory Pointe in Clermont, FL
The Enchanting tree forest is a free local display of Christmas trees. For kids and families and it is a simple way to experience the joy of being surrounded by decorated trees.
There are 50 trees decorated by local organizations and businesses setup to view at Victory Pointe. You can walk on the trail to view, or park at the Clermont Boat House and walk over to Victory Pointe.
Check out the trees in the day and nighttime to get the full effect!
FREE
November 23, 2023 - January 1, 2024
Enjoy over 200,000 lights on more than 100 holiday displays at Cranes Roost Park in Altamonte Springs. The lights are turned on each night at dusk.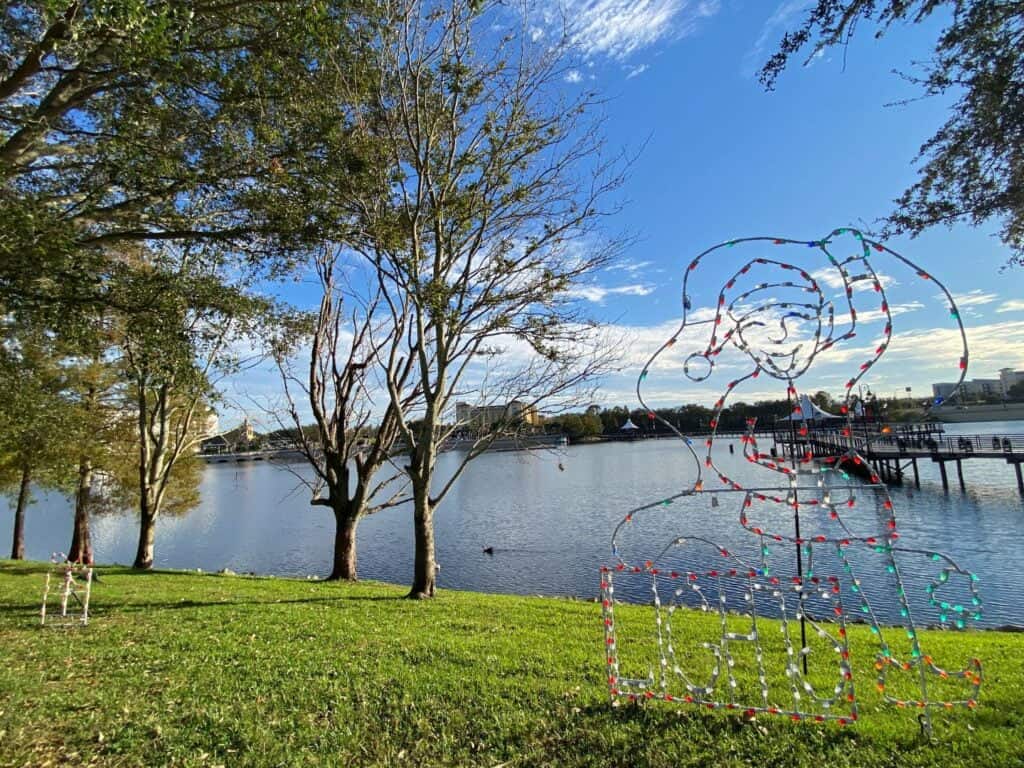 There is also a fountain show nightly at 6, 7, 8 and 9pm. A crowd favorite, the Plaza fountain features special shows with dancing water and dazzling lights choreographed to classic holiday tunes.
FREE
November 27 – December 31, 2023, 7-9pm

The Citrus Tower's enchanting light show, a cherished tradition started by the Homan family, is back and brighter than ever! While the light show itself is a gift to the community, for those looking to add a bit more sparkle to their evening, the tower offers rides to the top along with delicious treats like hot cocoa and sugar cookies for purchase.
FREE
December 2, 3, 8, 9, 10, 16, 17, 22, 23, 2023, 6-9pm
Enjoy a very merry light show at Winter Garden's City Hall. Plus, there will be a Winter Wonderland area for children at City Hall on the nights of the light show. The entire downtown Winter Garden area will be festive and decorated.
FREE
On or around December 2 – January 6
Lake Eola Park, Orlando
Strolling along hand in hand to see the Christmas light at Lake Eola is a must! The Eola Wonderland 72–foot Christmas tree dazzles every night with a synchronized light and music show. The iconic Lake Eola fountain displays red, green, and gold lights — a beloved Orlando tradition. Definitely tops the list of best Orlando holiday lights!
FREE
December 1 – 25, 2023
Wekiva Island
Nightly snow flurries plus extra entertainment and activities are offered on select days and evenings, including outdoor movies and visits from Santa Claus. While Wekiva Island does not have a ton of Orlando holiday lights, it is still so much fun. And it is a true Florida experience. Last year a 20 feet tall Christmas tree was added to the Christmas Tree Forest.
*Note: a $5 admission fee applies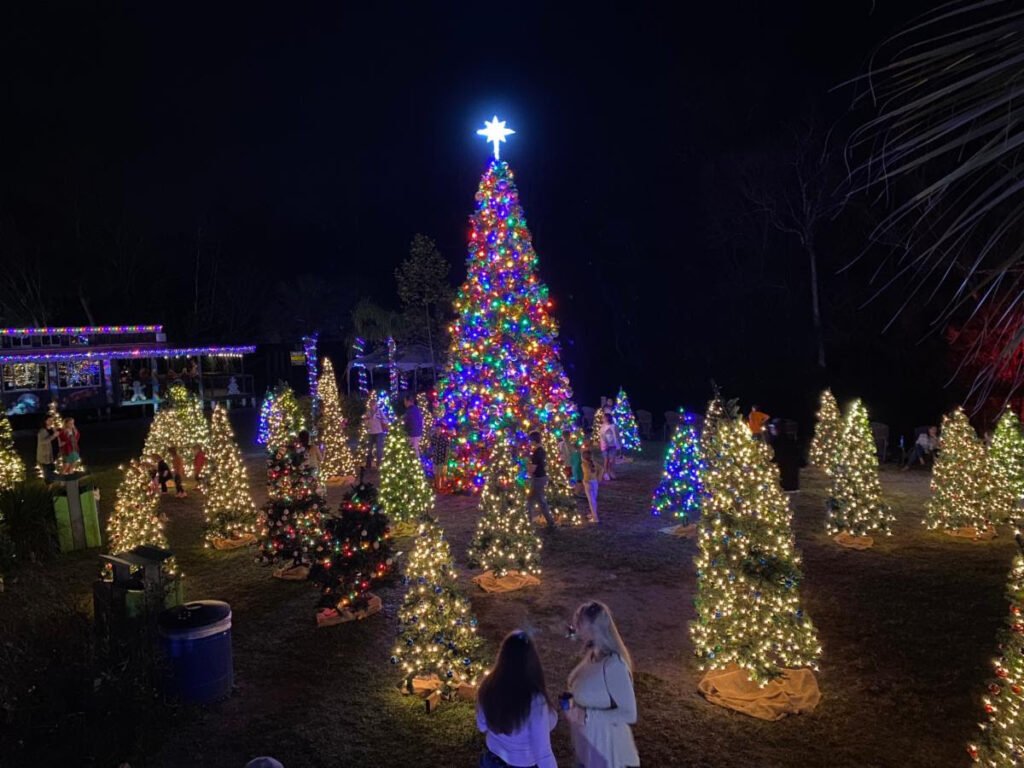 December 8, 9, 10, 15, and 17, from 7 to 9 p.m.
Central Winds Park, Winter Springs
Drive through Central Winds Park and view holiday lights for free by the City and local businesses and organizations.
Please be advised – There is a vehicle height limit for this event. No vehicles above 11 ft. will be permitted. Expect long lines.
Motorists are encouraged to use the Tuskawilla Road entrance in the Winter Springs Town Center.
FREE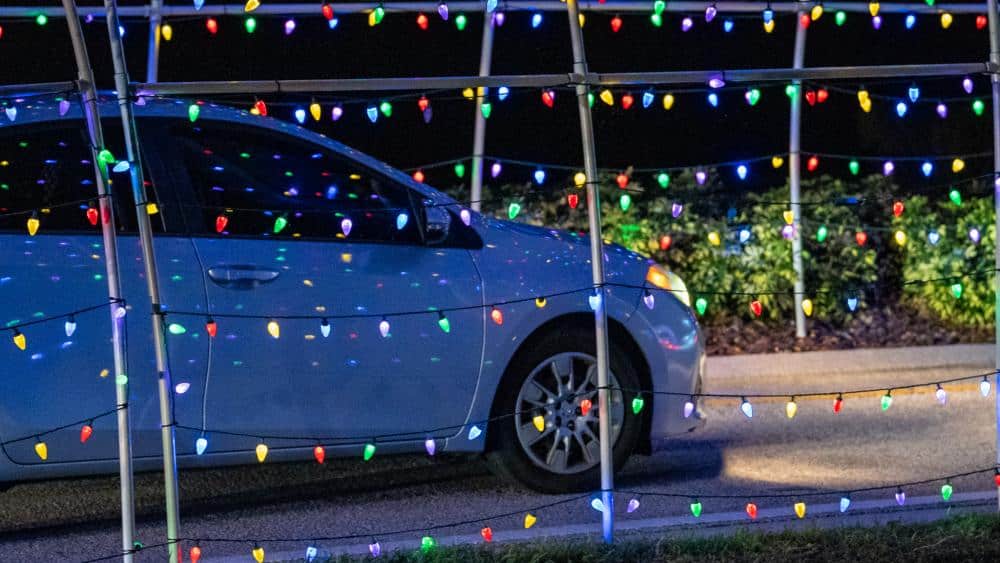 Saturday, December 16, 2023, Central Winds Park transforms into a captivating walk-through wonderland from 5 to 9 p.m. This exclusive one-night event includes an opportunity to meet Santa, indulge in delicious food from food trucks, and enjoy a movie under the stars in the park.
Begins Saturday, November 11
Orlando Science Center
This small display is not as major as the others on our list, but still, it's worth mentioning. The Dinos In Lights Festive Holiday Show takes place in one exhibit and does not encompass the entire Science Center.
Stan the T-Rex and his fossil friends in DinoDigs are part of a festive display of music and light. Each family-friendly show will run for four minutes.
This dazzling light show is included in general admission.
Shows begin every 30 minutes between 11:00 a.m. and 3:30 p.m. daily.
Included in regular admission to the Science Center, $24 for adults, $22 for seniors and students, and $18 for youth (ages 2 – 11).
MORE: Where to Find Orlando's Best Holiday and Christmas Lights from OrlandoDateNightGuide.com.
November 18, 2023, to January 31, 2024
More than 3 million lights adorning every corner of the historic district for two months around St. Augustine.
The trains and trolleys offer special seasonal tours that take you through the best areas, and there are also a variety of specialty tours — everything from walking to electric cart tours, and even tours to see the lights from the water and from the air.
FREE – with tours being an additional cost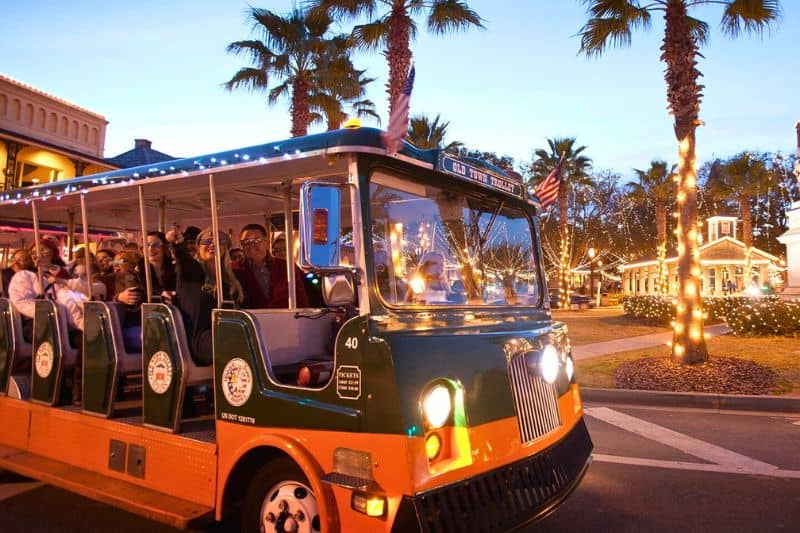 ORLANDO NEIGHBORHOOD CHRISTMAS LIGHTS
The Williams Holiday House
Starting November 23, 2023
On Oakland Avenue, this house goes all out when decorating for Christmas. Though this is a residential home, visitors are welcome and encouraged to come take a walk through the yard and take in the lights and decorations. Located at 15304 E. Oakland Ave, Winter Garden.
The Fye's Crazy Christmas House
Nightly throughout December, 5:30-9pm (until 9:30pm Friday & Saturday)
Located in Deer Run in Casselberry, this family home goes all out to celebrate the season. Located at 407 Eagle Circle, Casselberry.
Johanessen Lights
Thursday – Sunday, starting December 7th from 6-10pm and December 26-31. *CLOSED Christmas Eve & Christmas Day
Winter Park
Park at the corner of Goldenrod & Georgeann and walk over to enjoy this popular neighborhood display.
FREE
Bivona Christmas Light Show
Starting December 1, nightly from 6:30 – 10:45pm; check Facebook for updates
1601 N Wind Ct, Winter Springs, FL
Tune in to 91.3FM and enjoy this neighborhood holiday lights display synchronized to music.
FREE
Santa's House by the Bigda's
Saturday December 2nd at 7pm
Nightly 7pm – 10pm through December 31, 2023
4314 Shadow Wood Trail, Winter Haven, FL
An amazing Christmas lights display!
Lights on Topsail Hill Street
Usually starts around December 10, around 7pm
2606 Topsail Hill Street, Orlando, FL,
This coordinated light show will surely delight the whole family. The show runs until 11 PM. Don't forget to tune your car radio to 89.7 FM to get the full experience.