10 Kid-Friendly Magical Dining Restaurants to Try Right Now
Everything in Orlando is magical, from the theme park amusements to seeing the twinkle of awe in our kids eyes at every over-the-top offering Orlando can serve up. Kids really have it good here! To make things even more enchanting, the great city of Orlando plays host to numerous dining-out deals, including Magical Dining. Running from mid August until October 1st, 2023, get ready to wow the whole family with an affordable and stylish night out.
Offering pre-fixe three course menus, Magical Dining offers locals or visitors to Orlando an opportunity to try some of the admittedly more expensive restaurants at a fraction of the cost.
In fact, this deal is offered for only $40 per person! While some upscale spots are $60 per person, our kid-friendly Magical Dining restaurants focus on the $40 per person value.
10 Magical Dining Restaurants for Kids
Locations on International Drive or in Lake Buena Vista
This forever classic for family-friendly dining is in part a theatrical dinner show, offering kids a fun and mesmerizing evening of onion volcanoes and shrimp flipping over a hot hibachi grill. Magical Dining menus offer an added value with an appetizer like dumplings or edamame and ice cream for dessert.
APPETIZERS
Pork Gyoza
pan fried pork dumpling
Edamame
served warm and sprinkled with sea salt
California Roll
krab mixed, cucumber and avocado
MAIN COURSE
Hibachi Chicken Rice, Benihana Onion soup, Benihana Salad, Hibachi Vegetables, Hibachi Shrimp appetizer, Homemade Dipping Sauces and Japanese Hot Green Tea
Choice of:
Hibachi Chicken
chicken breast grilled with green onions and mushroom with sesame seeds
Hibachi Steak
New York strip steak and mushrooms hibachi grilled to your specification
Hibachi Shrimp
hibachi shrimp grilled to perfection
DESSERT
Green Tea Ice Cream
Japanese matcha ice cream
Chocolate Ice Cream
chocolate ice cream
Vanilla Ice Cream
vanilla ice cream
Rainbow Sherbet
sherbet
Winter Park
Hands down one of my family's favorite restaurants for any occasion, Bulla Gastrobar serves up the most authentic Spanish tapas we have ever had in the States, and that's coming from the wife of a Spaniard! Living in Spain part time we have our favorites – you must try the ham croquettes – and their happy hour is one of the best in Orlando.
If you visit for Magical Dining, expect the children to be welcome, despite the upmarket atmosphere. Bulla is all about creating a familial environment, after all the whole idea behind tapas style dining is sharing small plates and good company. 
APPETIZERS
Corn Soup
roasted corn on the cob, paprika oil, fresh cracked pepper
Margherita Flatbread
spanish tomato sauce, Roma tomatoes, mozzarella cheese, oregano
Patatas Bravas
crispy potato cubes, spicy brava sauce, aioli
Salmon Tataki
seared salmon, roasted tomatoes, onions, basil, fennel, thyme, rosemary, basil oil
Ham Croquettes
serrano ham, fig jelly
MAIN COURSE
'Solomillo' with Blue Cheese Sauce
pork tenderloin, shishito peppers, piquillo confit, hand-cut fries
'Bulla' Burger
piquillo peppers, caramelized onions, tetilla cheese, brioche bun, honey thyme glaze, patatas bravas
Salmon
baby spinach, chickpeas, lemon cream
Truffle Carbonara
linguini, wild mushrooms, bacon, garlic cream, green peas, 63 degree egg
DESSERT
Churros Con Chocolate
traditional fried dough, chocolate sauce, dulce de leche
Almond Cake
toasted almond slivers, goat cheese frosting; contains licor 43
Flan De Coco
coconut flan, passion fruit sorbet
Locations in Orlando and Flamingo Crossings
My family loves taking my daughter to get global eats. It fuels her passion for foodie travel, which we do a lot of! At nearly four years old, she not only has been out to get Korean BBQ and the similar Japanese BBQ (called yakiniku), but she's been overseas to South Korea and Japan to try it authentically as well!
Related: World Cultures and Educational Experiences in Orlando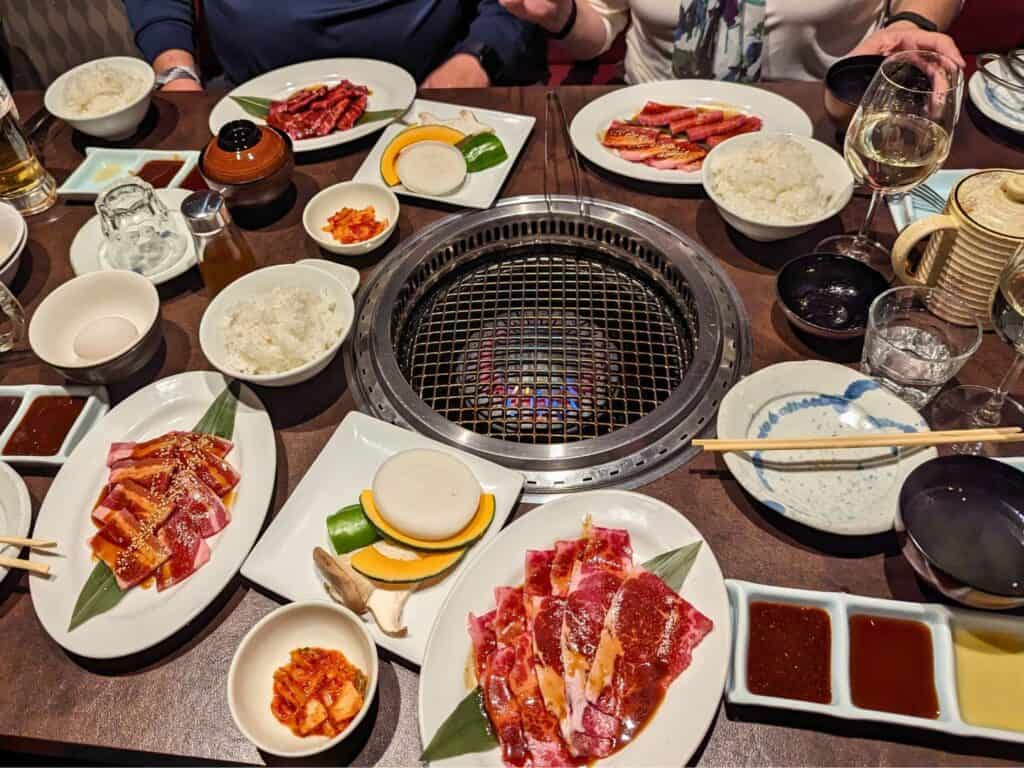 That said, kids all over the world are enjoying this cook-your-own-dinner style of eating, and the flavor profiles are incredible for children to explore. Even picky eaters will enjoy the interaction of cooking up raw pieces of meat at their own tabletop grill.
Have no fear, the ordering process is made very simple with the magical dining menu – choose your starter, choose your heaping plate of meat (I recommend the upgrade to kalbi short rib), and then for dessert let the kids make their own s'mores over the center-table grill. Does it get any more fun than that?!
Locations at Sand Lake Rd and Altamonte Springs
Believe it or not, Seasons52 is one of the masterful restaurants on the Magical Dining list that can so elegantly combine the rhythm of a chain restaurant with the feeling of old world opulence. Kids can enjoy the flatbread starter that comes with the magical dining menu, or mac & cheese is always an option to add on to Dad's wood grilled filet mignon.
My kid undoubtedly shares my heaping plate of risotto and seven (!!) giant scallops before we all dive into their adorable 'mini indulgences' desserts. The open atmosphere allows an intimate dinner to be enjoyed in a lively way, so fidgety kiddos won't be all that disruptive compared to other fine dining restaurants.
APPETIZERS (Two courses)
FIRST COURSE
Select one (1) flatbread to share per two (2) guests.
SECOND COURSE

Choice of one (1) soup OR one (1) salad.
Roasted Tomato Flatbread
mozzarella, parmesan, basil
All-Natural Pepperoni Flatbread
roasted tomato, mozzarella, parmesan, basil
Seasonal Soup
choice of seasonal soup
Field Greens
organic greens, toybox tomatoes, almond granola, white balsamic vinaigrette
Caesar Salad
Parmesan croutons
MAIN COURSE
Wood Grilled Filet Mignon 6oz

roasted shiitake mushrooms, asparagus, yukon mash, red wine sauce
Cedar Plank Roasted Salmon

Norwegian salmon, French green beans, marble potatoes, dill mustard sauce
Caramelized Grilled Sea Scallops
roasted asparagus, mascarpone risotto
DESSERT
Choice of Seasons 52 Mini Indulgence:

Key Lime Pie
graham cracker, toasted meringue
Pecan Pie
vanilla bean mousse, whipped cream, candied pecan
Belgian Chocolate Smore's
chocolate cake, chocolate mousse, white chocolate chips, chocolate dipped graham cracker, toasted marshmallow
Turtle Cheesecake
graham cracker, caramel sauce, chocolate
Raspberry Chocolate Chip Cannoli
mascarpone, ricotta, raspberry puree, chocolate chips, cinnamon dusted cannoli shell
Located inside Seaworld
What? A Magical Dining Option inside a theme park?! Guess what, you don't need park admission to visit for Magical Dining if you have a reservation, and even better? You get to stay in the park until park closure after you have finished with your meal.
If that weren't enough to make you book your reservation, the restaurant is literally overlooking their shark enclosure tank. Imagine reef sharks, hammerheads, and more just casually swimming past your table as you dine on honestly, some really delicious seafood.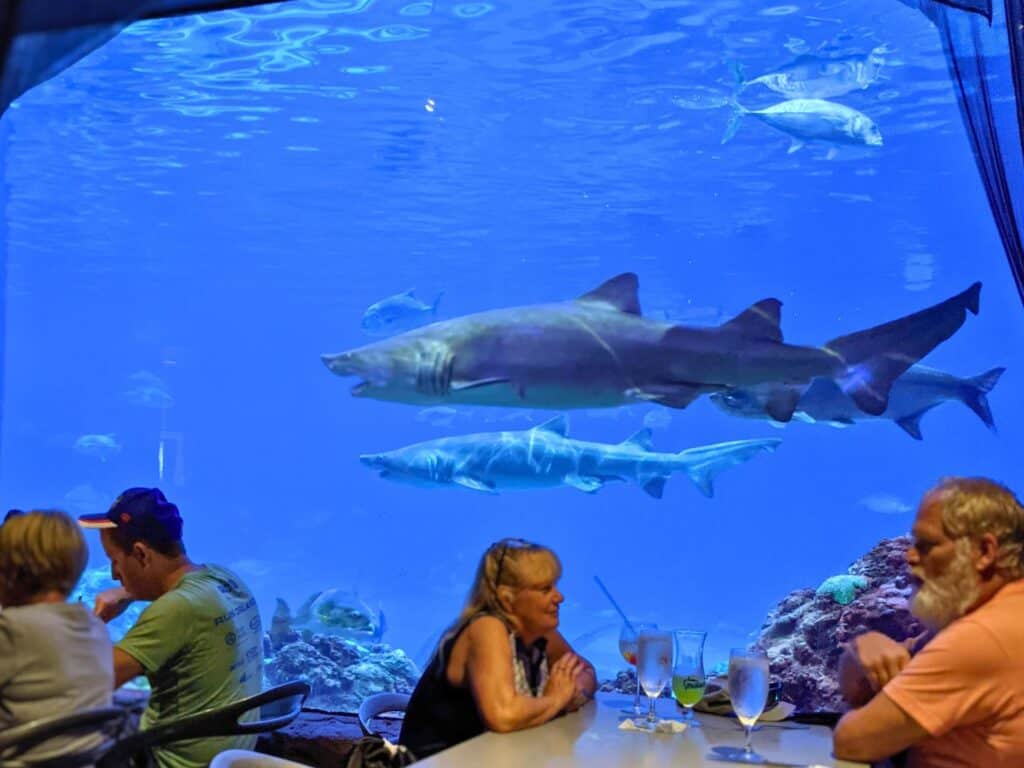 This restaurant is always a favorite when my family visits SeaWorld, and it may become yours too. Stay in the park to enjoy the many aquariums, thrill rides, and even Sesame Street Land.
APPETIZERS
Grilled Lamb Chops
Gluten Free
roasted potatoes, rosemary, Greek tzatziki sauce
Cold Water Lobster Bisque
Gluten Free
poached lobster, sherry cream
Caprese Salad
sliced tomatoes, mozzarella cheese, drizzled with balsamic vinaigrette
MAIN COURSE
Filet Mignon
8oz grilled beef, cabernet demi sauce, mashed potatoes, seasonal vegetables
Claxton Family Farms Chicken
rosemary roasted chicken breast, confit potatoes, pancetta, braised greens, shiitake mushrooms sauce
Miso Roasted Atlantic Salmon
miso ginger glaze, furikake, nori, daikon, jasmine rice
DESSERT
Chocolate Cake Confusion
brownie and chocolate cake filled with fudge and enrobed in chocolate ganache; garnished with pieces of brownie and white chocolate chips
White Chocolate Raspberry Cheesecake
white chocolate raspberry cheesecake
Cannoli Cake
four layers of yellow cake filled with orange cream cream cheese and chocolate chips; iced with cream cheese and garnished with a filled cannoli
Located in College Park
This local standby has long been an institution for College Park weddings, work banquets, golf luncheons and happy hours for the locals. For Magical Dining, their approachable and delicious menu of offerings is quite the value.
Enjoy their blue cheese chips to start and their classic prime rib in an elegant but casual atmosphere befitting of a golf club tap room. Kids are always welcome, and veranda seating is a great way to enjoy the ambiance without having to worry about children's noise levels. The always family-oriented restaurant is a great pick for all.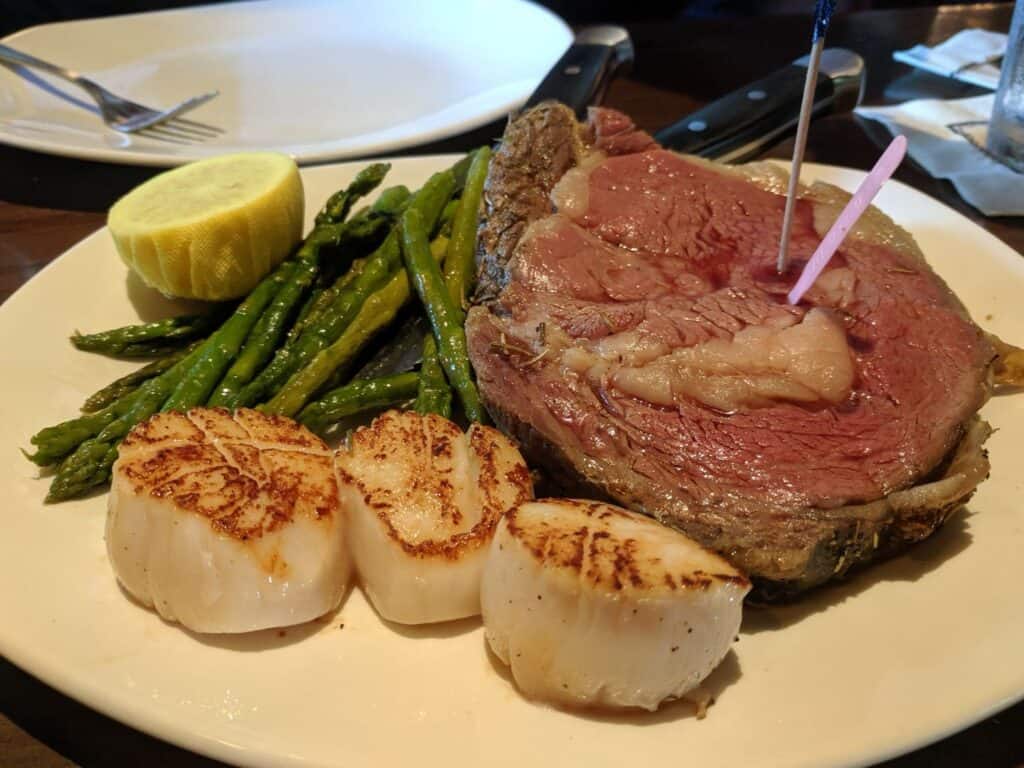 APPETIZERS
Meatballs Marinara
house made, smothered in mozzarella with toast points
Tap Room Bleu Cheese Chips
home style chips topped with bleu cheese fondue, balsamic glaze and scallions
Buffalo Shrimp
lightly breaded, celery and bleu cheese dressing
MAIN COURSE
10oz Queen Cut Herb Encrusted Prime Rib
with au jus, creamy horseradish and mashed potatoes
Sushi Grade Ahi Tuna Mignon
sesame or peppercorn encrusted with yellow rice
Bone In Lollipop Center Cut Pork Chop 10oz
served with mashed potatoes
Tequila Citrus Chicken
marinated thighs, monterey jack, black beans, yellow rice, fresh cilantro
DESSERT
Brownie Sundae
Ghirardelli brownie, vanilla ice cream, chocolate sauce, whipped cream and a cherry
Key Lime Pie
graham cracker crust topped with whipped cream
Cheesecake
topped with strawberry purée
Loews Portofino Bay, Universal Resort
Mama Della's is an adorable Italian restaurant tucked away in the harbor of the Portofino Bay hotel at Universal. With white linens and the occasional roving opera singer or accordion player, family style plates fill hungry bellies with lasagna, calamari and other familiar favorites.
Although you can park directly at the hotel, I recommend parking at the CityWalk lot and strolling through to the smooth boat ride, which connects CityWalk to the hotel pier.
After dinner, pretend you're in Italy and walk the riverfront sidewalk back toward your car, enjoying a touch of romance while the little ones run wild after having their gelato for dessert.
APPETIZERS
Calamari Fritti
crispy capers, marinara
Classico Caprese
Vegetarian
fresh mozzarella log, vine-ripened tomato, olive oil, balsamic glaze, fresh basil
Pasta e Fagioli
white bean soup, ditalini pasta, pancetta base, spinach
MAIN COURSE
Lasagna
mama's famous recipe – braised beef, bechamel and marinara sauces
Pollo alla Parmigiano
breaded chicken, fresh mozzarella, spaghetti
Loup de Mer
pan-seared branzino, eggplant caponata, brussels sprouts, creamer potato, fresh puttanesca
DESSERT
Mama's Classic Gelato
vanilla, chocolate, strawberry, dulce de leche
Mama's Selection of Sorbetto
lemon, coconut, raspberry
Chocolate Dipped Cannoli
ricotta chocolate chip filling
Winter Park
This dimly lit but lively fish camp restaurant combines Winter Park class with Florida swamp charms. Its creative menu includes everything from fried seafood to oysters, catch of the day and more, and they have a wonderful happy hour.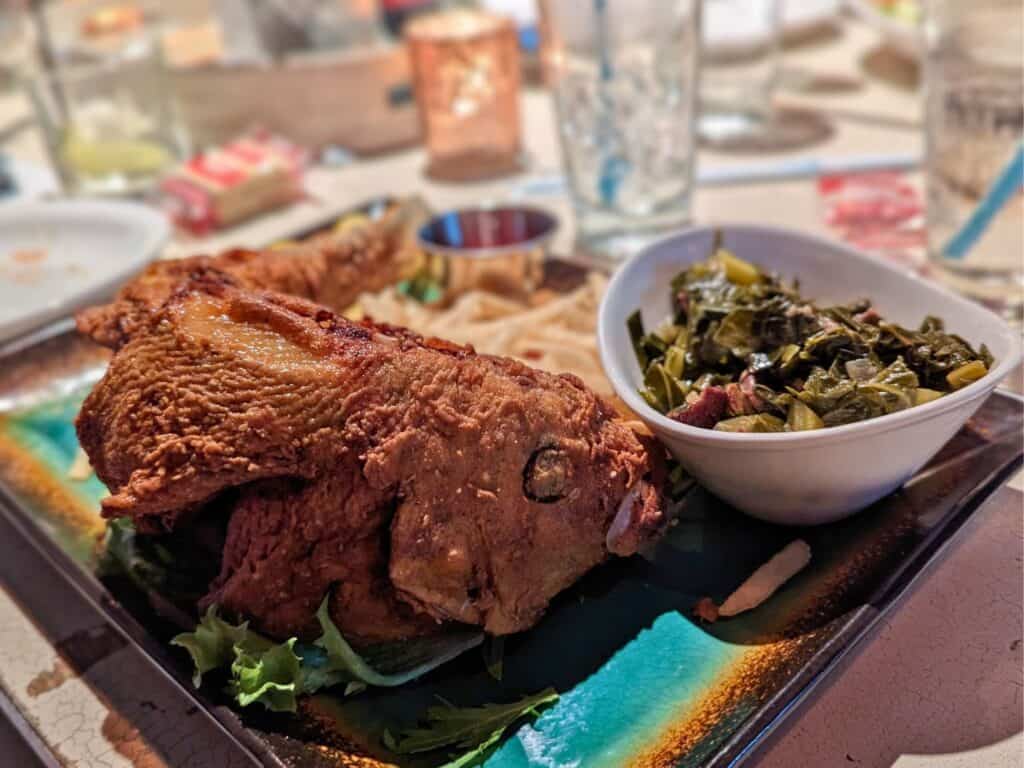 Kids get treated like royalty and get wikki stix to play with, in addition to coloring pages and oodles of attention and love from their wonderful wait staff. A meal here is comfortable and family-friendly, not to mention delicious!
APPETIZERS
PEI Mussels
sauteed in white wine, shallots, garlic, fresh basil, grilled ciabatta
Fred's Fabulous Fish
hearty chunks of smoked rainbow trout, lightly dressed, with julienned green apples, saltines
Firecracker Shrimp
wild-caught Florida shrimp, fried & battered in a zesty aioli, siracha dipping sauce
MAIN COURSE
Pecan-Crusted Rainbow Trout
served with southern green beans cooked low & slow in smoked bacon onion broth, parsley new potatoes
The Reel Burger
Creekstone Farms premium beef, toasted brioche bun from Tom Cat Bakery, tomato bacon jam, aged Gouda cheese, vine-ripened tomato, bibb lettuce, garlic aioli, french fries
Black Bean Veggie Burger
roasted corn, black beans, red & poblano peppers & garlic, lightly cornmeal breaded & flash-fried, on a brioche or gluten-free bun, with a nice little avocado & tomato salad, all from scratch
Cioppino
wild-caught Florida shrimp, local red grouper, Cedar Key middle neck clams, PEI mussels, and fresh Atlantic scallops in a rich tomato broth, served over linguini, with grilled ciabatta
DESSERT
Mike's Famous Carrot Cake
house-baked, infused with pineapple & coconut, served warm, with cream cheese frosting
Carey's Coconut Cake
house-baked, family recipe, rich & creamy, served with love
Chocolate Brownie
served warm, with chocolate sauce
Located at Pointe Orlando
Belly dancers, napkin swinging, and outright boisterous fun await at Taverna Opa. Expect Greek fare and an upbeat atmosphere at this Pointe Orlando staple.
Pointe Orlando is an exciting place to walk around and there are multiple entertainment spots for kids including Monkey Joe's one of our favorite indoor places for kids.
APPETIZERS
Falafel
chickpea croquettes, tzatziki
Saganaki
vlahotiri cheese flamed tableside with brandy
Horiatiki Traditional Greek Salad
cucumber, tomatoes, red onion, kalamata olives, peppers, feta, olive oil, oregano *traditional greek salad does not contain lettuce
MAIN COURSE
Lamb Chops
36-hour marinated with garlic & herbs, lemon potatoes, yiayia's vegetables
Filet Mignon
10oz black angus filet medallions, lemon potatoes, vegetables
Lavraki Bronzino
lemon, olive oil, wild greens, spinach rice
DESSERT
Baklava
phyllo, walnuts, cinnamon, cloves, honey
Opa Ekmek
shredded phyllo, custard, whipped topping, walnuts
Loukoumades
greek style donuts, honey syrup, walnuts
Located in Apopka
This New England eatery had somehow missed my radar before Magical Dining, and I'm born and bred in Massachusetts. Drool worthy plates of steamed Maine lobster, chowdah served in mugs (as it should be), and fried seafood delicacies are just some of the many reasons to get your family in line over at the Nauti Lobstah immediately.
The decor musters up only the happiest nostalgic memories for those from the northeast, with basic wooden and rustic surroundings. This isn't a place for opulence, it's a place for claw-cracking, lemon squeezing goodness, and you 'betcha the kiddos are welcome. 
APPETIZERS
(6) Shrimp Cocktail
served with fresh homemade cocktail sauce and lemon
Bowl of New England Lobstah Bisque
with a dollop of homemade whipped cream and a splash of sherry wine
Crab Stuffed Mushrooms
served with hollandaise sauce drizzle
Half Dozen Raw or Steamed James River Blue Point Virginia Oysters
served with lemon, homemade cocktail sauce and saltines
MAIN COURSE
New England OR Connecticut Style Lobstah Roll
choice of new england style with cold lobster salad or connecticut style with warm lobster and butter, bibb lettuce on a toasted new england brioche roll. served with homemade potato chips and choice of homemade side
6oz Filet Mignon
topped with gorgonzola butter, grilled tomato, and hollandaise sauce, served with a choice of house or caesar salad and two sides
One Pound Boiled Maine Lobstah
served with drawn butter and lemon and choice of one side
Jumbo New Bedford Sea Scallops
jumbo New Bedford sea scallops pan-seared with fresh butter and white wine, drizzled with tomato coulis and served with three black mussels, served with choice of two sides
Ritz Cracker Crusted Cod
seasoned with fresh butter and white wine, served with choice of two sides (can be prepared gluten free)
DESSERT
Homemade Key Lime Pie
"deconstructed" and served in a mason jar with raspberry sauce, homemade whipped cream and graham crackers
Homemade Chocolate Peanut Butter Pie
"deconstructed" and served in a mason jar, topped with peanuts, chocolate sauce, homemade whipped cream and peanut butter cookies
Homemade Bread Pudding
with bourbon sauce and homemade whipped cream
Jaleo: located at Disney Springs, this upmarket and social tapas restaurant is a great pick for variety. Kids will love the small portions!
Tapa Toro: located at ICON Park, nightly flamenco dancing and entertainment will be a big hit before or after browsing the park offerings.
Bosphorus Turkish Cuisine: This delicious upscale restaurant is full of flavorful treasures. Kids will get a kick out of their lavash bread, a massive puff of air-filled pita.
Shogun Japanese Steakhouse: A more subdued version of Benihana, with an excellent first course sushi option.
Islands Dining Room: Located at Universal's Loews Royal Pacific Resort, you can expect theme park stylings and creative pan asian fare.
Spoil the littles with amazing foodie dishes including scallops, salmon, and more. Let the little princesses and princes get dolled up. With interactive dining options, scrumptious and unique plates, and even entertainment on offer, there's something for everyone at these family friendly choices of Magical Dining Restaurants.