A Parent's Guide to District Kids Oviedo – Indoor Play That Your Kids Will LOVE
When I needed a place to take my four year old for some indoor fun District Kids in Oviedo came to the rescue. Come explore this play place that is one of our favorite indoor activities for kids in Orlando. I'll share photos and firsthand tips to make the most of your visit to District Kids in Oviedo.
What is There to Do at District Kids Oviedo?
District Kids is full of multiple play areas to ignite imaginations and provide kids with a fun-filled adventure.
BEAM
Diner
Grocery Store
Construction House
Inflatable Obstacle Course
Pet Vet
Science Lab
District Kids offers a wide range of options to keep children entertained. Some of the activities include BEAM, a construction house, a diner, a gas station, a grocery store, an inflatable obstacle course, party rooms, a pet vet area, and a science lab.
Ages 2 – 6 is the best age range for District Kids. Of course, that is on average and each child has their own needs. Let's dive into the best features of each play area.
BEAM
If somehow your child has never played on a BEAM before, you are in for a treat. And if they already enjoy playing on BEAM your kids will love that District Kids has one.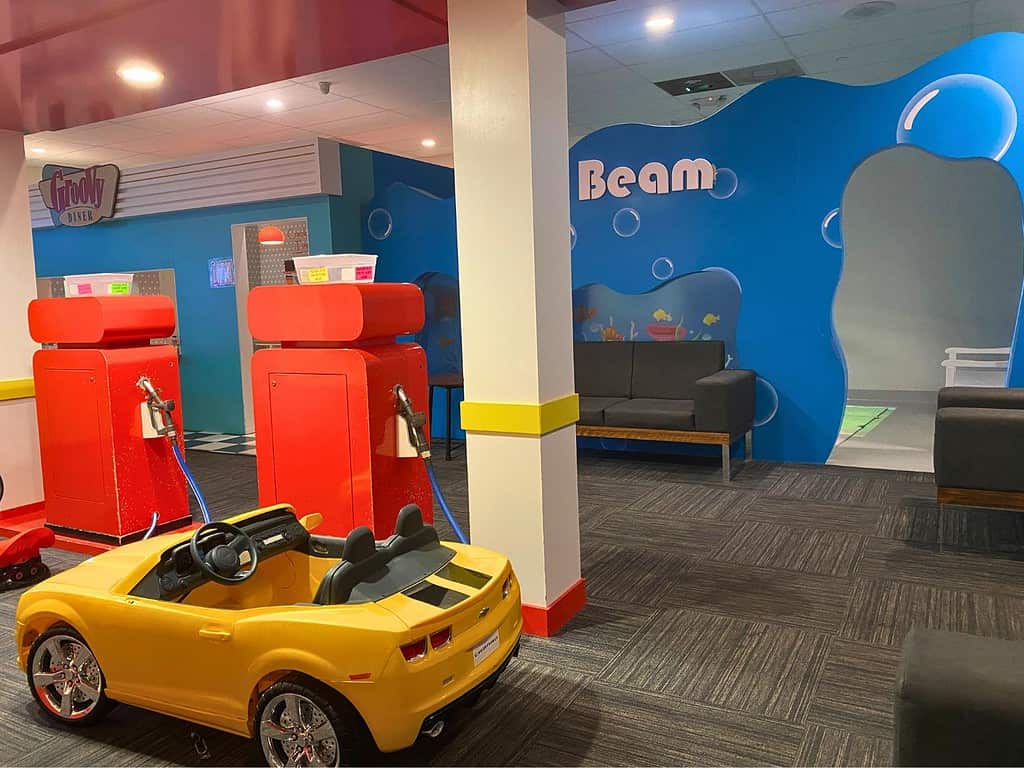 Let your kids jump and chase on this interactive video game system that uses an overhead projector to create playful games on the floor using motion-detection.
Diner
The first area you'll encounter inside District Kids is an adorable diner. The diner is also one of the largest play areas.
Kids can play with all kinds of food-themed toys and pretend kitchen equipment. Best of all there is plenty of seating for weary parents in this area.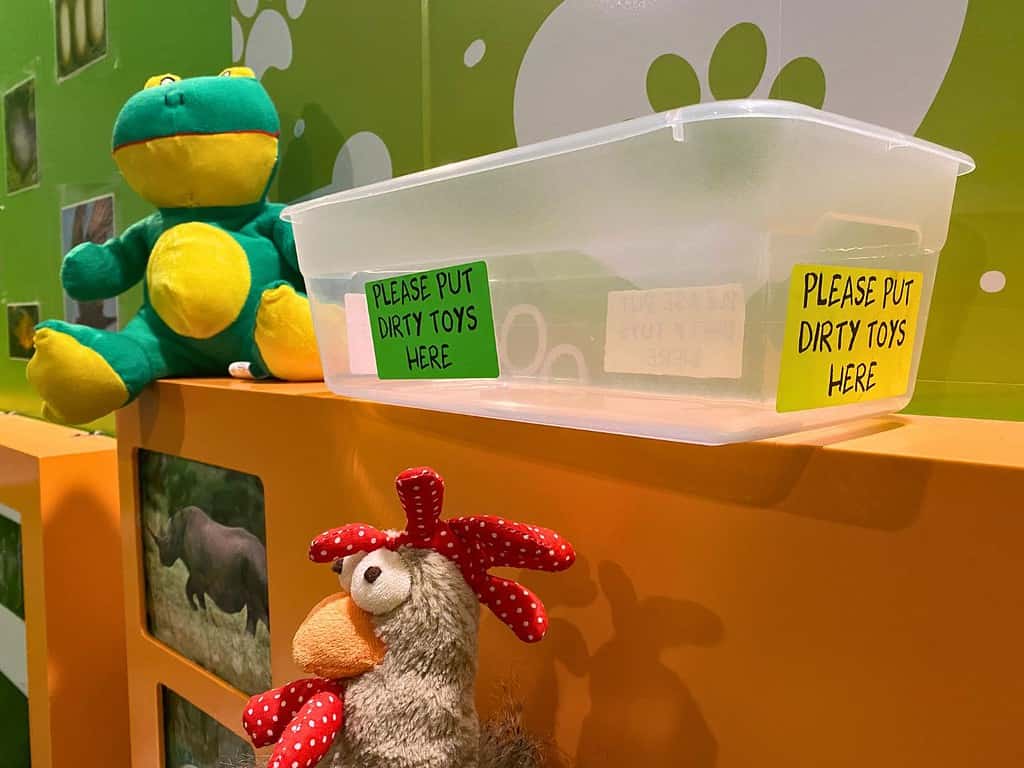 Grocery Store
Naturally across from the Diner is a small pretend Grocery Store. My son loves using the pretend cash register and grocery conveyor belt to ring up groceries. And the tiny shopping carts are a fun touch.
Construction House
One corner of District Kids is a small space dedicated to the fun of building things. Kids can don helmets and goggles while playing with foam bricks, plastic pipes, and other construction gadgets.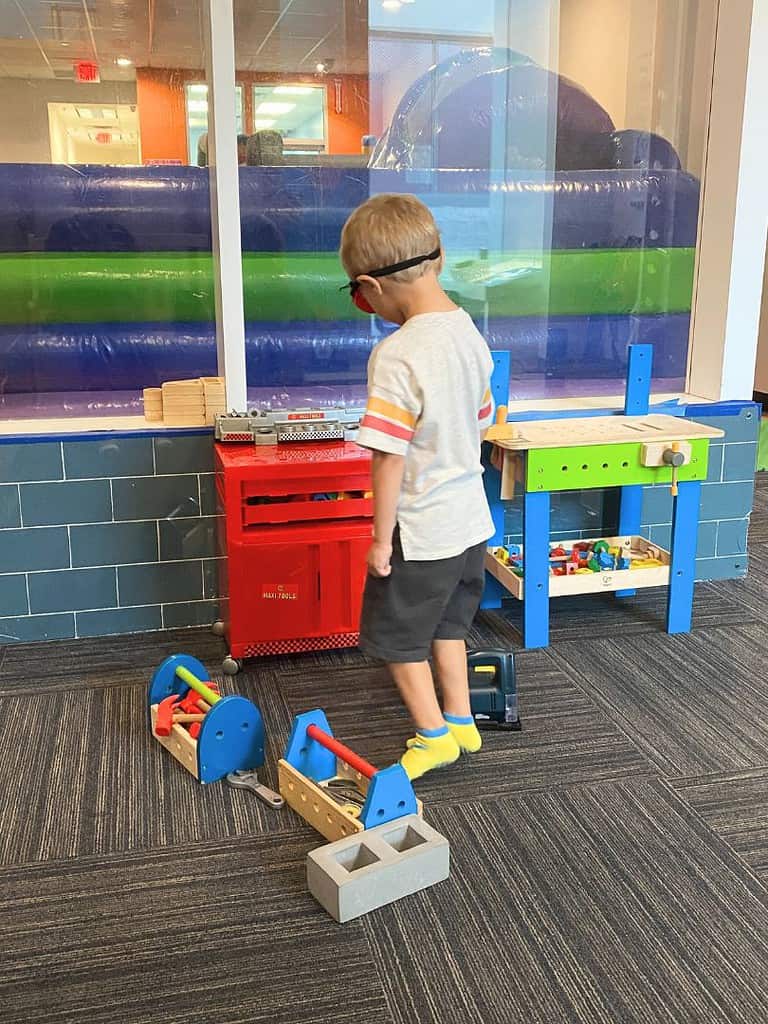 Inflatable Obstacle Course
If your kids need to get some energy out there are two inflatable play areas. Smaller and younger kids have a small inflatable play area while older kids have an obstacle course. It does take a keen eye to keep good track of your young climber while they have fun on the obstacle course.
Shoes must be removed, with grip socks worn. No rough play is allowed so be sure your kid is aware of the safety rules.
Pet Vet
This room is fun for kids who love animals, but it can also be a good place to talk to your kids about what to expect when they go to the doctor. I've also used it as a way to talk with my son about the importance of doing things to be safe and healthy.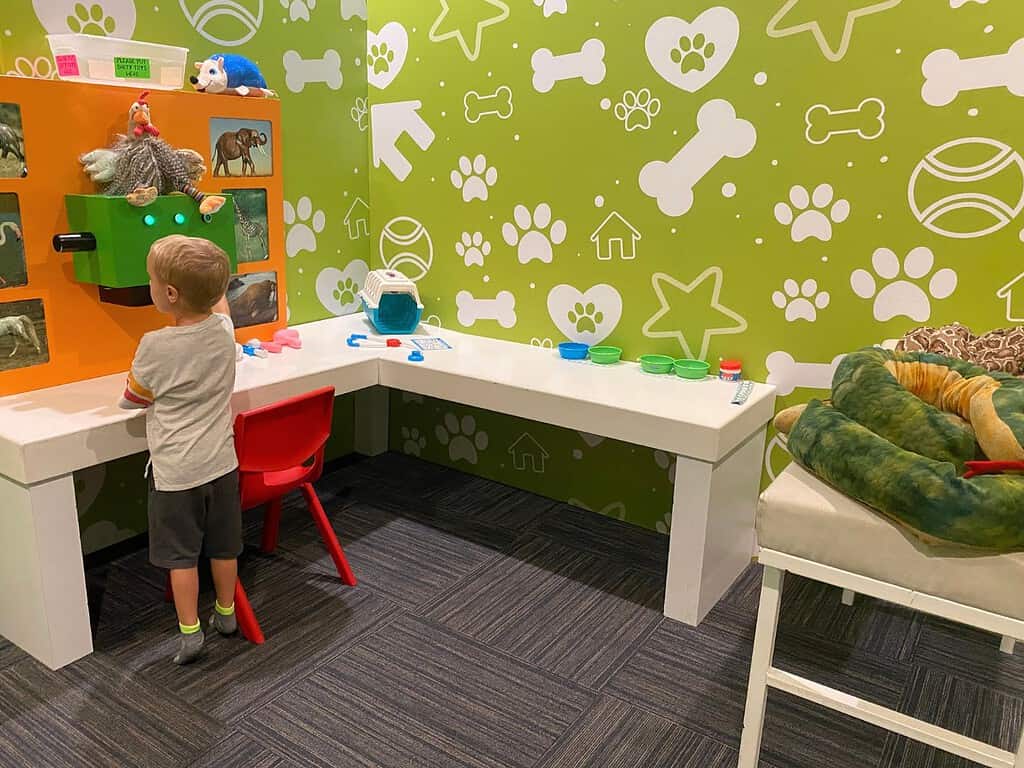 For smaller, younger kids there are some toddler toys along the wall.
Science Lab
Play with air hoses, magnets, and other gadgets in this small science based room. As much as my son loves the Orlando Science Center and science activities, this room does not capture his attention as much as other rooms. But it is still fun!
Overall, District Kids in Oviedo provides a stimulating and enjoyable learning environment for children, promoting hands-on exploration and imaginative play.
Things to Keep in Mind
There are a few rules and regulations to be aware of. Firstly, children must wear shoes for most experiences, whereas "grippy" socks are required for the inflatable obstacle course. Grippy socks are included in the price of admission.
Additionally, children should be accompanied by an adult at all times to ensure their safety.
Outside food is not allowed inside. There is a small selection of chilled beverages available for purchase.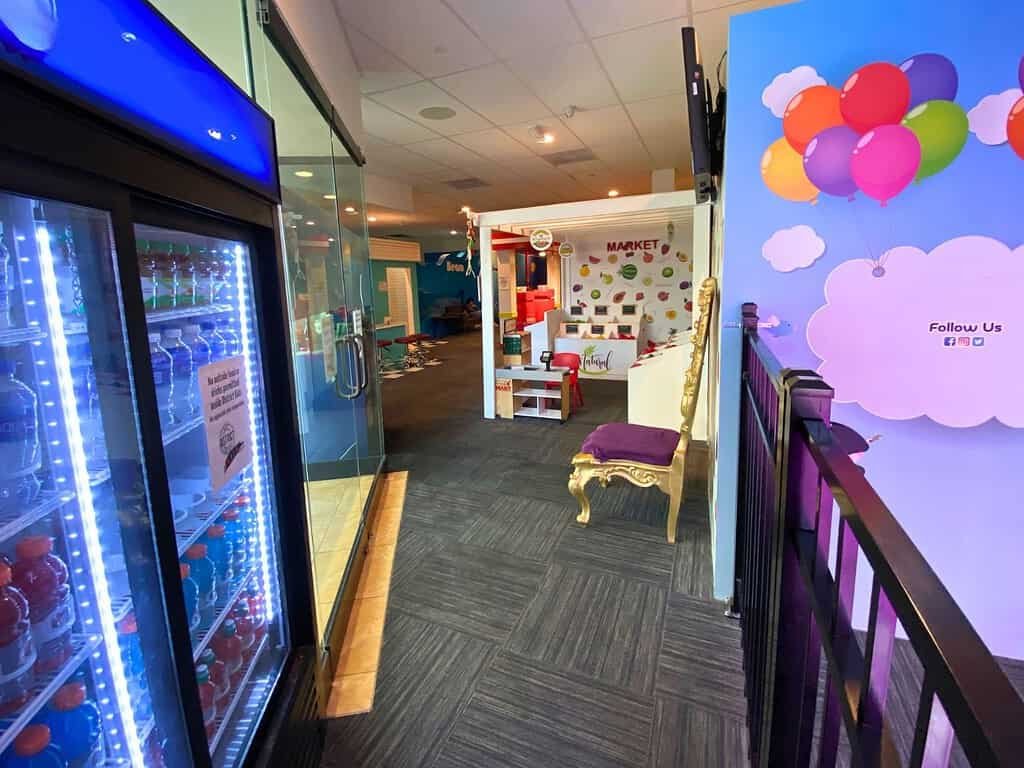 I love that there is only one way to enter and exit District Kids, including a gate to deter kiddos from exiting on their own.
It's important to note that if you exit District Kid's and want to to re-enter, you may be required to wait due to capacity regulations.
Plan Your Visit
District Kids Oviedo
1415 Oviedo Mall Blvd.
Oviedo, FL 32765
407-807-0205
HOURS
Monday: CLOSED
Tuesday – Saturday: 10:00am – 6:00pm
Sunday: 12:00pm – 6:00pm
District Kids Admission
Child over 12 months: $14.00, Includes a pair of Grip Socks.
2 adults with paid child admission FREE
Additional Adult, $5.00
Extra Grip Socks, $2 per pair
We hope you enjoy visiting this indoor play area. You can connect with us and other parents on Facebook, Instagram, and Pinterest.
Feel free to share this blog post and plan a fun family outing together!