Where to Donate Halloween Candy in Orlando and Creative Ideas
Your little pumpkins likely don't shy away from the sweet ritual of trick-or-treating. But, parents, here's a truly frightening fact: On average on Halloween, children consume more than 16 times the daily recommendation of sugar, according to the National Retail Federation. That equates to roughly three whopping cups of raw sugar. Now that's scary! Still, you don't have to be wary of trick-or-treating because there are ways your costumed cuties can make use of the candy, without consuming all of it. You can donate Halloween candy in Orlando or just use it in other ways (aside from binge-eating). Here are our favorite ways to creative ideas and ways to donate candy.
As Halloween and Fall Events drawing to a close it's time to think about helpful things to do with leftover Halloween candy in Orlando.
Here's Where to Donate Halloween Candy in Orlando
Headquartered near Orlando International Airport, Children's Home Society (CHS) is best known for its local work in child welfare services, such as foster care and adoption. Additionally, this nonprofit serves Orlando area communities through early childhood services, counseling/mental health services, school partnerships including mentoring, job training programs, and other outreach efforts.
At its core, CHS strives to reach families before significant challenges turn into crises so that families can remain safe and thrive together. CHS, of course, has a variety of donation needs but, around this time, gladly accepts Halloween candy. Drop a line to their Community Engagement Manager at [email protected].
Mental Health Association of Central Florida (MHACF) is affiliated with the national Mental Health America network though, since 1946, this privately-run nonprofit has facilitated initiatives geared to meet the specific needs of our local community with education, advocacy and outreach. It serves well over 10,000 people annually through various programs and support groups.
Earlier this fall, MHACF expanded its adolescent and family services to advance a children's initiative. And with your help, these young clients can be treated to goodies. To coordinate candy delivery, contact Stacy Perin, Director of Adolescent and Family Services, at (407) 836-2535.
This incredible organization brings hope, healing and happiness to children and families suffering from grief, loss or life-threatening illnesses. Roughly 400 children and their families engage with the organization each year, including through support group gatherings held at their Center for Grieving Children. Maybe you can't hug all the kiddos like you want to, but Hershey kisses may help generate sweet smiles.
New Hope For Kids asks that leftover Halloween candy be dropped off during a designated timeframe (November 2 from 10am-2pm) at 544 Mayo Ave., Maitland, FL 32751. Otherwise, please call to make alternative drop-off arrangements. Do click over to their website to learn about the many ways to help further their mission throughout the year.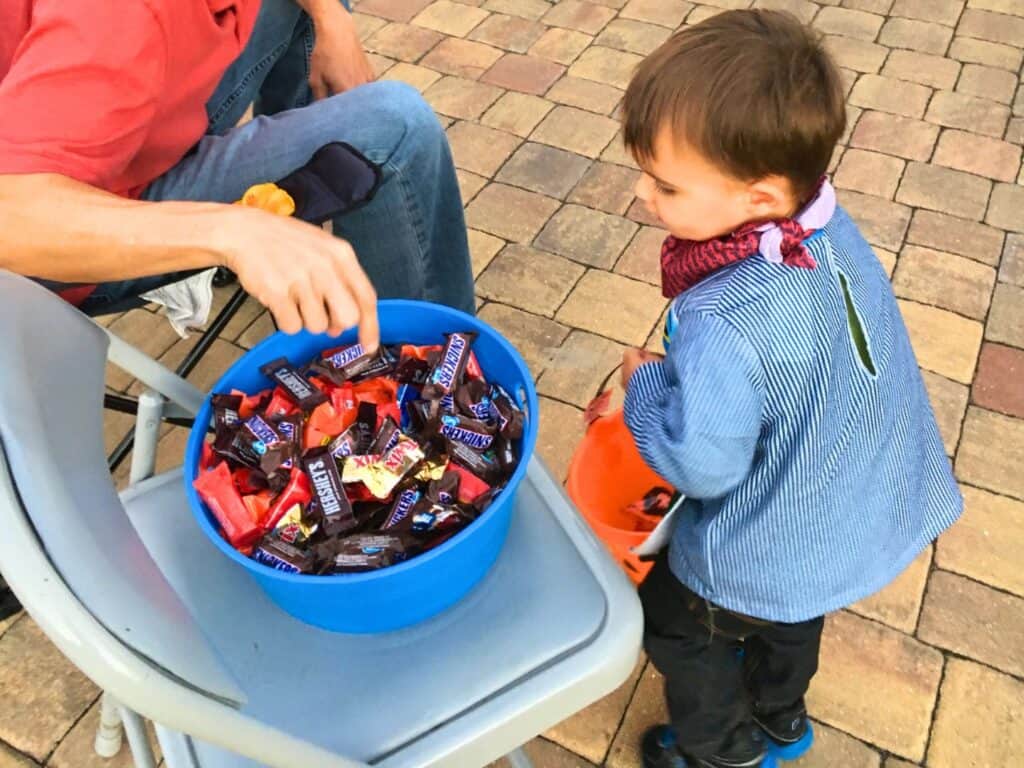 Situated between College Park and Princeton/Silver Star, this nonprofit supports individuals who are homeless or in times of transition by helping them meet their most essential needs. That typically includes access to food (so why not include Halloween candy too?!), clothing, school supplies, personal hygiene items, and household items.
Shepherd's Hope is a nonprofit that provides free medical services to uninsured and underserved Central Floridians at four area health centers. A representative for the organization tells Orlando Parenting that donated candy could be of use in the organization's clinics, as well as offered during Shephard Hope's Healthy Eating, Active Lifestyle (HEAL) classes which provide nutrition and lifestyle guidance.
Okay, okay, candy is not the healthiest snack but everything in moderation, right? Besides, most dark chocolate is high in flavonoids, particularly a subtype called flavanols that is associated with a lower risk of heart disease. Some studies suggest chocolate or cocoa consumption is associated with a lower risk of insulin resistance and high blood pressure in adults.
Halloween Candy Buy Back partners with dental offices and other businesses to reward ghosts and goblins who choose to exchange Halloween goodies for healthier alternatives (for example, a toothbrush). This seasonal initiative was established by Dr. Chris Kammer, a founding member of the American Academy of Cosmetic Dentistry, with the intention to: (1) encourage young trick-or-treaters to protect their pearly whites, and (2) foster a sense of charitable giving.
Halloween Candy Buy Back aligns with both Move Forward America and Operation Shoebox. These two organizations distribute candy and other care package items to active-duty troops, veterans and service families. Halloween Candy Buy Back has a digital search feature on its website to help locate participating drop-off sites.
Unfortunately, it seems that the list isn't very accurate, so simply call your dentist and/or orthodontist to inquire about participation. But if your dentist isn't participating in the effort, you may send Halloween candy directly to Move Forward America and/or Operation Shoebox. Based in California, donations for Move Forward America can be shipped to: "Halloween Candy Buyback," Move America Forward, 3105 Fite Circle, Suite 108, Sacramento, CA 95827. However, Operation Shoebox is Florida-based just north of Orlando. Donations can be mailed or, if you're passing through Belleview (mid-way between The Villages and Ocala), delivered to: Operation Shoebox, 8360 East Highway 25, Belleview, FL 34420.
Run by Soldier's Angels, this program allows donors to send sweets to active and retired military members and their families. Word has it that patients at VA hospitals typically love receiving these sweet surprises. According to the Treats for Troops website, Winter Garden Smiles / Winter Garden Pediatric Smiles, in west Orange County, is a collection site for this initiative.
Serving LGBTQ+ youth in Orlando, this Mills 50 based nonprofit hosts various free and donation-suggested events on a regular basis with regularly scheduled drop-in hours. And, of course, all of which could incorporate a candy treat from generous donors.
More:
Police stations, fire stations, assistance living facilities, nursing homes, and homeless shelters tend to accept leftover Halloween candy. Do call ahead to your preferred donation site for further details.
FYI, Orlando Parenting confirmed that Heart of Florida United Way and Ronald McDonald House Charities of Central Florida are NOT accepting Halloween candy donations. While other chapters across the country of these two organizations are popular candy donation sites, the Orlando branches are not in need at this time.
BONUS: Give Kids The World Seeks Costumes
Give Kids The World (GKTW) describes itself as an 89-acre, nonprofit "storybook" resort in Central Florida. At this whimsical village, children with critical illnesses and their families are treated to weeklong, cost-free vacations. GKTW used to accept Halloween candy donations but, "out of an abundance of caution for their immune-compromised wish children and families," the organization is no longer doing so. But GKTW still needs Halloween-focused donations!
"We are in dire need of new Halloween costumes, as we celebrate Halloween — as well as Christmas and birthdays — every single week at Give Kids The World… 52 weeks a year, complete with trick-or-treating and a costume parade," Cindy Elliott, GKTW's Director of Public Relations, tells Orlando Parenting.
Let's face it… you know you bought more than one costume (because your kiddo couldn't decide on what to be and kept changing his/her/their mind). So, skip the lengthy return line and just donate that extra costume to GKTW. Halloween costumes can be mailed to: Give Kids The World Village, c/o Support Services – Donations, 210 S. Bass Rd., Kissimmee, FL 34746; or dropped off at the Support Services Department at Give Kids The World Village between 8:30am and 5:00pm. GKTW especially needs larger sizes, but all sizes (for children from ages 3-18) would be truly appreciated.
Plus, if you just can't wait a whole year for Halloween to come around again, know that GKTW must fill 1,800+ volunteer shifts every single week. Get your Halloween fix by volunteering to help with one of the village's Halloween festivities.
Other Ways to Use Halloween Candy
Dessert time! Incorporate Halloween candy into recipes, such as a seasonally inspired trail mix or a sweet-and-salty popcorn mix. Maybe toss candy into cookie dough, brownie batter, rice crispy treats or atop ice cream.
Save it. If wrappers aren't branded with Halloween icons, simply save it for later use. Candy can be used for chore rewards, birthday and/or thank you goody bags, sports team snacks, etc. Do be mindful of the shelf life of goodies. According to the National Confectioners Association, candy can last six months to two years depending on the type. Freezing is a popular technique but the National Confectioners Association notes that "not all sweets are suited for the freezer. While toffee and truffles can be frozen for up to two months, avoid freezing candy with fruits and nuts."
Mix business with pleasure. Bring leftover Halloween candy to work. Some colleagues don't have children and they might enjoy a stash stored in the breakroom.
Get schooled! Kids love science experiments and, yes, there are plenty of fun experiments to try with candy. My two boys loved doing both a rainbow experiment with Skittles and floating 'm' experiment with M&Ms. Plus, my kiddo didn't mind adding jellybeans into a math lesson.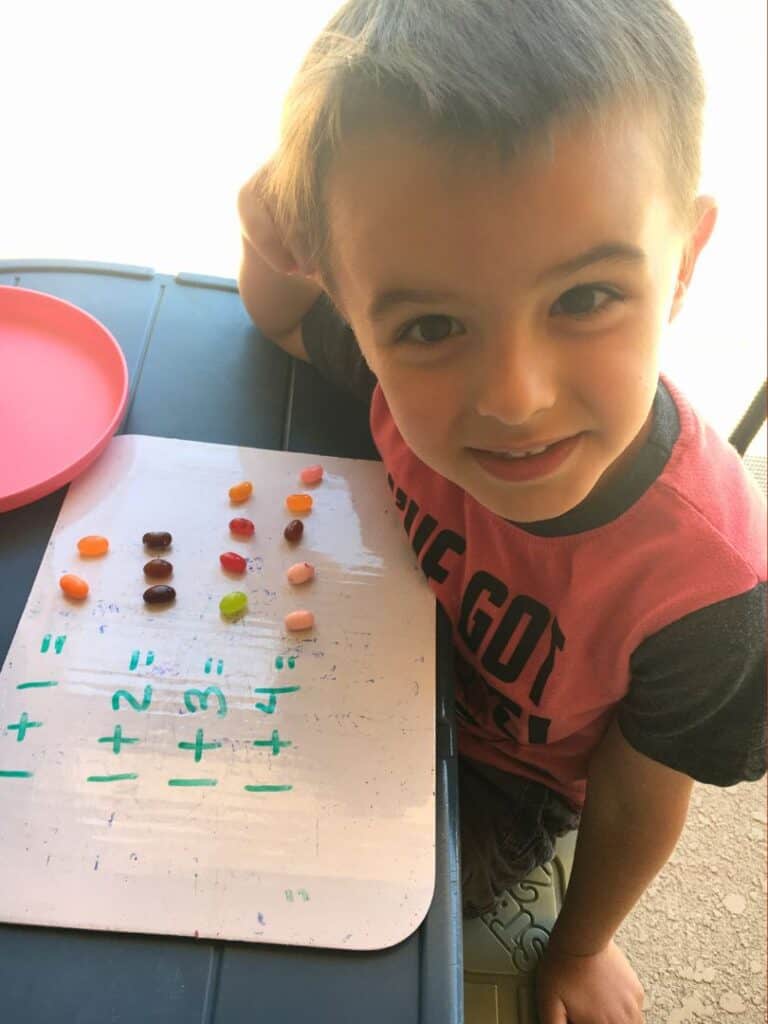 Food for Thought
Just a few more Halloween tidbits to chew on…
Have you heard of the Switch Witch? The concept of this spooky character is similar to Elf on The Shelf (for Christmas) and Peep on the Perch (for Easter). The Switch Witch book helps parents by presenting the concept of swopping sugary candies in exchange for other goodies.
Offering non-food treats and encouraging your little ones to choose non-food treats when available is a great way to curb excess amounts of candy collection. This also promotes inclusion since some children with food allergies and/or certain disabilities may not be able to safely consume candy. Halloween treat alternatives: bookmarks, bouncy balls, bubbles, crayons, fun pencils, glow bracelets, kazoos, mini slinkies, spider rings, stickers, temporary tattoos, vampire fangs, etc.
The most popular candy in Florida is Reese's Cups, followed by Skittles and then Hot Tamales. Do you agree?
Why Donate Halloween Candy
The benefits of any type of donation are two-fold. In addition to supporting your charity or cause of choice, research suggests that when someone does something good, a happiness high ensues. That means that when you donate Halloween candy, your endorphins may spike! And that beats a sugar-high any day of the year.