3 Reasons Every Child in Florida Needs Swim Lessons
A friend recently reached out to me to ask about swim lessons for her son. She saw that my son was doing them and wondered if I thought it was worth it for her one-year-old. Her extended family seemed to think Florida swim lessons were unnecessary because she doesn't have a pool.
My response? Don't let anyone talk you out of prioritizing your child's safety.
Yes, even if you don't have a pool or live near the beach, every child in Florida should take swim lessons. No matter what part of the state you live in, we're surrounded by bodies of water, whether that's a lake down the street, a friend's pool or even your own bathtub.
With National Learn to Swim Day happening on May 20, 2023, I am sharing some important reasons for having your child participate in swim lessons. Plus, some personal recommendations.
Should every child learn to swim?
According to the Centers for Disease Control and Prevention, drowning is the leading cause of accidental death for children, and the most tragic part about this is that it's totally preventable. Here in Central Florida, we see many cases of fatal and non-fatal drownings among tourists who are visiting from states that don't have as much access to or knowledge of aquatic environments.
One of the most proactive things you can do is ensure that your children know what to do if they find themselves in a submersion situation. That's why I'm a huge advocate for Florida swim lessons.
We found a reputable instructor who's located about 10 minutes from our house. He runs his swim business from his home pool, which has a fantastic set up for small kids. I've sent many friends his way because I believe so strongly in the important work he does.
I highly recommend Geoff Dawson of the Pool Safety Resource (Seminole County, Longwood). He's such a knowledgeable and patient instructor, and it's his passion to keep children safe around the water – he even wrote a book about it. In addition to swim lessons, he also installs pool fences.
How long do Florida swim lessons for kids take?
I'll warn you that doing survival swim lessons is a big time commitment. Most instructors will offer a 10-minute lesson 4-5 days a week for about 6 weeks. That can be really challenging to juggle with school and work, but, I promise, the inconvenience will be worth it in the end.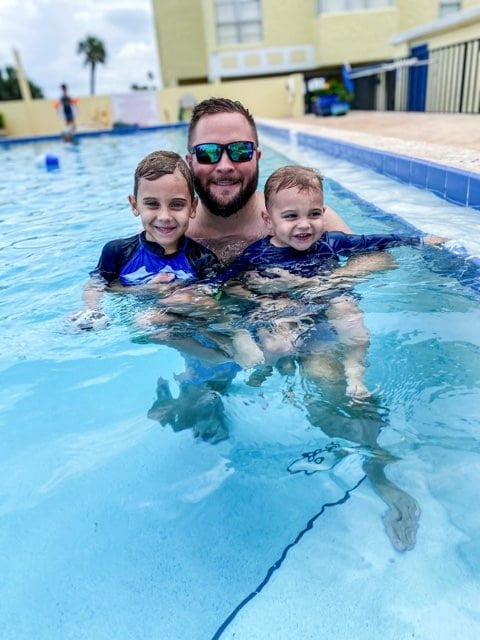 Pro tip: If you're able to do early morning lessons vs. afternoon, it'll save you from getting rained out due to summer thunderstorms.
Our instructor does lessons with just one child in the pool while the parents watch from dry land, however other instructors will invite the parents to join them in the water or offer group lessons. It can be hard to watch and hear your child's cries during each lesson, but thankfully it's a short class time. With each week, our instructor introduces more challenging tasks.
The "final exam" is simulating the child falling in fully clothed – heavy jacket and shoes – to mimic what could happen in real life. The goal is for them to flip over and float until someone comes to help.
Our instructor really encourages parents not to use assistive devices like floaties when in the pool outside of lessons. This gives children a false sense of security, and as a result, they may not know what to do if they fall in the water without them.
After 6 weeks of lessons for my son's first year, we continued to practice the drills every time we were in a pool. This mainly involved helping him reach the wall, roll over and float. Naturally, once the pool season wraps up, little ones forget the skills they've learned. We went back for a second and third round of lessons the next summer seasons. Once my son was 4, he was swimming like a fish, and the refreshers weren't as necessary since he could remember the basic skills.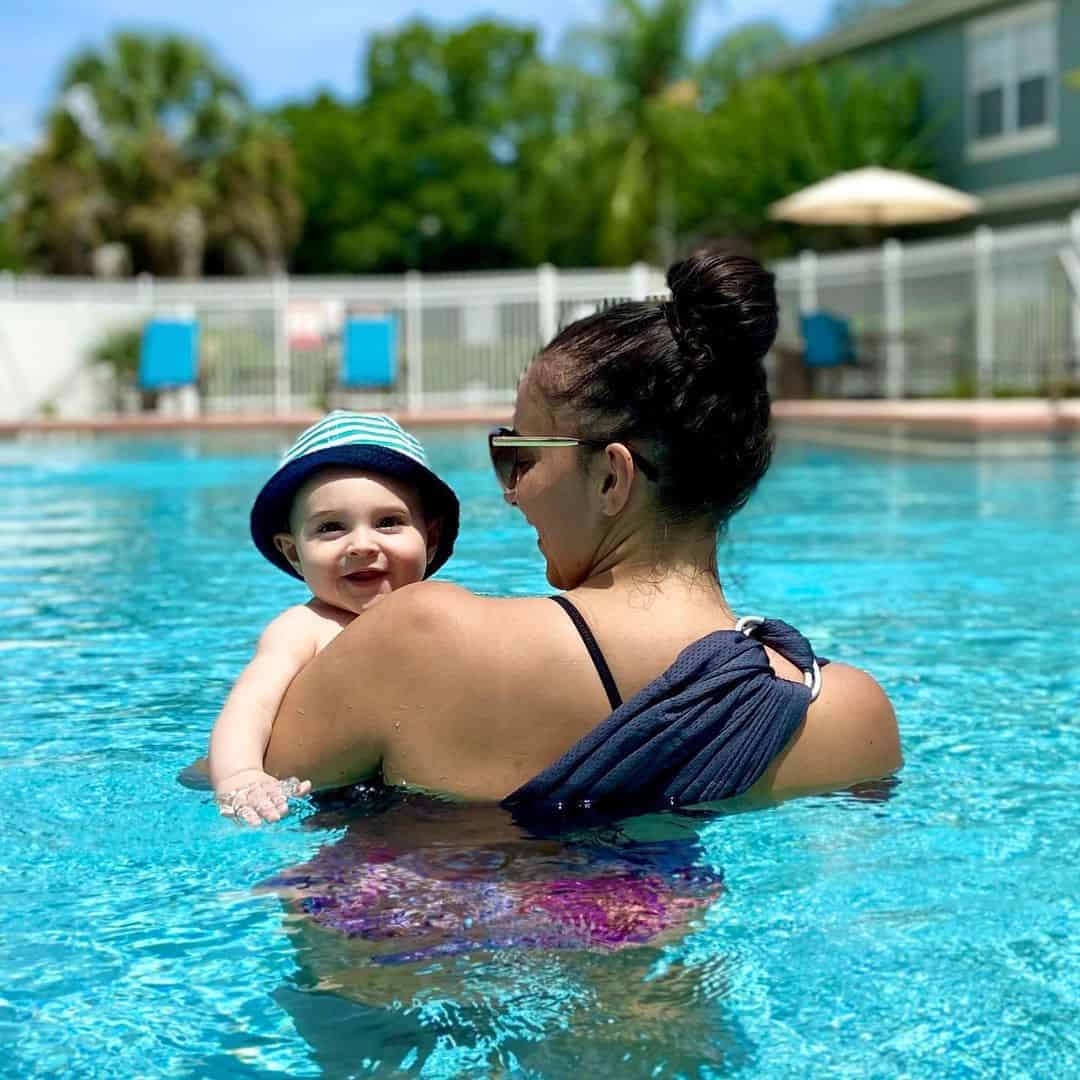 What age should swim lessons start?
Many survival swim instructors will start working with children at just 6 months old. We did 3 summers of lessons for my oldest child, starting when he was 18 months old.
We just started the third round of Florida swim lessons for my youngest, who's 3 years old. While I know it'll be a challenging 4-6 weeks, I'm committed to giving him the same amount of lessons as his older brother.
My oldest son is 7 now and loves being in the water. Last year we placed him on a swim team so he can learn more about form and competing. I really believe that giving him that foundation with survival lessons as a toddler helped increase his love for swimming, and I can't wait to see how well he does as he gets older.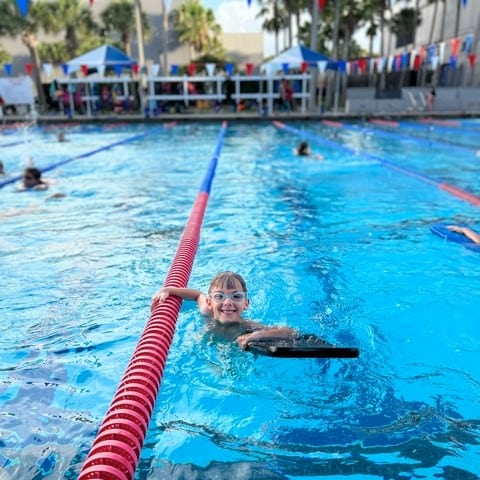 3 Reasons Every Child in Florida Needs Swim Lessons
If you're still on the fence about putting your child in swim lessons, let me share three reasons why you should consider them:
It sets a good foundation. Putting your kids in swim lessons helps to establish a good foundation in the water. It makes the pool, lake or beach less scary for kids, and can help spark an interest in swimming for fun. When you continue to practice what the instructor has taught your child, it makes pool time more enjoyable. You can have your child swim back and forth between two adults, or swim to the wall to grab a toy. Once they get the hang of it, swimming can be a great confidence-building experience and it's a life skill they'll take into adulthood.
It can literally save their life. You can't put a price on this. My mom is a pediatric trauma nurse, so I've heard countless drowning stories over the years, enough to make me super anxious any time I see little ones close to the water. With each lesson, I saw that my boys were getting more comfortable and confident in the water. And by the end, I knew that if an accident happened, they would be able to flip over and float until help arrived. A drowning can happen in seconds, and with small children, it's silent. Sadly, many drowning incidents happen during a gathering where lots of people are around. Everyone assumes someone else is watching the kids. Even with all the right protective measures in place, kids are curious and end up in places they shouldn't. They could wander outside and find a neighbor's pool or a small pond behind the house. Children can slip and get submerged in the bathtub. You never want to think that something like this could happen to you, but accidents do happen to well meaning, great parents. And the best thing you can do is give your child the tools they need to stay safe.
It's good for their bodies. Swimming is an excellent way to improve motor skills, work kids' muscles and improve their breathing control. Not to mention, it tires them out so they'll be more than ready for bedtime!
When it comes to water safety, the most important thing to remember is your ABCs
A – Adult supervision. Whenever you're going to be at the pool or beach, designate an adult who will be sober and distraction-free to keep an eye on the children. This doesn't have to be one person the entire time; you can take turns. But there should always be at least one person actively watching. For children that don't yet know how to swim, adults should remain within arm's length.
B – Barriers. If you have a pool, make sure that you have a protective fence surrounding it that can be locked. If you are able to, put sensors on your doors so you'll hear an alarm when someone goes out near the pool.
C – Classes. For children, these are Florida swim lessons, and for adults, these are CPR classes. It's always helpful for adults to know how to perform CPR in an emergency situation. You could save someone's life as you wait for EMS to arrive.
For more information about fundamental water safety or to find swim lessons near you, visit the American Red Cross website.
Originally published on TampaBayParenting.com, our sibling site.
More information about swim safety: