Lil Boo's Trick or Seek Scavenger Hunt at Universal Orlando: A Halloween Adventure for Kids
At Halloween, Universal Orlando Resort is all about the scares. Its iconic Halloween Horror Nights (HHN) event features 10 haunted houses, five scare zones, and a scary nightly show, making it a great destination for families with teenagers. But for families with little kids, it can take some hunting to find Halloween fun at Universal Orlando – but there are options.
Some Halloween happenings are kid-friendly at Universal include Universal Monsters photo opportunities in all hotel lobbies and Lil Boo's Trick or Seek scavenger hunt.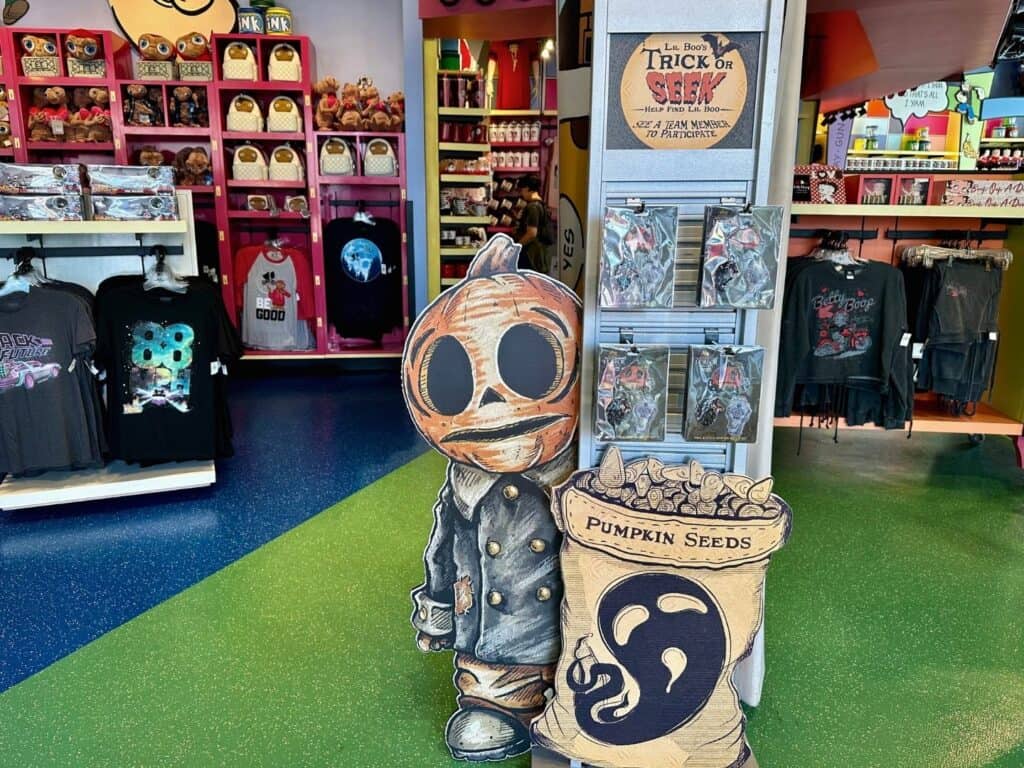 Lil Boo is a jack-o-lantern character that's become one of the faces of HHN, and his scavenger hunt takes guests through CityWalk, Universal Studios, and Islands of Adventure, trying to solve a puzzle.
What to know about Lil Boo's Trick or Seek
Here's what to know about this kid-friendly scavenger hunt, offered at Universal Orlando during the Halloween season:
To participate in Lil Boo's Trick or Seek, you'll need a map. Maps cost $13 (plus tax) and can be purchased at retail locations throughout CityWalk, Universal Studios, and Islands of Adventure. Simply ask for a map at the register.
There are 13 locations throughout CityWalk, Universal Studios, and Islands of Adventure where Little Boo is hidden.
The three locations at CityWalk are Universal Studios Store CityWalk, Toothsome Chocolate Emporium, and Universal Legacy Store.
The five locations inside Universal Studios are Universal Studios Store, Five and Dime, MIB Gear, San Francisco Candy Factory, and Sahara Traders.
The five locations inside Islands of Adventure are All Hallows Eve, Dinostore, Toon Extra, Marvel Alterniverse Store, and Trading Company.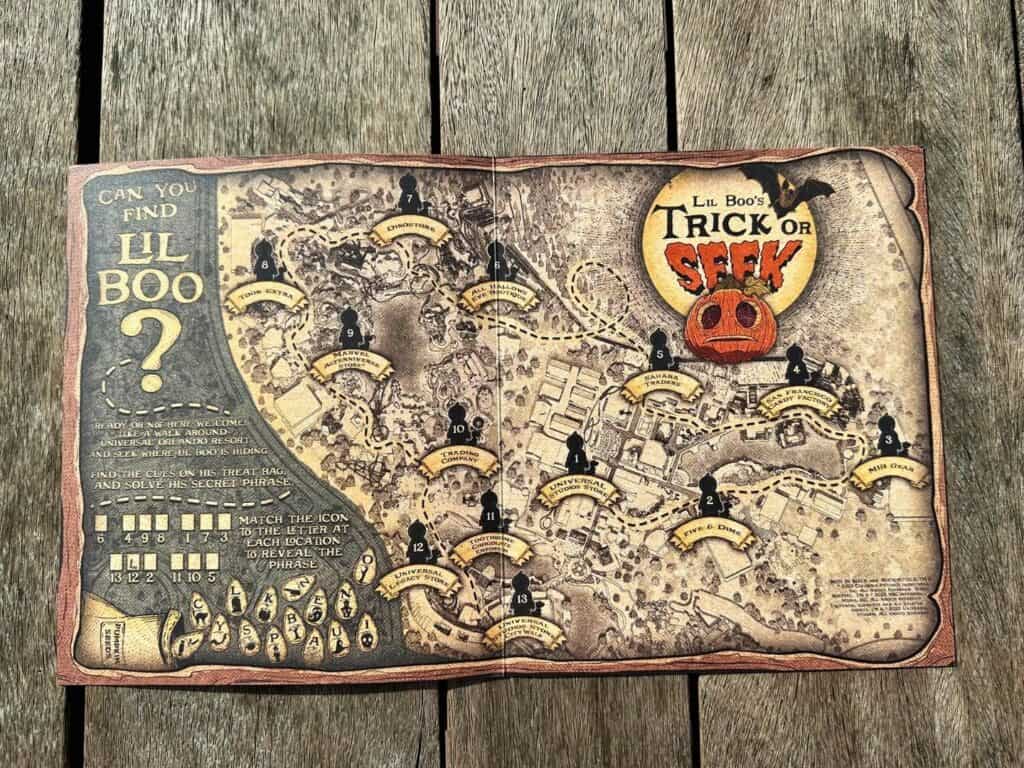 How to earn the prize:
While it's a lot of fun to travel to all 13 locations, it's not required to receive the prize. When you purchase your map, you'll be given the prize (a Lil Boo Halloween ornament) and a pencil, and you can search for as little or as many Lil Boos as you want.
Each time you discover a Lil Boo, he'll be with a sign that has a Halloween image on it. Match that image with the letters on your map and fill in the blanks to solve the code and find out Lil Boo's message.
Please note that the artwork for the map and signs is on the spooky side, like a haunted forest. Your little pumpkin, say ages 7 or younger may be a little spooked by some of the images.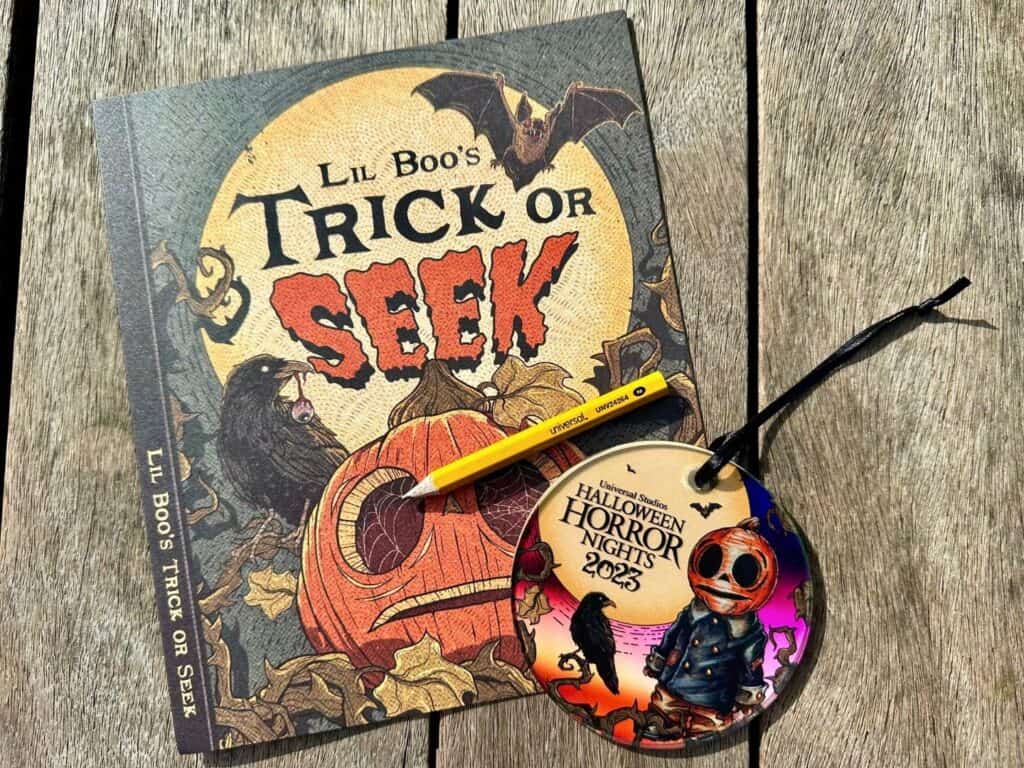 Tips for participating in Lil Boo's Trick or Seek with kids
I recently completed the scavenger hunt with my son, visiting all 13 Lil Boos and cracking his code. Here are some tips for tackling this endeavor with kids in tow:
To keep things easy, Universal has placed Lil Boo at the front of each store. There's no need to voyage deep into the stores with kids in tow, Lil Boo should be waiting for you near the entrance.
Because you don't have to enter the theme parks to get the prize, just hitting the locations at CityWalk can be an inexpensive way to do something Halloween-themed without entering a park.
The 13 spots on this scavenger hunt map take you to three separate destinations, so plan to start or end at CityWalk, and move between the two theme parks using the Hogwarts Express train to give kids' feet a rest.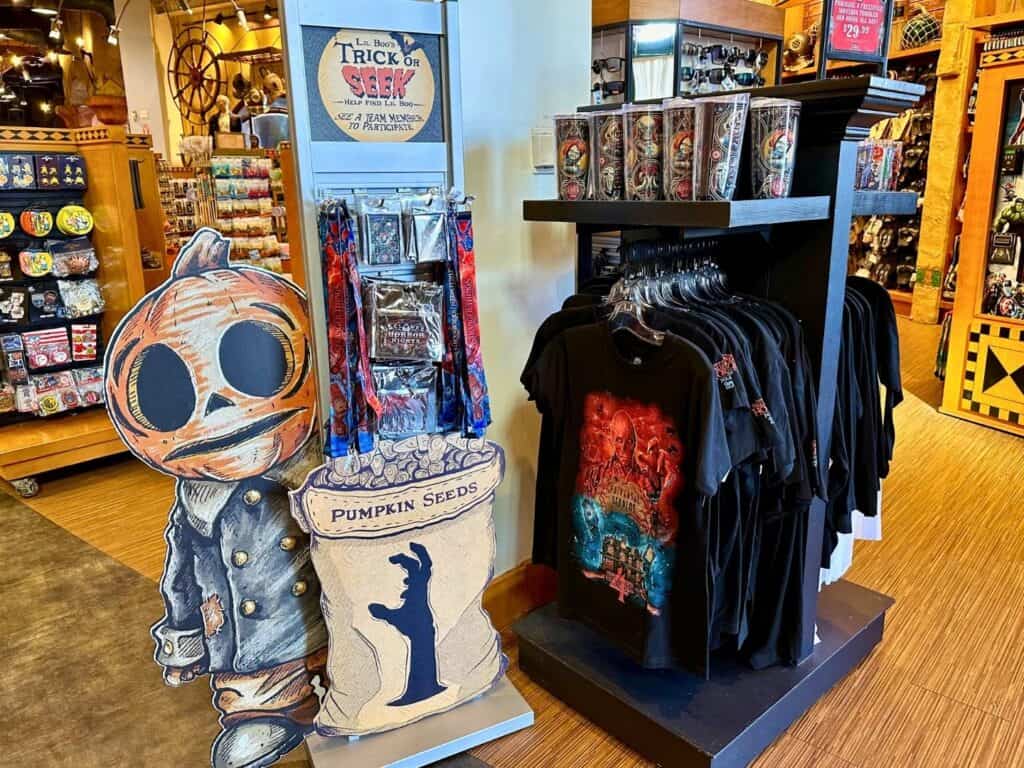 If you've got more than one kid and you want them each to receive a prize, you'll need more than one map. However, there are plenty of other places to look at spooky merchandise at Universal, including the HHN Tribute Store, so pocket that ornament for yourself and let them choose their own prize for some extra fun.
Remember to check the hours for the theme parks on the day you attempt the scavenger hunt, as everything closes up early on HHN nights.