Things to do at Kennedy Space Center – Chat with an Astronaut
Do astronauts really wear diapers? It's a valid question my children have asked on more than one occasion. They finally got the answer, straight from the source, when we were able to Chat with an Astronaut at Kennedy Space Center Visitor Complex.
"Chat with an Astronaut" is an add-on experience offered at Kennedy Space Center Visitor Complex that allows guests to participate in a question and answer session with a retired astronaut.
Before you book your ticket for this special event, here are some things to know about this unique interaction.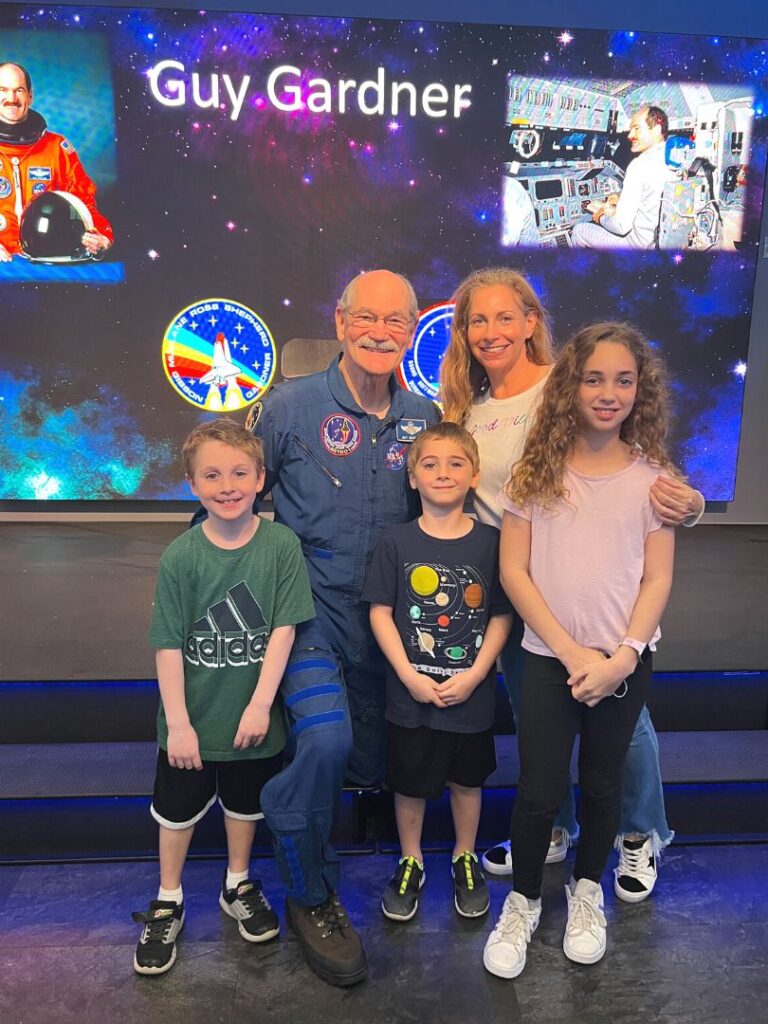 What does Chat with An Astronaut include?
It's held every day twice a day – at 10 a.m. and 2 p.m. The morning session includes a continental breakfast with items like pastries, fruit and parfaits. There is also juice and soft drinks. The afternoon chat includes food as well, which is usually fruits, cheese and crackers, hummus and vegetables and other small plates. The food is set out on a table and you can go up and grab what you want whenever you want.
Each session includes drinks, such as water, juice and soda, and one alcoholic beverage per adult. Attendants are available to help you get drinks and also to continuously bring out fresh plates of food.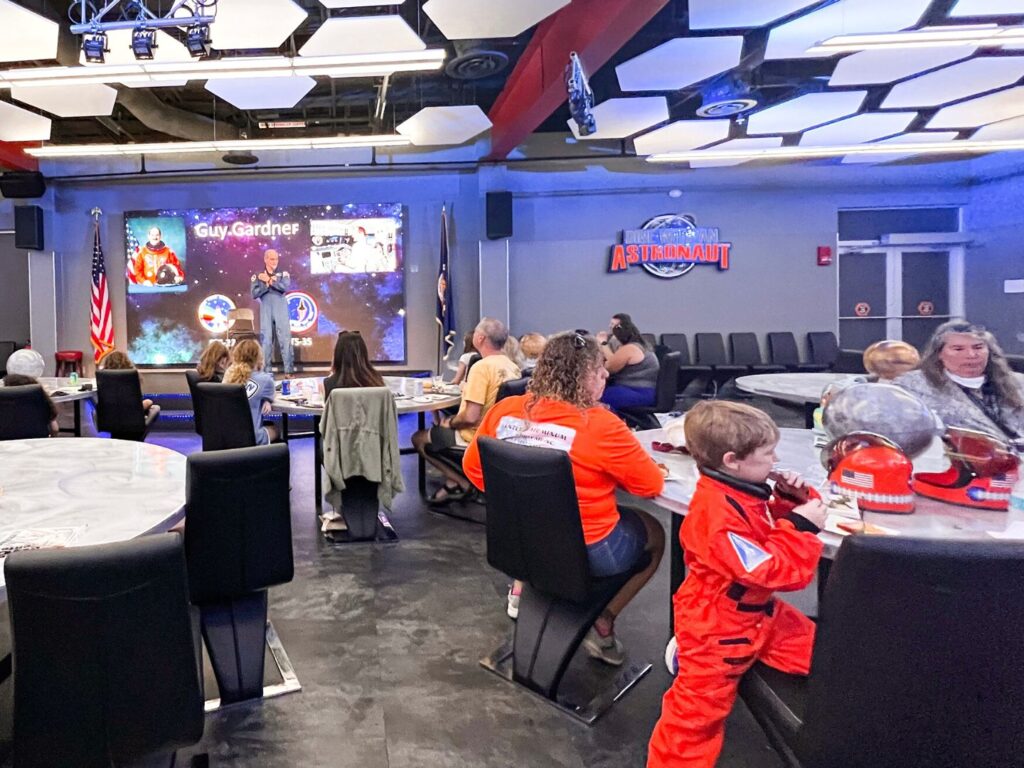 How much does Chat with an Astronaut cost?
The cost for this experience is $50 for adults and $35 for children ages 3 to 11. Children 2 and under are free. This is in addition to the admission fee to get into Kennedy Space Center Visitor Complex, which starts at $57 for adults and $47 for children ages 3 to 11 for a one-day pass. There is also a $10 parking fee per car.
At the "Chat with an Astronaut" experience, the price also includes a commemorative gift and lithograph of the astronaut who leads the chat. The session we attended included a mission patch from one of the astronaut's flights to space.
How does it work?
The experience is in an intimate setting with about 40 people seated at various round tables and the astronaut at the front of the room. Whenever you have a question, all you do is raise your hand and an employee with a microphone will approach you. Ask as many questions you can think of, no matter how silly you think they are. When else will you have an opportunity to chat with an astronaut?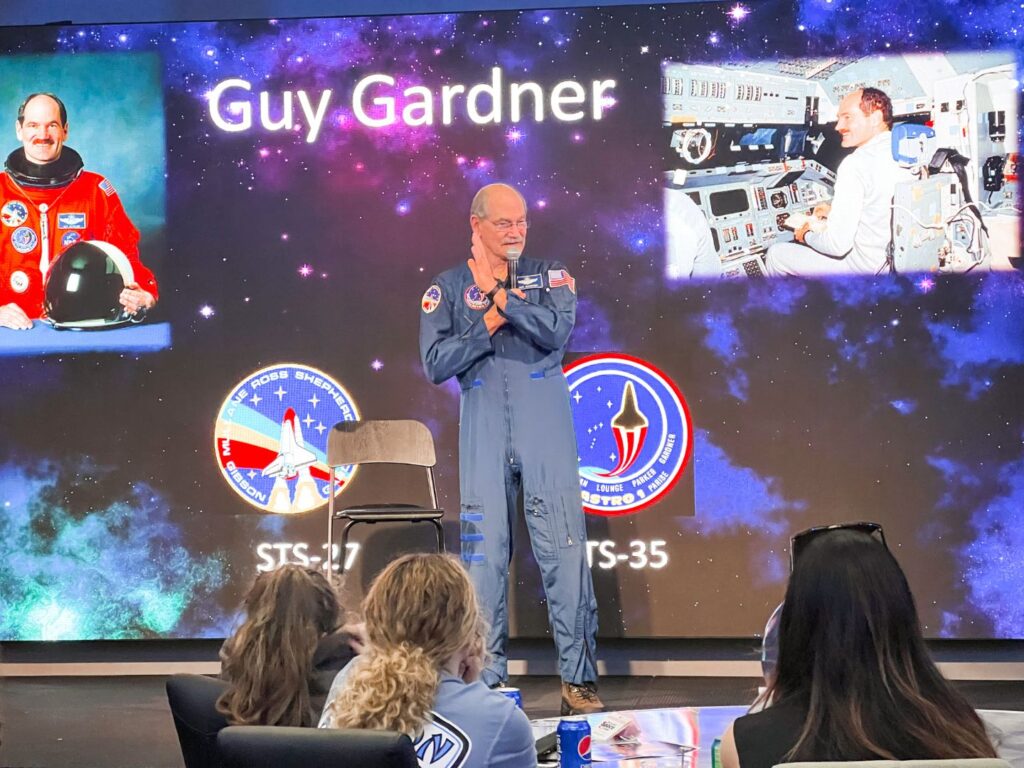 Some of the questions in our session (that may or may not have been asked by my family): How do you safely get from the space vehicle out into space? What happens if you accidentally push a button when you're sleeping? What advice to you have for a young child wanting to become an astronaut? And of course, do astronauts wear diapers?
It's highly recommended you book in advance. With only two sessions a day and limited seating in each one, they do fill up quickly. You could check for availability when you arrive at Kennedy Space Center Visitor Complex, but there's no guarantee there will be space. You have a better chance of same-day seating on a non-holiday weekday.
How long does Chat with an Astronaut last?
The session is designed to last about 45 minutes, which gives plenty of time to explore the rest of the park. Park hours are 9 a.m. to 5 p.m. You want to allow yourself plenty of time to park, go through security and get into the park.
You'll also want to be mindful of the rocket launch schedule. We were caught off guard and went a day of a launch.
The launch schedule can be found here. Being at Kennedy Space Center Visitor Complex, even if it's the parking lot, for a launch is exciting. We got lucky that these two experiences were on the same day.
Guy S. Gardner was the astronaut for our session. A small touch that made the experience even more exciting was that he was wearing his blue flight suit. Gardner took his time answering each question, told great stories about his experiences and he also made the discussion comical and relatable for little ones. He spoke about the two space shuttle missions he was on, his role on them and how he always knew he wanted to be an astronaut.
There are usually a few minutes at the end of each session dedicated to photos with the astronaut so your group will be able to have a memorable keepsake from this unique experience. Or in our case made for a great picture to bring to show-and-tell at school.
In case you were wondering, or you're too embarrassed to ask, complimented by a humorous story, Gardner did confirm our suspicion. Astronauts do wear diapers.
Tips and Information
Book in advance
Be mindful of your child's schedule and needs to determine which session is best
Prepare your kid(s) a few days ahead of time so you can start thinking of questions together
Kennedy Space Center Visitor Complex
Commerce Way, Merritt Island 32953
855-433-4210