Thanksgiving's Little Helpers: Ideas to Involve Your Child at Home
As a host for Thanksgiving dinner, it can be a lot of work getting prepped for a house full of guests. Children love to run a-muck and make your life harder while you are busy cleaning, cooking, organizing clutter, and thinking of every last perfect detail for ambiance. So I say, let's put those kids to work!
We're sharing an approachable list of things your kids can do to help out this Thanksgiving. And shh, they might even have a good time doing it!
Thanksgiving Activities and Tasks for Kids
Before Thanksgiving
Do the Final Shopping Run Together
This is your kid's opportunity to weigh in on your (probably already completed) menu and shopping list. They'll love going to Trader Joe's for their own children's sized shopping cart, and getting to choose last minute items like cheese for the charcuterie board, their favorite fruits, and yes probably some sweet stuff too.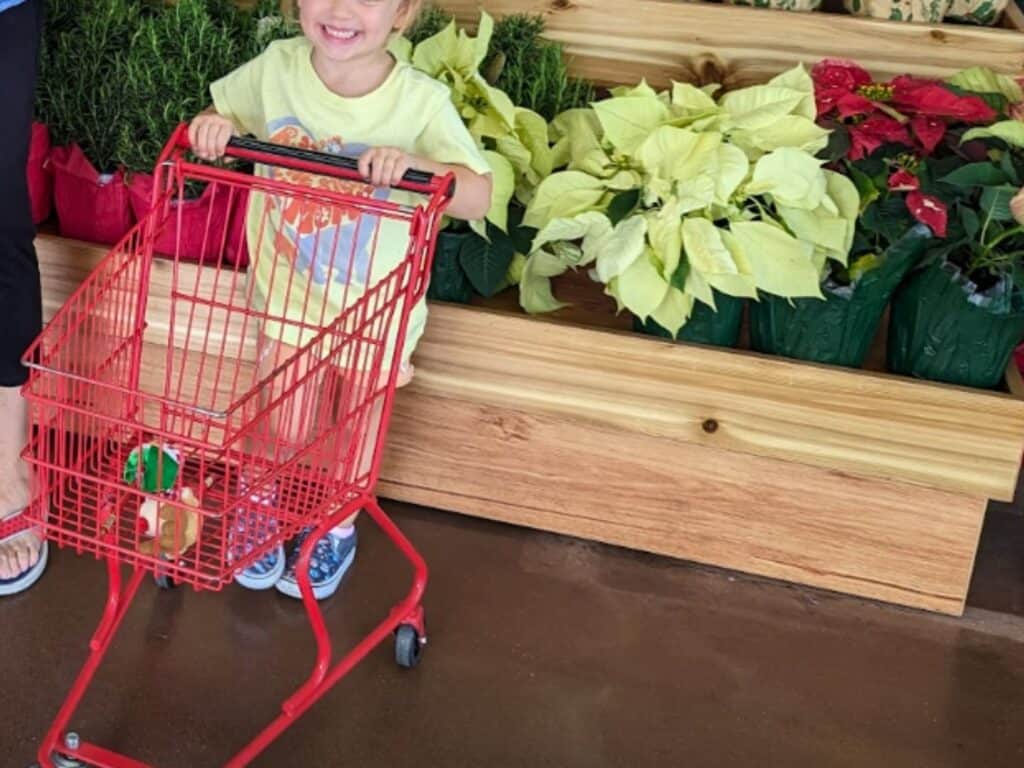 Dust Patrol!
You bet your britches those kids are going to get their hands dirty, too. Give them a rag or for a fun option give them a clean two inch paint brush and let them get to dusting!
Open the doors and windows to keep the sneezies away and turn on some music to make it fun. Everything is more fun when you're dancing!
Thanksgiving Morning
Help Make Your Annual Thanksgiving Breakfast
In my house, we have traditional foods we eat every single year for Thanksgiving and Christmas, even Easter and birthdays. More often than not, we're making cinnamon buns or break-and-bake cookies.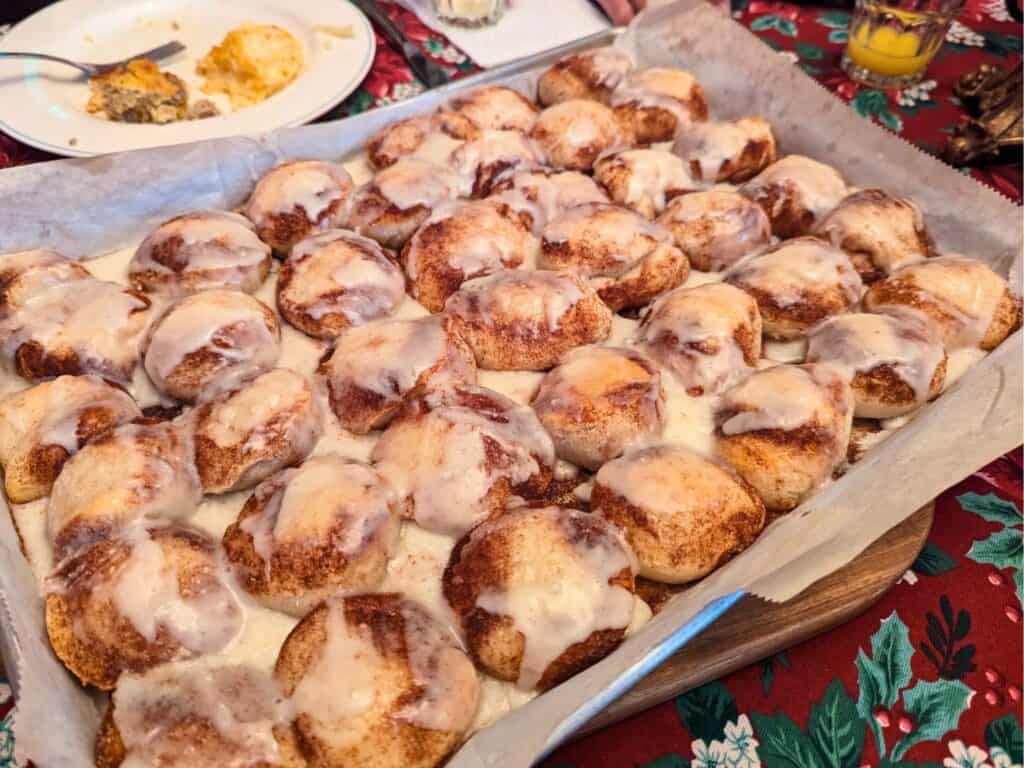 Kids can definitely get involved in either, from taking and arranging buns on a baking sheet to snapping off those simple fridge cookies onto trays. 
For more experienced little bakers, have them help with cracking eggs into a batter or for omelets, or any other seasoning and mixing tasks. 
It is also during the breakfast hours that my family begins preparations for the meal later that day. That means Dad is making the stuffing and the turkey, and preparing other odds and ends.
This is a great time for your kids to get involved – not only to witness generational family recipes in the making before their eyes, but to participate in stirring. Stirring the stuffing is a heralded job in my house, because it must be done right! Being the official youth stirrer is very important!
Watch the Macy's Thanksgiving Day Parade
Every year, and I mean EVERY year, even when I'm traveling abroad, I watch the Macy's Parade on Thanksgiving morning. It's a few hours where I get a feeling of nostalgia, I get to gawk at favorite floats, sing along to Broadway tunes and watch the Rockettes and Santa on screen. I laugh, I cry, I laugh because I'm crying, and it's all really great for the soul. 
This year, have your kids start the tradition too. They'll be entertained for hours, giving you just enough time to clean up from breakfast, start preparations for late lunch, and get showered before they ever even noticed you've been buzzing around in meltdown mode.
Take the TV time as a win and be sure to pop in every now and then to enjoy some of it for yourself.
Put Away All the Toys
Get all the junk and clutter tucked away (or in my case corralled in one area of the bedroom and covered with a blanket). 
Have your kids choose 3 or 4 toys that they will play with when guests arrive that won't make a big mess. You may have to have a consultation with them about the toys. No one wants to be stepping on lego pieces or looking at bins of crayons and paper cuttings.
Make Some Handmade Decor
Best for during the hours-long Macy's Parade, sit your kid down with some craft ideas. Here's some that I love to do:
Decorate small pumpkins with markers and stickers and use as centerpieces
Make place cards from craft supplies
Roll napkins with silverware and tie with twine
Do handprint turkey crafts with kid's scissors and glue sticks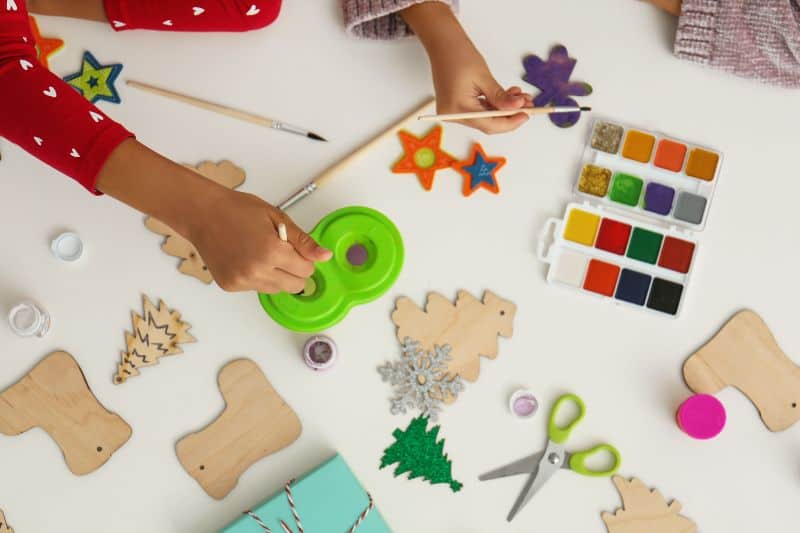 Ready for more? Check out these Christmas craft ideas.
Finishing Touches
Set the Table Together
Have your child carry out lightweight, non-breakable or lesser value items. They can set the napkins and silverware, help to arrange place cards and seating, and put any decorative items on the table.
Help Set the Flower Arrangement
Typically this involves trimming stems (don't give the kids thorny roses), finding the right vase, adding water, and fluffing the arrangement to your liking. They'll have fun moving flowers around to make it look its best.
Have Them Prepare a Kid's Charcuterie
This one is fun for kids and helps them burn through some of their favorite snacks. I know at my house we'll often put out adult-friendly foods like spicy Italian meats, truffled cheddars, and other things that may not be the most appealing to kids.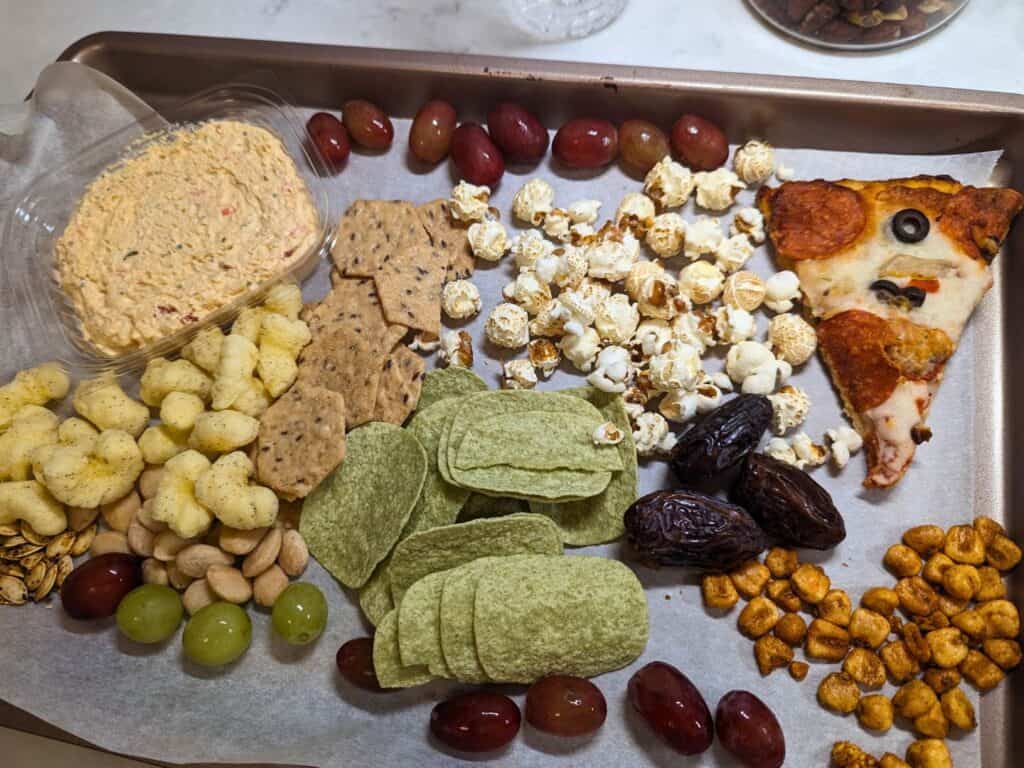 With a kid-curated charcuterie, you may find goldfish, Pirate's Booty, crackers, grapes and whatever else their heart desires. Let them have fun with it and put it on a special table reachable at their height level when the party begins.
Party Time!
Welcome Guests and Take Their Coats
Kids are great greeters. They'll spill onto the porch to greet grandma, papa, cousins, aunts and uncles and friends. Once they say hello, give them the job in advance to be the coat taker.
Suggest that they ask, "May I take your coat?", then they can scurry off to the bedroom to drop coats. It gives them a sense of pride, and the adults love it. Everyone will feel welcome, and that's one less thing they have to worry about upon arrival.
Entertain Grandparents, Guests, and Little Kids
My kid, bless her little heart, loves to put on three-part shows for whoever will watch. She sits us down, hands everyone an instrument or noisemaker, and spends about ten minutes waving batons, singing, and dancing around saying she isn't ready for the show yet. It's pretty entertaining for about three of those minutes, but it gets everyone laughing and out of their shell.
When the adults have had their fill of kid-fun, send your child off with other kids to a play area. If there are no other kids, designate the youngest-at-heart to go play dolls or color the family some Thanksgiving cards.
Be the Official Family Photographer
A few years back I got my daughter one of those unbreakable, kid-proof cameras. The little digital camera takes decent photos, has games for her to play, and fun stickers to add to her creations. She loves to bring the camera around for family events and takes pictures of everyone. It's a great, inexpensive investment and we've gotten some excellent memories out of it.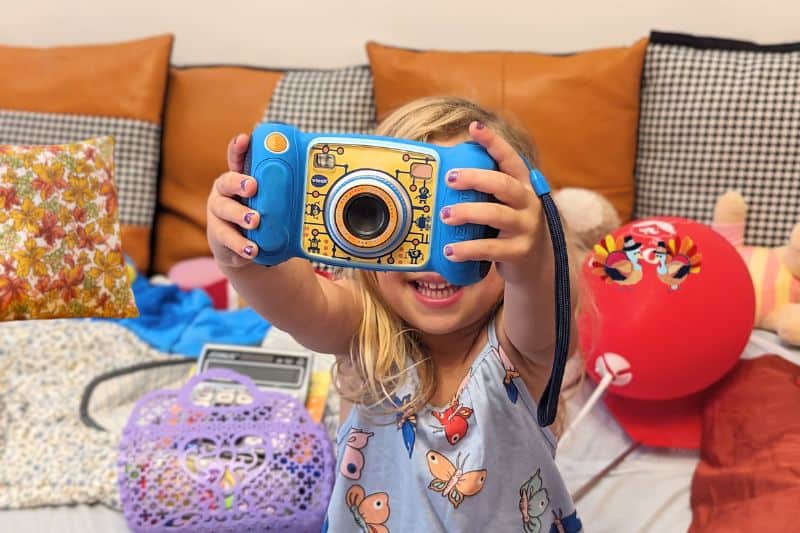 The bonus is that it is another great way to keep family engaged and entertained.
Officiate the Wishbone Ceremony
This one is important! When the turkey comes out, let your littles be in charge of the wishbone ceremony. Have them bang drums or blow noisemakers to get everyone's attention.
The rule is that the two youngest go at it, so help your kids locate the two youngest in the room and peel the meat from the wishbone well. Explain the rules – no cheating! – and count down from three for the tug of war to begin! The longest bone wins a wish and the title of wishbone winner. Hooray!