Happy Frights at Leu Gardens: Essential Tips for Families
Being a kid in Orlando sure is magical. And this is especially true with so many fall events and fun things happening this time of year. And now there is a new Halloween event in Orlando that is beautiful and great for families. After two visits to Happy Frights at Leu Gardens I'm sharing important tips, what to expect, and a parent's perspective.
HAPPY FRIGHTS AT LEU GARDENS
TWO DIFFERENT EVENTS
There are two Halloween events taking place at Leu Gardens. Happy Frights is a family-friendly experience with entry times that begin at 5pm. Families need to finish their experience by 8pm so that Haunting Nights can take over.
Haunting Night utilizes the same path and immersive areas as Happy Frights, but it is after-dark and geared towards ages 13 and older. Plus the happy characters make way for scary Night Creatures.
Read more: Happy Frights and Haunting Nights at Leu Gardens – 5 Things to Know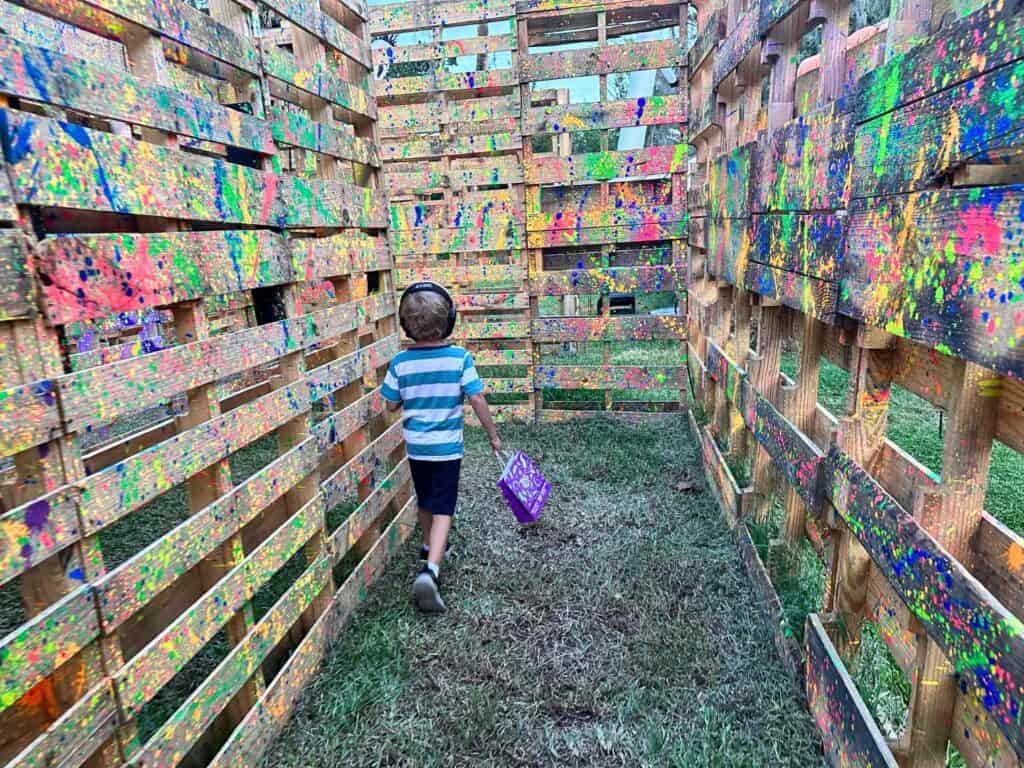 CHARACTERS AND THEMED WORLDS
Happy Frights at Leu Gardens is visually stunning. There are 12 different worlds. This Halloween event is produced by the incredible Creative City Project and Memoir Agency.
Happy Frights worlds in order you experience them:
01 Fall Festival (waiting area)
02 Jeepers Peepers
03 Jack-o-Lantern Jaunt
04 Ned's Neon Labyrinth
05 Sunflower Fields
06 Apparition Alley
07 Magic and Mayhem
08 Dragons' Nest
09 The Barracks
10 Bubbly Block Party
11 Scarecrow Summit
12 El Dia de Muertos
Dress comfortably. There is a lot of walking! It took our family just over an hour to experience it all.
If you have little ones that could be scared easily, you may want to skip the Jeepers, Creepers portion. This short walkway loops around off the main path and is where most visitors start their Happy Frights experience. You can bypass it if you prefer.
The Jeeper Creepers section is not overly scary but there are about five or six mechanical spiders that jump off the ground with a loud shrieking sound. They aren't grotesque, but they startle practically everyone who passes by. Our family made a game of it and stomped our feet and waved our arms as we spied each spider, trying to activate them willingly.
Other than these spiders there are no characters that jump out at you during Happy Frights. We are in the habit of bringing hearing protection along for myself and our young son during events. It helps us both feel less overwhelmed with all the extra sound.
Apparition Alley is another spooky area. Ghostly lanterns float above, but there is no need to fear. Again, no characters or props jump out during kid-friendly Happy Frights.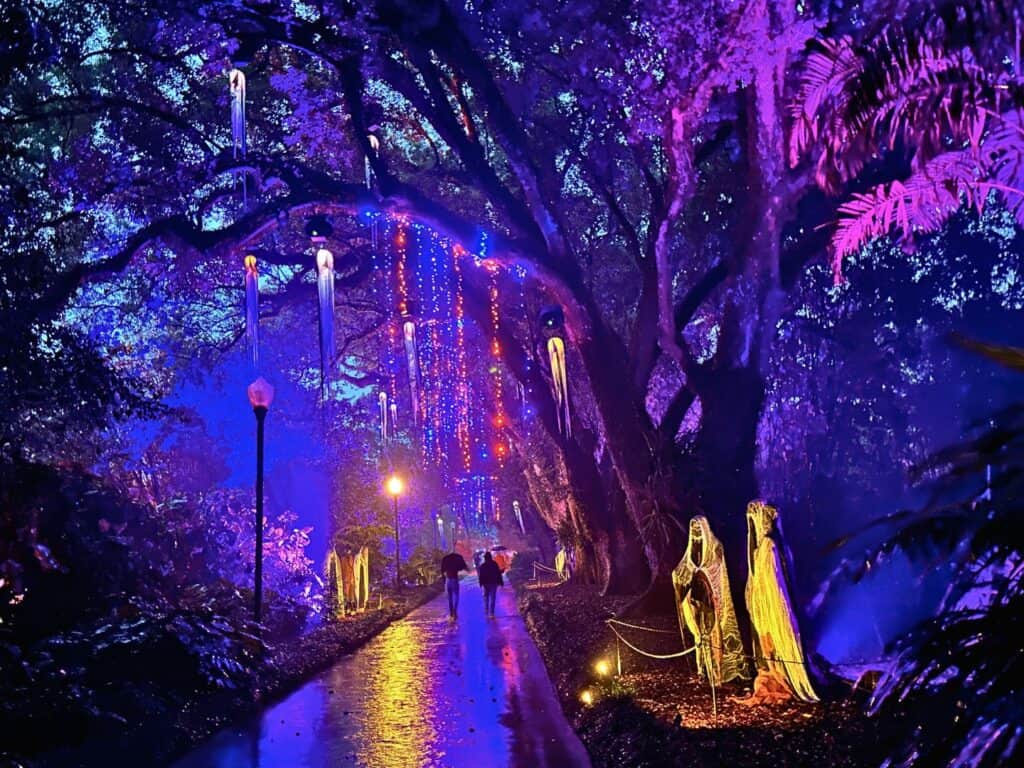 Characters
There are multiple characters to meet during Happy Frights. The Bridge Troll is the first character you'll meet, only at Happy Frights. We had a fun game of hide-and-seek before heading further into the journey.
Next, we came across Ned the Neon Monster – who is positively adorable! Our son did not feel like doing a photo with Ned so thankfully my husband obliged in joining me. We loved going through Ned's Neo Labyrinth. And again during Happy Frights there are no jump scares anywhere, including none in the Neon Labyrinth.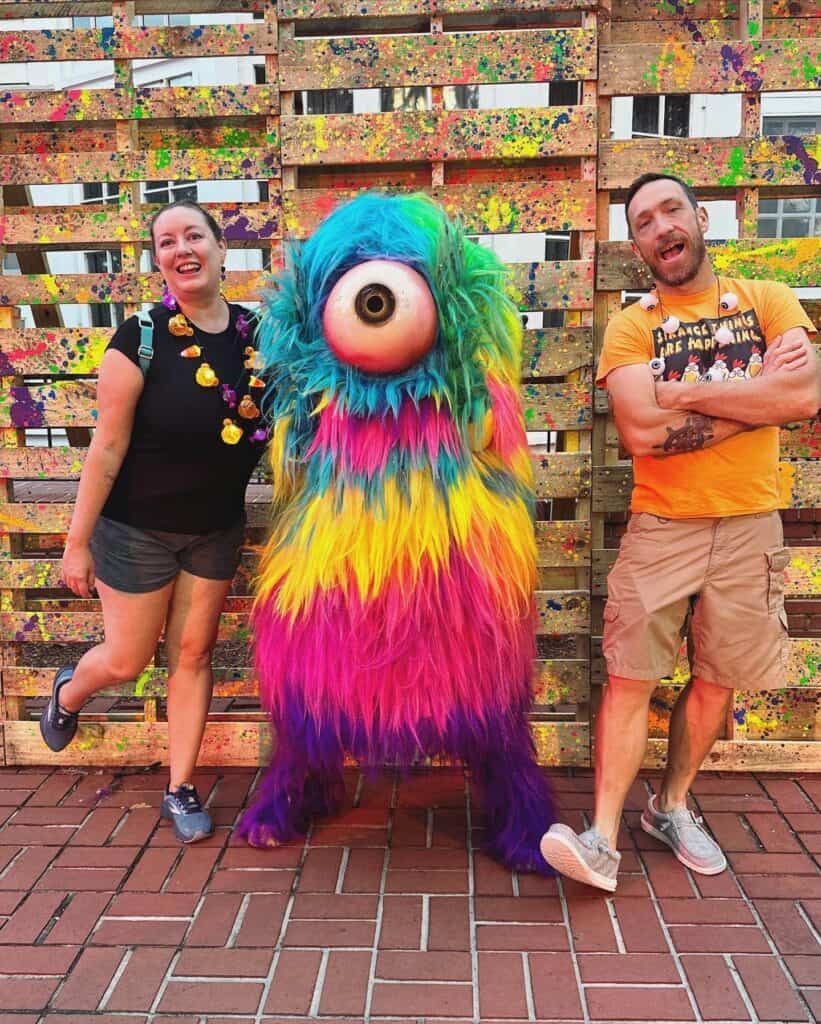 Phoenix, a lovely dragon-like character, met guests along the Dragon's Nest trail. It got a little crowded here so we kept moving.
Inside The Barracks is a pirate-themed land with creepy skeletons hanging from trees. We met The Pirate Witch and our son had a quick chat about dragons with her, but wasn't interested in posing for a photo. As we walked through this area we could see how it would become scarier at night during Haunting Nights.
Soon we were greeted by the Sea Riders which are fun loving sea creatures that dance the night away at the Bubbly Block Party. And lastly is La Catrina who greets guests in the Dia de Muertos world. This is truly a stunning finale to both Happy Frights and Haunting Nights.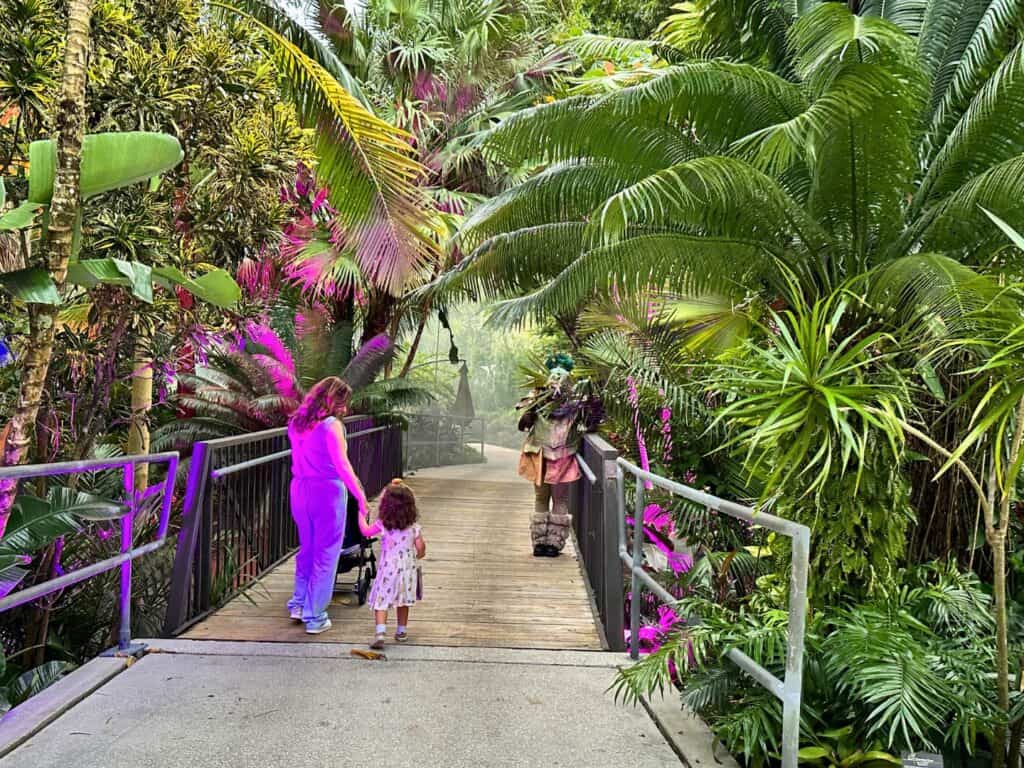 TRICK OR TREATING
There are 8 trick or treating stations open during Happy Frights. The first station is inside the welcome center when you arrive at Leu Gardens, so don't bypass it. This is where you pick up your trick or treat bag and your first treat.
If you're like me and you're used to the trick or treating at theme parks like LEGOLAND's Brick or Treat or SeaWorld's Spooktacular you will need to lower your expectations.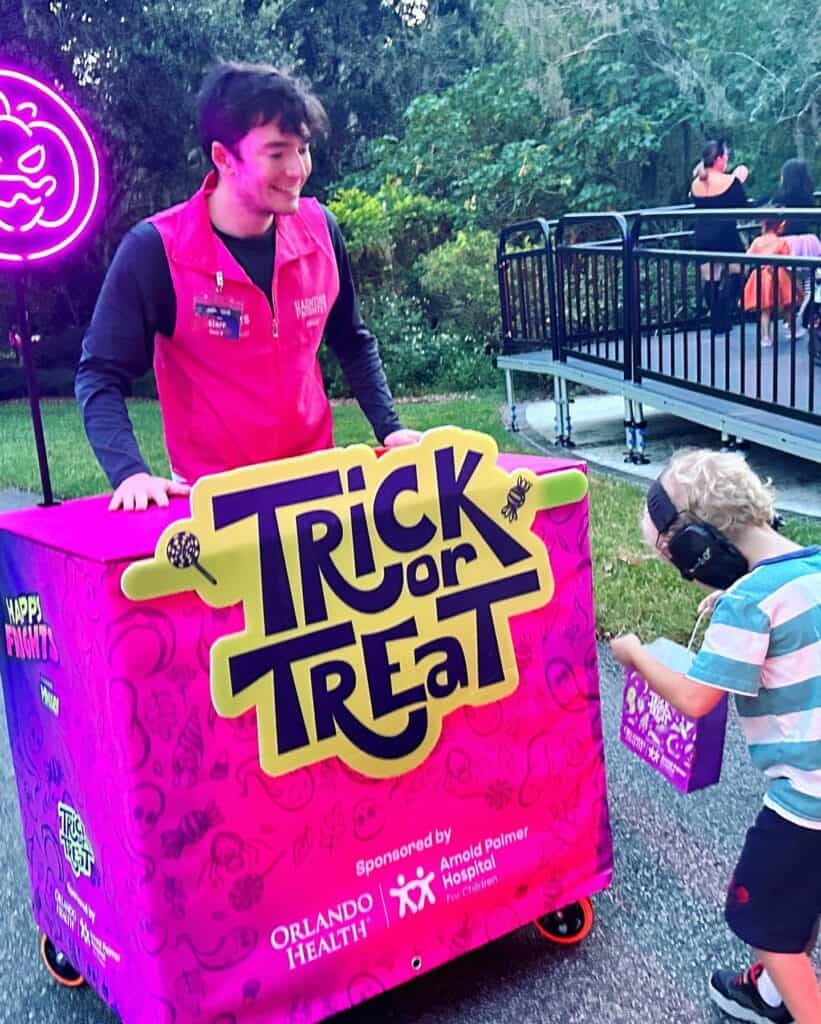 One piece of candy per station is given. Two of the stations were out of candy when we visited at 6:45pm on the second night of the event.
I also found some of the candy to not be the best option for young kids. One station had Lemonhead hard candies and another had Warhead hard candies.
So as long as you go with the right expectations and realize trick or treating is not the primary focus of Happy Frights, then you're in for a marvelous evening.
Find more trick or treating events in Orlando.
FOOD AND DRINK
I recommend having dinner before visiting Happy Frights. Casual, quick eats are available as well as snacks.
Before you enter the event, there is a food and soft drink stand. Quick eats like popcorn and cotton candy are fun indulgences for snacks.
For a quick meal, there are pretzel dogs, chicken fingers, and covered tater tots. Wash it down with fresh lemonade, water, or soda.
TICKETS AND COSTUMES
General admission tickets cost $25 plus fees, and children 2 years and under get in for free. If you plan to park on-site, you'll need to purchase an on-site parking pass for $15 plus fees.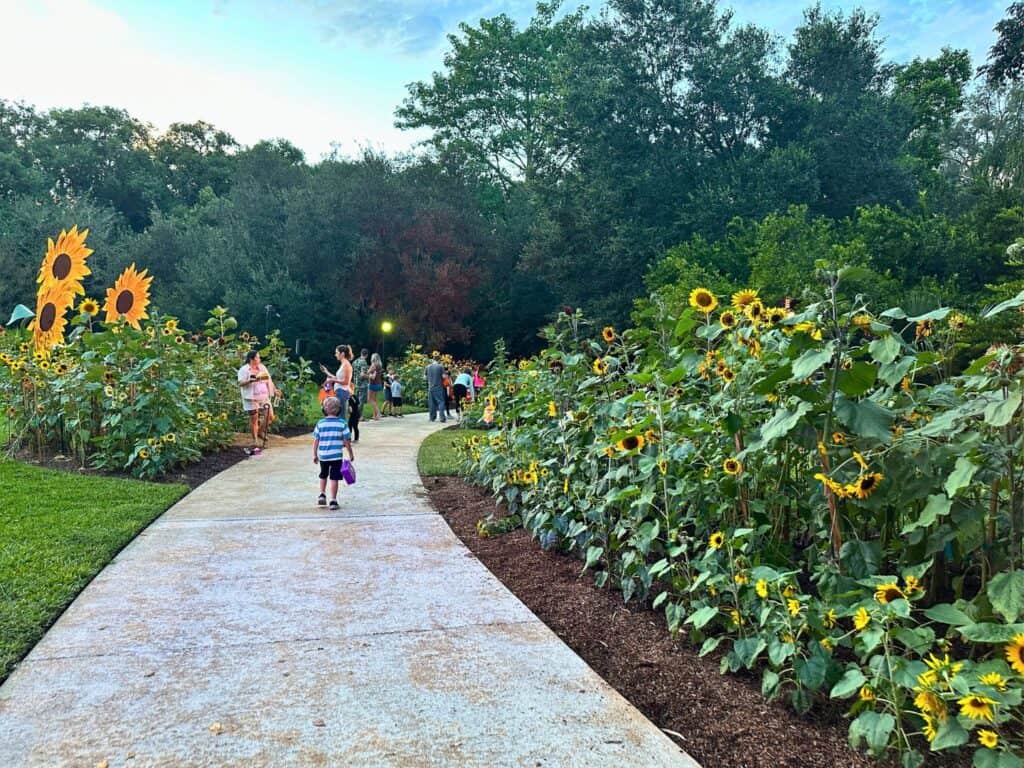 When you purchase your tickets you will select an entry time. This is to help spread out crowds and try to keep the flow of guests moving through Leu Gardens at a steady pace. Arrive 15 minutes prior to your scheduled start time.
Costume guidelines:
Costumes must be family-friendly and may not be obstructive, offensive, objectionable, or violent
Costume masks are NOT permitted
Costumes should not drag on the ground
Costumes should not contain sharp objects, pointed objects, or materials that may accidentally strike another guest
Props and other handheld items are not permitted
No weapons or items that resemble, can be used as, or could easily be mistaken for an actual weapon are permitted (No swords, firearms, projectiles, or arrows will be allowed)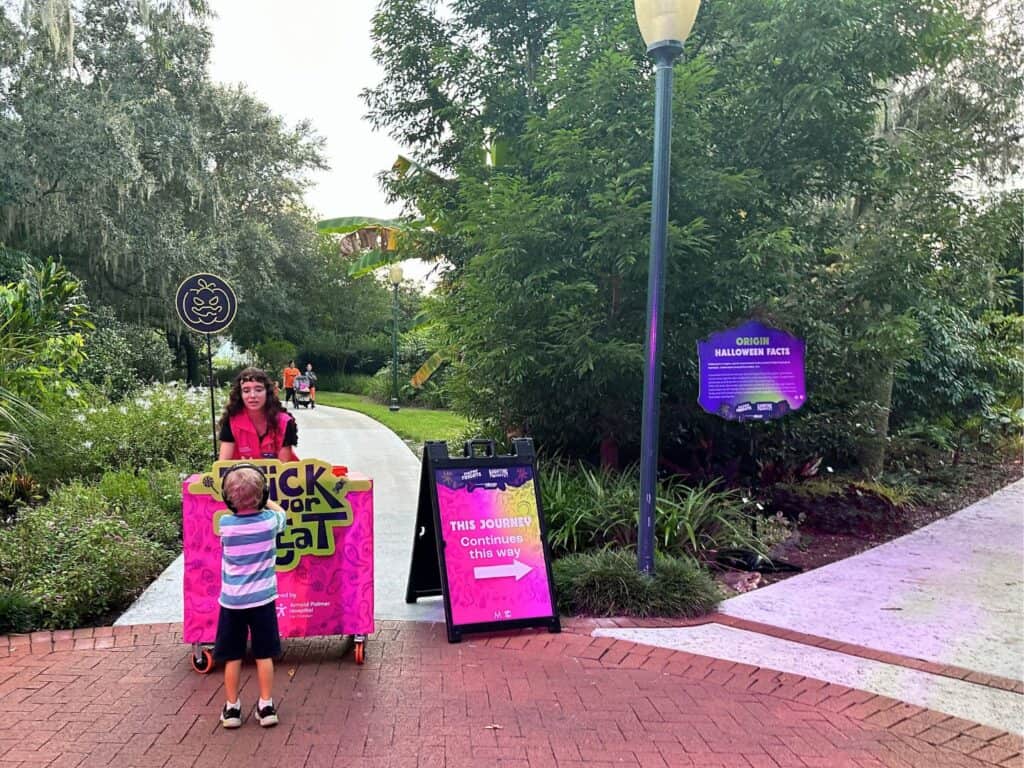 PARKING INFO
On-site parking is available for those who purchase an on-site parking pass for $15 plus fees. I have attended multiple special events at Leu Gardens over the years and I do feel the on-site parking is worth it to save some time. However, there can still be a bit of a walk from your car to the actual event entrance.
However, if you choose not to park on-site, free off-site parking is available at Audubon Park K-8 School (1500 Falcon Dr, Orlando, FL 32803).
Complimentary shuttle service will transport you to and from Leu Gardens.
Arrive early to ensure enough travel time from the off-site parking area to Leu Gardens for your Happy Frights or Haunting Nights entry time.
Happy Frights and Haunting Nights
Leu Gardens
1920 N Forest Ave, Orlando, FL 32803