10 Kid-Friendly Orlando Restaurants with Healthy Foods 
Not every restaurant boasts the perfect setting for a family meal. Even more so, finding a place to nourish your body while satisfying the smallest pallets can be a challenge. Our guide around Orlando showcases ten kid-friendly restaurants with healthy options!
You can also jump over to our list of restaurants where kids eat free.
Family Friendly and Healthy Orlando Restaurants
3201 Corrine Dr, Orlando, FL 32803
This fast-casual restaurant is located inside the culinary food hub, East End Market, and serves plant-based comfort foods. On the menu, you will find delicious biscuit offerings, sub sandwiches and a Chik sandwich that is anything less than a substitute for the real thing.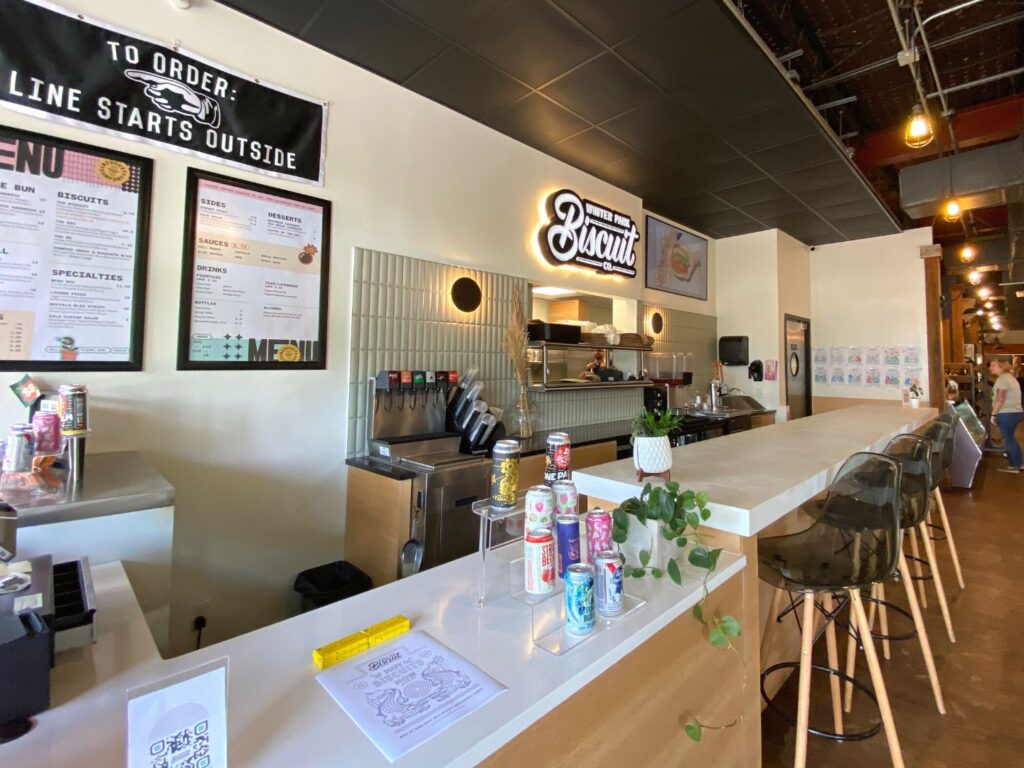 We love this eatery not only for the food but for the location. You and the family can explore the market garden and eat in the open-air food court shared by the other restaurants in the food hall.
3201 Corrine Dr, Orlando, FL 32803
When visiting East End Market, be sure to stop by this quaint juice bar and experimental kitchen. Skybird serves up a wide array of plant-based goodies that are sure to make both you and your little one smile. Grab a smoothie unlike any other you've ever had or try one of the hearty meals they've brilliantly concocted. Kids will love sitting at the counter to watch their food get made from scratch.
If outdoor seating is what you're looking for, East End Market has a beautiful open-air courtyard with picnic tables, umbrellas and faux grass. They even have outdoor highchairs!
1346 N Orange Ave, Winter Park, FL 32789
1835 E Colonial Dr, Orlando, FL 32803
If you want authentic Cuban food that tastes slow-cooked but is served fast, you need to run to this cafe. Located on Colonial Drive in Orlando or, at the new location that has evolved from a cool Ventanita in Winter Park to a sleek cafe' eatery, you will love the sleek design of this cafe'. Offering seating inside or outside, the simplicity of this eatery is great for families.
After you order, you are given a number and the food is bussed to your table (thank you, people, who understand parents with full hands!). Ok, maybe that service was not thought of with us in mind, but we can think so, right? Yes, you will find their signature black beans on the menu, but you will soon find that there is so much more for you and the family to choose from.
The options are fresh and can be paired with a salad and served with their signature avocado dressing so good, that your kids may want to drink it. Meat Empanadas are waiting for you in the case upon your arrival and vegan empanadas are made upon request and are always hot! Families can enjoy the excellent food here anytime as they serve breakfast, lunch, and dinner!
1412 Alden Rd, Orlando, FL 32803
Humble has every traditional favorite kid food on its menu. Burgers, pizza, tacos, chicken tenders, ice cream, milkshakes and more! The caveat? it is all 100% plant-based! While they do have a kids' menu, the options on their main menu are appropriate for the entire family. When eating here, parents can enjoy a healthy meal themselves and rest assured that anything their child selects will nourish their body.
Located at the Hall on the Yard, families get to enjoy a newly opened, upscale full-service food hall. Seating is available inside and outside. Before your meal and after, have fun playing on the Yard!
323 E Kennedy Blvd suite f, Eatonville, FL 32751
Looking for a healthy food option that will satisfy a palate that appreciates bold flavors? Look no further than Dajen Eats! Entering this vegan eatery, you will soon discover that the food is made with a Jamaican flare. The cafe boasts several build-your-own options, including bowls, salads and even an ice cream sandwich! Yep, they make in-house, from scratch, vegan ice cream!
Feast on one of their "sammiches" if that is not enough. The Identity Crisis is a favorite. Visit the cafe on a day that she is in, and you might hear some vegan culinary stories from Chef Jen herself! The cafe and creamery recently reopened with more of a spacious layout. There are tables to dine in while you enjoy the exuberant and brightly colored atmosphere. There are also tables outside if you choose to enjoy the Florida sunshine and scenery of the oldest Black municipality of Eatonville!
118 Lake Ave, Maitland, FL 32751
You can find some of the freshest authentic Mediterranean cuisines in central Florida at this parking lot diner. All dishes are made to order and exude flavor, from free-range beef and chicken to high-quality produce. Located in Maitland, close to local parks, this is a great place to pick up a meal to go and set up a family picnic to enjoy together.
The eatery offers family options, individual entrees, sides and the most fulfilling appetizers that kids will love! The babaganoush and hummus are local favorites.
862 Orlando Ave #100, Winter Park, FL 32789
Healthy picky eaters can eat exactly what they want here. When you arrive at this counter quick-service restaurant, you will find a wide array of produce and meat options.
Your family can build their own salad, pita or bowl. Have fun exploring the variety of signature hummuses and picking one for yourself that is just right. The kids will love the opportunity to choose what they like, and parents will love that the peas are preservative-free and that there are vegan and gluten-free options.
The eatery also has ample indoor seating available for families to sit comfortably and enjoy their meals. Hummus House is conveniently located on 17/92 in Winter Park.
Nourish Coffee Bar + Kitchen
2005 Mizell Ave Suite 1000, Winter Park, FL 32792
Open Monday – Friday, 8am – 8pm
The only downside to Nourish Coffee Bar + Kitchen is that it is not open on the weekends. But the healthy eats more than make up for it. There are vegan and gluten-free options. And plenty of omnivorous options too.
And breakfast is served all day alongside rice bowls and salads are lunch and dinner time.
Best of all? It is located inside the Center for Health and Wellbeing which is a tremendous asset to the community. You can visit Nourish Coffee Bar + Kitchen whether you're enjoying a free program at the Center, or not.
The one downside to this healthy restaurant is that it is open Monday – Friday only, however, it is open 8am – 8pm.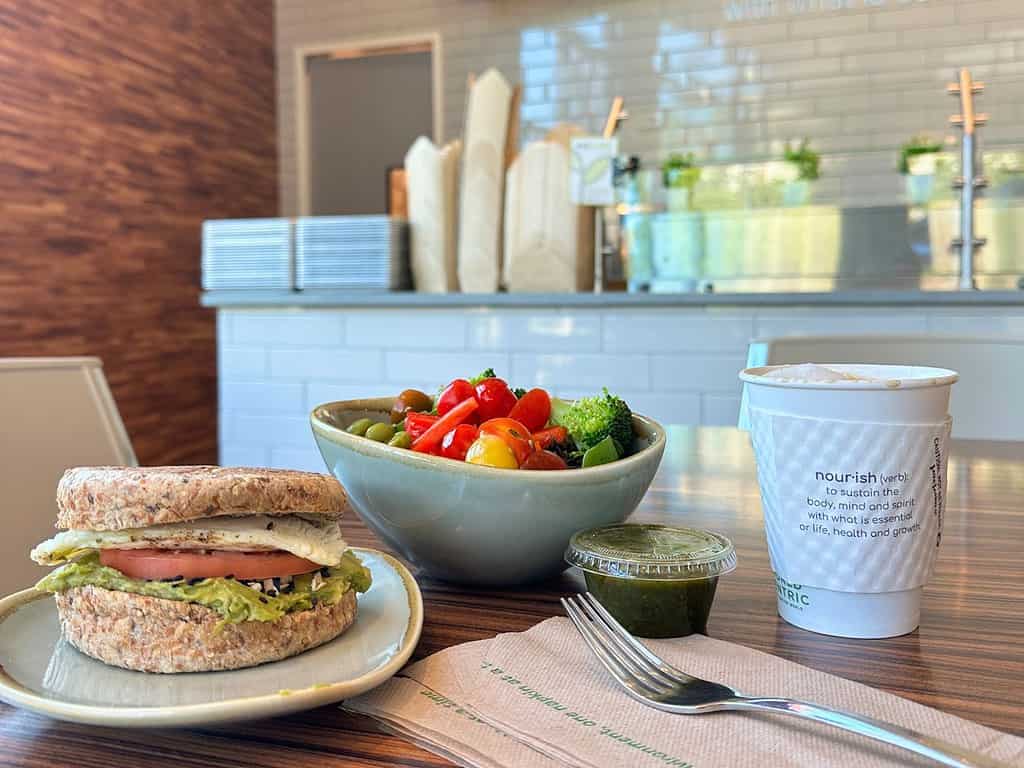 1600 Edgewater Dr, Orlando, FL 32804
Located in the neighborhood of College Park sits this organic tea house. The cute building is nestled on Edgewater Drive at the heart of Orlando. Dining at Infusions Tea is an experience. They have so many healthy options, from pizza to tacos, salads, and soups.
While there, try one of the aromatic looseleaf teas, all of which can be enjoyed hot or iced. You can even enrich your experience by ordering divine tea sandwiches! Families can sit indoors to enjoy the AC or outside on the cute porch. Once a month, families can also enjoy local musician Mr. Richard for his Teatime Dance party.
3421 S. Orange Avenue Orlando, Florida 32806
This place is a vibe. Seriously. Vegan curious, but you don't want to commit just yet? Does your family have a variety of dietary preferences? Hungry Pants is the next place you need to head for a family meal! You will enjoy everything about this eatery, from the art deco ambiance to the well-crafted menu. Serving brunch, lunch and dinner, this is a fun place to enjoy any day of the week. Note: they are closed on Monday.
On the menu, you will find vegan, vegetarian and non-vegetarian food. The portions are satisfying, and the color pallet of the food is tantalizing for parents and children alike. Favorites like vegan chili, Fried Chicken Sammie or the Grilled Sammie with Turkey and Cheese from the "Lil Hungries" menu are sure to become family favorites as well.
Families can enjoy indoor or outdoor seating comfortably.